Cryptocurrency
BEP721 Token Development Company
Hivelance, a leading BEP721 token development company, offers flawless BEP-721 token development services according on client needs. Your BEP721 token will be developed and launched in one day.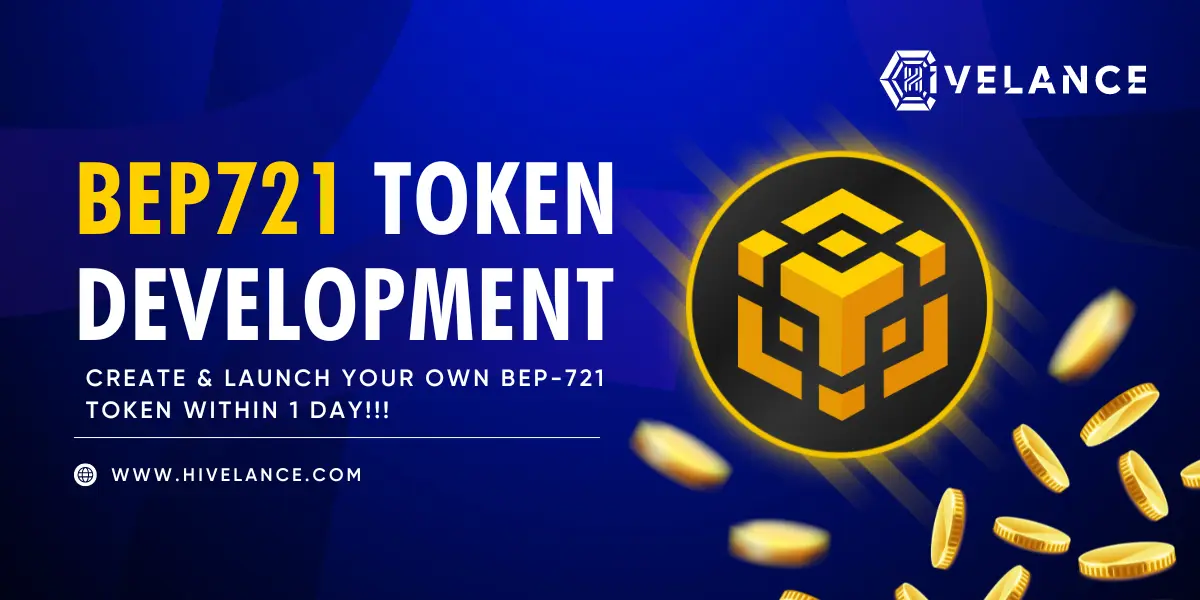 Creating a BEP-721 is one of the most interesting and unique identifying NFT projects you can embark on as an entrepreneur. If you develop dependable, feature-rich, unique, and non-interchangeable BEP-721 tokens, your company can expand more quickly than its competitors.
BEP-721 token is one of the widely used NFT token standards when it comes to creating a reliable and scalable BEP-721 token. It's no wonder that these BEP-721-based NFT tokens are so popular. It's cost-effective, very flexible, and allows you to tokenize the ownership of data and attach to it a unique identifier. Therefore, if you want to build a unique BEP-721 token and are looking for a BEP-721 token development company, this is the right place for you.
In this article, you are going to learn everything about how to create BEP-721 tokens, what are the main benefits of this BEP-721 token, as well as why you should choose Hivelance as your trusted BEP-721 token development partner. Let's get started!

Since the introduction of NFTs, digital collectibles compatible with the BEP-721 standard have grown in popularity and have moved closer to mainstream adoption in recent months. This article will cover utilizing the BSC smart contract library to build and deploy our very own BEP-721 (NFT).
What is BEP-721?
BEP-721 is a BNB Smart Chain (BSC) token standard in the Binance ecosystem; it can be used as a smart contract standard for tokens like BEP-20. The author of a BEP is responsible for reaching a consensus among the Binance community, and after the proposal is evaluated and approved by the community, it becomes a standard. The BEP-721 specification was developed to offer the ability to track and transfer NFTs inside smart contracts.

An open standard called BEP-721 explains how to create Non-Fungible Tokens; it is a standard interface for NFTs, and it provides a set of guidelines that is able to work with NFTs simply. NFTs are not limited to BEP-721 tokens; they can also be BEP-1155 tokens.
BEP-721 tokens can be utilized to tokenize data ownership and give it an individual quality. These tokens are unique among BEP-20 tokens due to this feature. BEP-20 allows programmers to create a large number of identical tokens within a single smart contract. However, BEP-721 gives each token a special ID. Due to their uniqueness, they are able to represent particular non-fungible objects.
Set of BEP721 Token Standards Functionalities
In accordance with BEP-20, BEP-721 defines a few functions. This makes it simpler for current wallets to show basic token information.

name: Specifies the name of the BEP-721 token, which will be used by other contracts to identify it.
Symbol: A token's abbreviated name, akin to a ticker symbol.
balanceOf: Shows a specific address's token balance.
totalSupply: Specifies the overall quantity of tokens supplied.
Additionally, there are a number of fundamental ownership functions, some of which are optional. The metadata function is a unique attribute of NFTs:
tokenMetadata: This feature enables the integration of metadata into a token that links to a file of original art or another collectible NFT component.
Top 7 Use Cases of BEP-721 Tokens (NFTs)
Music
Fashion
Gaming
Luxury goods
Metaverse
Digital and physical art
Collectibles
Lottery tickets
Benefits of Creating NFTs on BNB Chain
The frameworks created by BEP-721 and BEP-1155 on the BNB Chain serve as the foundation for NFTs. The NFTs' features are established by these specifications.
Features/Benefits of BEP-721 (NFTs)
The blockchain tracks ownership.
An NFT can be created, purchased, or sold by anyone.
With each sale of the NFT asset, the creator gets paid royalties.
Gain access to exclusive activities, tickets, and services.
In-game items, characters, land, rewards, and everyday bonuses are all available.
Domain names are used to identify websites, projects, and individuals.
Ownership of collectibles can be tracked down and verified.
We have extensive experience in offering solutions for all types of token development problems, in addition to BEP-721 token development. Our token developers put their knowledge, skills, and motivation into every project, so you can be sure that you will launch an NFT token made with the Binance smart chain based BEP-721 token standard of the highest quality.
BEP-721 Token Development Lifecycle
In order to develop an efficient collectible, non-fungible-based BEP-721 token development process and solutions in a structured and systematic manner, we use industry standards and development techniques.
Planning

To create custom BEP-721 tokens that meet the customer's requirements, we gather all the necessary information from them.

Designing

The documents are created in accordance with the necessary guidelines. This aids in the definition of the technology stack and overall token architecture.

Defining

After the completion of the requirement analysis phase, the next stage is to define the BEP-721 token development requirements such as name, Symbol, balanceOf, totalSupply, tokenMetadata, and more.

Developing

By writing code in the chosen programming language, methodology, and procedures, developers begin to create the BEP-721 tokens.

Testing

Considering that NFTs are all easily distinct from one another and are not interchangeable, evaluating the BEP-721 tokens' quality. It is also an uncommon collectible; each has distinct qualities, distinctive attributes, and, in most cases, metadata.

Launch & Deployment

The final BEP-721 token is released and checked for deployment issues if any.
Why Choose Hivelance For BEP-721 Token Development?
Hivelance is a reputable BEP-721 token development company with over 10+ years of experience in the cryptocurrency sector. If you are seeking for a qualified and experienced team of token developers for token development, our company is the place to go.
There are numerous benefits to thinking about Hivelance's dedicated team of token developers. First of all, a big number of startups and established companies have chosen and trusted our company. We have a large, diverse pool of competent experts with various levels of technical proficiency and seniority, as well as blockchain specialists, who are helping our clients create the cryptocurrency and blockchain-based projects they need for business growth.
In addition to offering end-to-end token development services, we also work with a variety of blockchains, including Ethereum, Binance Smart Chain, EOS, Solana, Polygon, and many more. We provide a wide range of solutions for different business industries when it comes to token development. As one of the leading token development companies, our team has already used acquired knowledge, skills, and creativity in hundreds of successful cryptocurrency projects.
In terms of each and every our NFT projects, we primarily use trusted blockchain networks and a variety of tools. Each token developer wants to be in step with cutting-edge technologies, so we often check out what innovation fits best for our token development projects. We strongly intend to always be among the top token development companies, therefore, we try to be the first ones who create unique tokens using the latest trends in token development. Once you choose our team to get high-quality solutions, you can entirely rely on our experience and get the best result.
Expertise of Hivelance's Token Development Dedicated Team
If you're wondering whether you should hire a dedicated token developer at Hivelance, the answer is definitely yes. We have assembled the top blockchain experts in our team. Our developers stand out in part because of their in-depth background in history, ability to stay current with emerging technology, and ability to provide our clients with novel ideas.
Hivelance's token developers have outstanding technical expertise, real-world experience, and outstanding soft skills, which enable them to create unique crypto tokens on different blockchain networks, particularly Binance Smart Chain.