DeFi
1inch Exchange Clone Script To Build DeFi-based DEX Aggregator Platform
Use our 1inch clone script and open the defi gateway for your users to enter.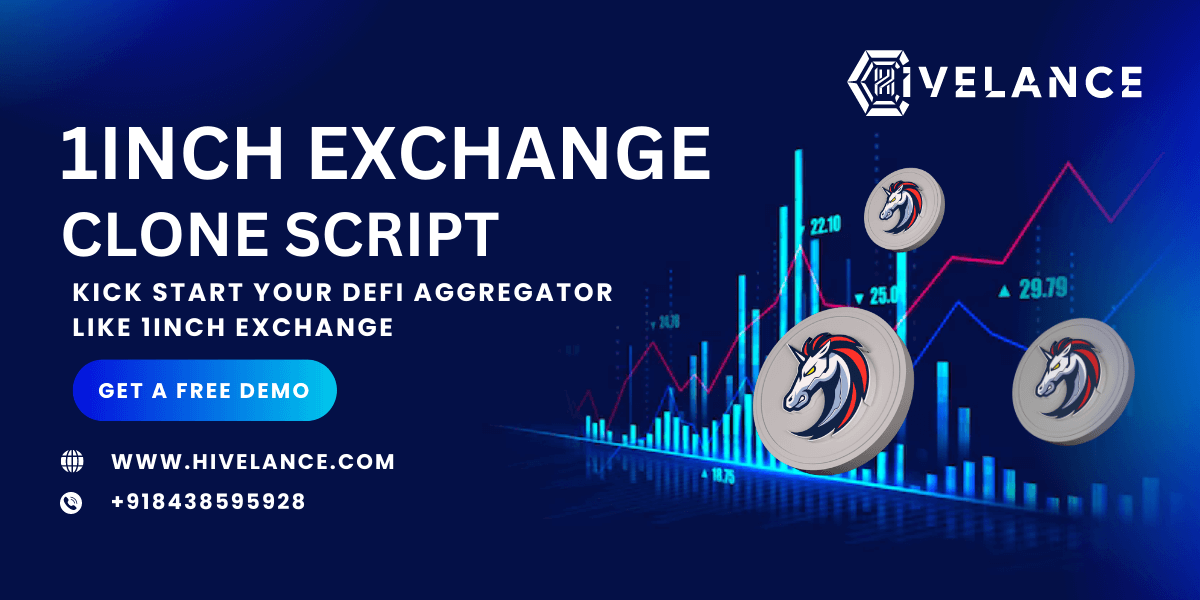 1inch Exchange Clone Script
1inch Exchange clone script is a readymade DeFi exchange script that has all the significant features to develop a decentralized exchange like 1inch Exchange. So, with a reliable 1inch Exchange clone, you can undoubtedly build a unique and robust decentralized exchange like 1inch Exchange.
With a readymade and easily customizable 1inch Exchange clone that is pre-built with all technical features and modern functionalities, you can build a robust decentralized exchange platform within your budget. Therefore, starting and running a blockchain-powered DeFi exchange like 1inch Exchange is completely possible with such a ready-to-use and versatile 1inch Exchange clone script.
White label 1inch Exchange Clone Software
White label 1inch exchange clone software is a 100% customizable and ready-to-deploy DeFi exchange solution that replicates the features and functionalities of the popular decentralized exchange aggregator, 1inch. With white label 1inch exchange clone software, you can launch your own DeFi exchange platform that operates similarly to 1inch while retaining the flexibility to brand it according to your business requirements.
Our reliable 1inch Exchange clone software will help you in arriving at a full-fledged, convenient, and robust DeFi exchange to entice users within a very short time.
Features of 1inch Exchange Clone Script
1. Aggregation Protocols
Aggregation protocols source the trade information from various decentralized exchanges and enable a single mode of translation that delivers the best exchange rates. Operated by a smart contract, the protocol is encrypted and provides a safe place for users to have the best EX trades.
2. Limit order protocol
Limit order protocol is defined by a smart contract agreement that can run on any blockchain based on EVM such as(Ethereum, Binance Smart Chain, Polygon, Arbitrum, Optimism, Gnosis chain, and Avalanche). It can offer enough flexibility to make the DEX trade with gas fee elimination. The protocol functions in two main order types called Limit order and RFQ order.
3. Liquidity Protocol
The protocol allows users to lock their crypto assets in a specific liquidity pool to earn interest and win tokens. By providing a liquidity source to the DEX ecosystem, the users can have unlimited earning opportunities like farming and mining. Through the use of tokens, the holders can participate even in the private token sales happening across other DEX.
4. Staking
Token holders can participate and vote in the organization proposal agreement. The token holders can also get added advantages like instant governance, DAO governance, and gas fee refunding when doing swap exchanges on the DEX aggregator.
5. P2P Deal
User-to-user exchange of tokens can be done privately. P2P orders can minimize the price fluctuations happening in the aggregator since its' happening outside the platform. Fair prices for exchanging tokens can be dealt with by user communication.
Security Features of Our 1inch Clone Script
Two-Factor Authentication (2FA)
Secure Wallet Integration
Penetration Testing
Multi-layered security options
Advanced decryption
Server-side entry forgery features
Anti Distributed Denial Of Service
End-to-end SSL encryption
Encrypted bridging
Cloudflare Integration
And more
Add-on Features of 1inch Clone Script
Multiple blockchain networks supported

Faster & secure transactions

Readymade smart contract combination

In-built liquidity sources

Governance protocol integration

Tokenomics roadmap

Fluid user interface

Flexible for customization

Noncustody wallet with tight security
Benefits of 1inch Clone Script
Our 1inch clone script provides several benefits for those interested in building a DeFi aggregator platform like 1inch. Here are some key benefits:
High scalability

Transparency

Immutable Contracts

Zero-Risk

Agile Operations

100% Decentralized

Flexibility and Customization

Proven Concept and Market Validation

Faster Time-to-Market

Established User Base

Highly secure and Trustworthy
How you can start your own DeFi exchange with a 1inch Exchange clone?
A readymade 1inch Exchange clone solution that is pre-built with all significant functions required to develop a robust decentralized exchange and that is readily customizable will definitely help you in launching your own DeFi aggregator right away. Also, with such a phenomenal 1inch Exchange clone, starting your DeFi exchange platform within your budget is wholly possible.
Why Choose Hivelance For 1inch Exchage Clone Development?
We are named as the fast-growing decentralized exchange development company with accomplished projects in a decentralized ecosystem. Having the readymade 1inch clone script gives you a competitive advantage to start the DEX aggregation platform without hassle.

Our experienced team has attentively developed an unparalleled 1inch Exchange clone script that includes many outstanding features and cutting-edge technology, which has been put through multiple rigorous testing processes in order to show the best performance across different platforms.
Our 1inch Exchange clone software is also very adaptable, allowing for the incorporation of additional features according to DEX requirements.
As a result, use our ready-to-market 1inch Exchange clone script to fulfill your goal of developing a world-class DEX within your budget.
PEOPLE ALSO ASK
---
What is DEX aggregator?
DEX aggregators are the elongation of decentralized crypto exchanges in terms of operations. DEX aggregator is the platform that gives investors access to multiple liquidity pools and get best swapping rate for any tokens or cryptocurrency. DEX aggregators can perform complex matching algorithmn inside to find the best liquidity pools for swapping.
Is 1inch a DEX aggregator?
Yes, 1inch is the Foruth largest DEX aggregator according to the trading volume.
How to build a DEX aggregator (DEX like 1inch)?
There are two ways either using 1inch Exhange Clone script or making your own DEX from custom software development team.
How much does it cost to build a decentralized exchange?
It depends upon the development process your choose. It may be either readymade 1inch clone scripts or built-from-scratch decentralized exchange. To know the exact quote for both of these, you need to contact our experts.
Does 1inch exchange supports multiple blockchains?
It can interoperable on blockchains like Ethereum, Binance Smart Chain, Optimism, Polygon, Arbitrum. At Hivelance, we can design your DEX aggregator in preferred blockchains you choose.