NFT
How To Create NFT Marketplace on Ethereum?
Create and launch your own NFT Marketplace on Ethereum!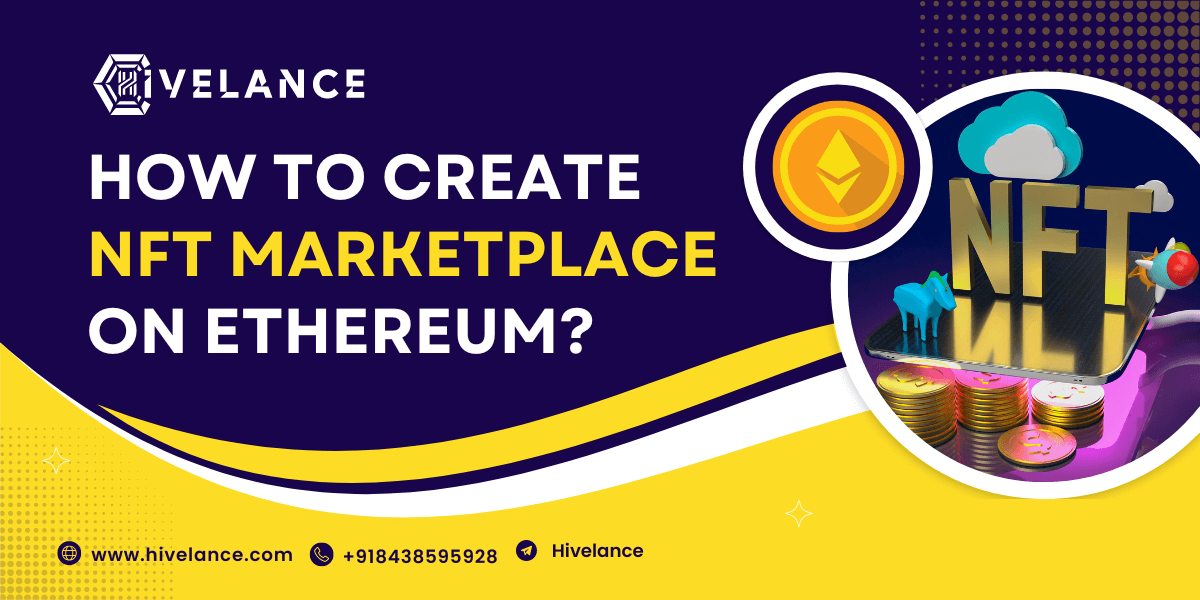 Looking at the market-changing needs, Ethereum has become a popularly used NFT marketplace development network that helps in building a Hybrid NFT marketplace. Ethereum-powered NFT Marketplace Development Services is the complete solution looking to create a professional NFT marketplace for expanding their NFT business.

With the Best NFT Marketplace Development in Ethereum blockchain technology, many crypto businesses have started migrating to Ethereum as it allows developers to develop more scalable, reliable, and secure platforms. By using Ethereum, developers or programmers develop a secure NFT marketplace that is easy to build and supports various use cases. This development platform allows programmers to create an NFT marketplace along with advanced features.

Ethereum - Simple Overview

Ethereum is a blockchain with a virtual currency called Ether (ETH). Just like a generic blockchain, transactions are stored in a distributed ledger.

Ethereum blockchain is unique from other blockchain networks because of its flexibility. Most of the blockchain networks only support transferring digital currencies, Ethereum allows you to transfer any data through the blockchain and pay the price with Ether.

An NFT marketplace built through blockchain technology can support different factors such as smart contracts, wallets, tokens, and many more attributes. While creating your NFT marketplace on the Ethereum network you should consider the primary things such as Transparency, Security, Decentralization, The Monetization Model, and Smart Contracts.

Ethereum has the above components and features. With this technology, programmers can separate design from the code to make it easier to maintain the NFT marketplace.

Benefits of developing NFT Marketplace on Ethereum

A new way to perform anything unique as an Ethereum-based asset.
NFTs are offering more power to content creators than ever before.
While creating NFT Marketplace on the Ethereum blockchain, The transaction history, and token metadata is publicly verifiable – it's easy to prove ownership history.
Trading NFTs can happen in P2P without needing platforms that can take large cuts as compensation.
Ethereum never goes down, so your NFTs will always be available to sell
Ethereum keeps your funds and assets secure is presently energy-intensive but it's about to improve.

Technological Stack Is Important For The Creating Of An NFT Marketplace On Ethereum
Solidity
Web3.js
Truffle
Ganache
IPFS
React.js
Metamask
Node. js

Primary Things To Consider When Choosing an Ethereum NFT Marketplace Development

When we create an Ethereum-based NFT marketplace, we may choose one of the two easy processes:
1. Create Ethereum-based NFT Marketplace From Scratch

Creating an Ethereum-based NFT marketplace from scratch will help you to execute your own ideology. You can enable each bidding function as per your wish. Also, you can design the architecture of your own NFT marketplace with the latest technology. So that you can deploy a feature-rich NFT marketplace in a way that is exactly what you think of in your mind. The NFT marketplace development cost and time involved in this method might be high but you can get an unmatched product outcome that would make your NFT marketplace stand unique in the global NFT marketplace.

Ethereum-based White label NFT Marketplace clone scripts

Ethereum-based White label NFT marketplace clone scripts are already developed, tested, and ready for launch that holds all the basic features and security attributes that an NFT marketplace needs. By using the white-label NFT marketplace clone script, you can create and deploy a function-rich NFT marketplace like Opensea, Rarible within a few days at an affordable price. It comes with numerous customization options so you can alter visuals, features, and more.

10 Essential Ethereum Blockchain Powered NFT Marketplace Clone Script

Opensea Clone Script
LooksRare Clone Script
CryptoPunks Clone Script
Decentraland Clone Script
Foundation Clone Script
Rarible Clone Script
SuperRare Clone Script
The Sandbox Clone Script
CryptoCats Clone Script
NFTrade Clone Script

If you look to gain users around the world to your NFT marketplace, create high-quality content with a responsive website to be successful in the NFT world. With many NFT marketplace development companies available in the market, choosing the best blockchain-based NFT Marketplace Development Company is one such platform that is the ideal choice of users in the market.

If you want to create an NFT marketplace for your business, Before that consider to following steps:

1. Choose The Right Niche
2. Explain Your Project's UI/UX Design
3. Move to Front-End Development
4. Use Smart Contracts Token Generator
5. Test and Deploy

Looking for the top NFT marketplace development company that specialized to create a robust NFT marketplace? Then you are in the right place!

Trusted NFT Marketplace Development Company

As a leading NFT marketplace development company, we always create robust, secure, custom NFT marketplace with high scalability. According to the need of products, we use cutting-edge technologies to develop an NFT marketplace with high-quality standards. We help you stand out in this crypto world by providing bespoke NFT marketplace development solutions.

Hivelance has been developing a futuristic NFT marketplace that takes businesses to greater heights. Our highly skilled NFT developers adopted a customer-centric approach by upgrading themselves to the latest blockchain technologies like Ethereum, Solana, BSC, Polygon, Tezos, and many others.
Cutting-edge NFT Marketplace Development Services You Need for Your Business Growth.

Hivelance offers high-quality NFT marketplace development services by keeping targeted users in mind for startups, medium-sized companies, and enterprises. As a reputed NFT marketplace development company in India, we have a dedicated team of NFT developers who can work with cutting-edge technology and you can hire NFT developers for your project need.

We are a renowned custom NFT marketplace development company, offering a wide range of NFT marketplace development services that cater to all your business needs:

Non-Fungible Token Development
Standardization Template For NFT Marketplace
NFT Marketplace Design & Development
NFT Smart Contract Development & Audit
Forking Existing NFT's Marketplaces
NFT Marketplace Maintenance & Support Services
And more

Features of NFT Marketplace Development

Storefront
Advanced Token Search
Filters
Bid and Buy
Create Listings
Wallet
Listing Status
Ratings
And more

Leverage Our NFT Marketplace Development Expertise to Support Business Growth!

Talk To Our Experts!

Call/Whatsapp - 918438595928
Telegram - https://t.me/HiveLance
Skype - live:.cid.8e890e9d0810f62c
Email - sales@hivelance.com