Cryptocurrency
Token Generator Platform Development Company
Hivelance is a token generator platform development company that creates custom token generation platforms that permit your users to create Ethereum, BSC, Solana, and other blockchain-based tokens without needing to know how to code.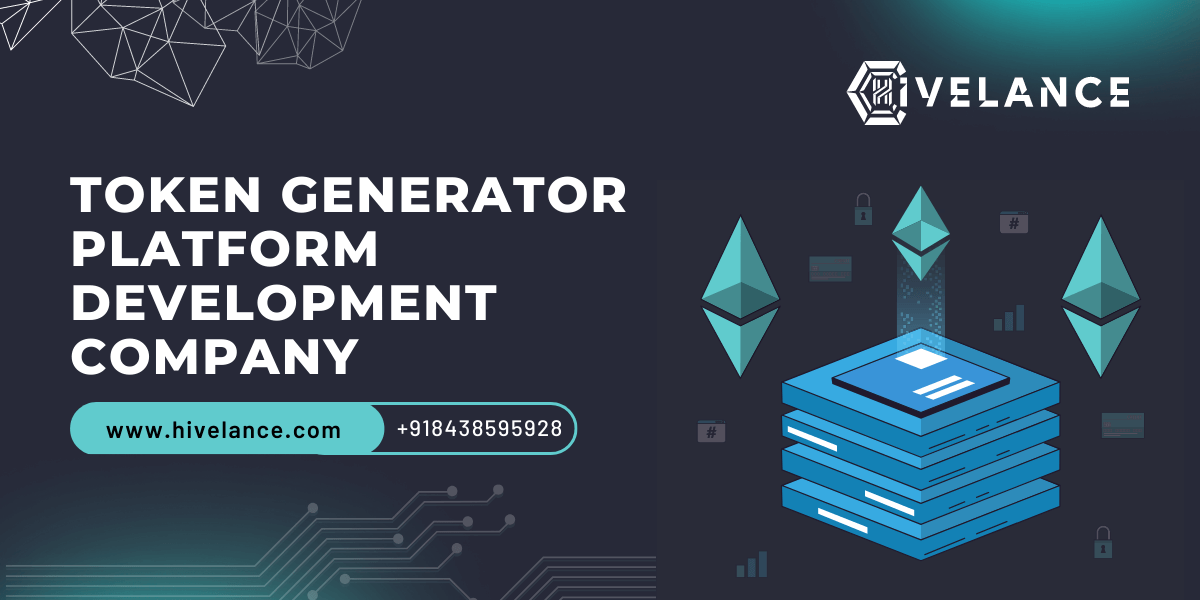 Crypto tokens are already among the most talked-about concepts in the blockchain and cryptocurrency industries. Tokens like utility, security, fungible, and Non-fungible tokens witnessed an astonishing trading volume of over $50 billion in just the last few months last year. N number of tokens are built on every single day.
By using the token generator platform, everything from utility to NFT tokens can be created and used by users worldwide.
In this blog, we will explore the key aspects of token generator platform development and various benefits of token generator platforms that can be implemented with the assistance of a token generator platform development company.
What is Token Generator?

One of the foremost doubts revolving around your mind right now must be the definition of the token generator. You cannot just look for the best token generator platform without understanding what a token generator is. The token generator is basically the process that allows you to easily create functional tokens that run on blockchain networks such as Ethereum, Binance Smart Chain, Polygon, Solana, EOS, and more. It uses specifically built Smart Contracts to enable users to create their own without the need for complex coding.

The token generator offers the benefits of faster token development, Instant launch, enhanced risk management, and reduced costs. Interestingly, the token generator has opened up the possibilities for token development along with customized solutions. Companies are trying to discover new grounds in the new developments with token generators, especially for exclusive benefits. Therefore, you can find many token generator platforms capitalizing on the latest trend in the blockchain space.
What is a Token Generator Platform?
A token generator platform is a software application or service that provides a way to create and manage tokens for various purposes. It may include a range of tools and features for generating, storing, and distributing tokens, as well as for managing their lifecycle and expiration. Token generator platforms are often used in combination with authentication and authorization systems to provide secure access to resources or services.
Token generators can be used to create tokens for a wide range of purposes, such as creating new tokens for a currency, tokens for use in a smart contract, or tokens for use in various business applications.
The best token generator platform can help you create almost any type of token based on your requirements. Business people as well as financial institutions leverage token generator platforms for creating and managing their tokens without any coding knowledge. So, how can the token generator platforms offer these functionalities? The answer can be clearly evident in an understanding of how token generator platforms work.
If you want to create a token generator platform, then you must have a clear impression of their work. A crypto token generator platform is a website or software application that allows users to create their own customized cryptocurrency tokens. These tokens are built on top of an existing blockchain, such as Ethereum, and can be used to represent a variety of different assets or utilities.
Here's how the process of creating a crypto token on a generator platform typically works:

Choose a blockchain: First, you will need to select the blockchain on which you want to create your token. This will usually be a popular platform like Ethereum, which allows for the creation of custom tokens through the use of smart contracts.
Define the token's properties: Next, you will need to define the properties of your token. This includes things like the name of the token, the symbol that will be used to represent it, the total supply of tokens that will be created, and any other special features or functions that the token will have.
Set up a wallet: In order to create a crypto token, you will need to have a digital wallet that is compatible with the blockchain you have chosen. This will be used to store your tokens and manage transactions.
Use the generator platform: Once you have chosen your blockchain and set up a wallet, you can use the crypto token generator platform to create your custom token. The platform will provide you with a smart contract template and a set of instructions for customizing and deploying the contract.
Deploy the smart contract: After you have customized the smart contract to your liking, you can use the generator platform to deploy it to the blockchain. This will create your new crypto tokens and make them available for use.
Distribute the tokens: Once your tokens have been created, you can distribute them to others through transactions on the blockchain. You can also set up a market or exchange to allow people to buy and sell your tokens.
List of Top Token Generator Platforms
Togen.io
Coinmechanic.io
Tokenmaker.org
Createmytoken.com
Deployfreetoken.com
Supertoken.xyz
Tokemaker.com
Cpitech.io
Bep20generator.com
Bep20generator.net
Lgctoken.com
And more
Want to create your own token generator platform? Or looking for the token generator platform development solutions? you are in the right place!
Token Generator Platform Development Company
Hivelance is a well-known token generator platform development company that is known for serving modern business demands and delivering best-in-class solutions at a competitive cost all over the world. Our team of specialists is committed to providing high-quality token generator platform development services using a variety of frameworks and technologies.

Key Features of Our Token Generator Platform Development
Create Tokens Quickly

Allows for quick token generation right from the browser in four simple steps: blockchain choosing, customizability, deployment, and minting.

No-coding Knowledge

Enables end users to quickly create and deploy tokens without the need for coding expertise or an in-depth understanding of cryptography.
Outstanding Features

Enables users to construct more feature-specific tokens by facilitating advanced functionalities including minting, burning, stopping, and immediate ownership transfer.

Interoperable

Allows for interoperability by letting users generate and issue tokens on various blockchain ecosystems
Wallet Integration

Users can quickly add their minted tokens to any supported wallet after creating and minting tokens on a blockchain network.
Open Source

As an open-source token-generating platform, it may be customized, upgraded, and scaled to best take advantage of future advancements.
Why Choose Hivelance For Token Generator Platform Development?
We have 10+ years of experience in the crypto & blockchain era
Delivered 100+ crypto & blockchain projects
We have a handful of experienced developers and a dedicated team of experts for customer support
We use advanced technology stacks and frameworks
24/7 Technical support through the internet
The development of the token generator platform can be fostered by the best token generator platform development company like Hivelance. We are backed by a team of seasoned blockchain experts and creative designers who work together to provide you with a great token generator platform that helps you gain an essential competitive edge.
Connect with our pool of experts to share your needs to create a token generator platform.