DeFi
DeFi Staking Platform Development To Leverage DeFi Staking for Maximum Returns
Hivelance is a leading DeFi Staking platform development company providing world-class DeFi Staking solutions that helps you to generate passive income in a short span of time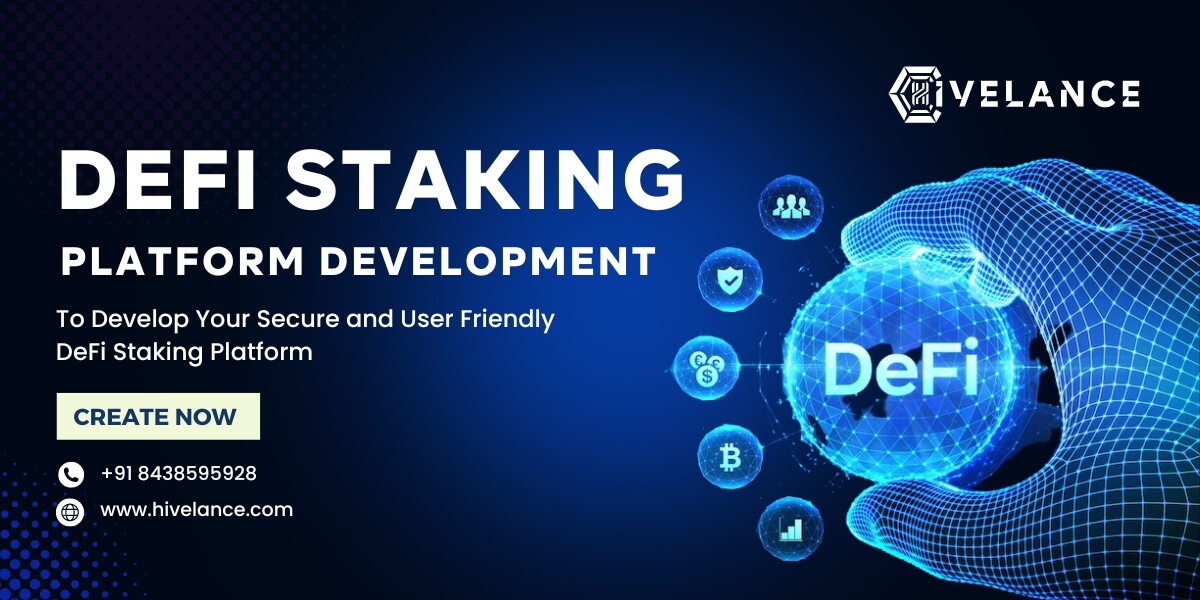 DeFi Staking Platform Development:
DeFi Staking Platform Development is a popular pastime among aspiring crypto-preneurs today. It not only helps business owners earn a lot of money, but it also provides high-level security when conducting blockchain transactions. Fixed rewards, changing rewards, and slashing penalties are some of the reward methods used by DeFi staking platforms.
At Hivelance, we offer a DeFi staking platform development solution which includes various major advantages for your project to produce DeFi staking software for the establishment of a profitable blockchain business.
DeFi Staking: Overview:
DeFi Staking is the process of storing crypto assets in smart contracts. This provides investors with benefits that can often be used as a form of passive income.The crypto assets that investors often stake include fungible and non-fungible tokens with incentives in the form of interest.
To simplify the concept, consider DeFi staking platform as an extremely high return offering fixed deposit. Just like FD, you place DeFi in the staking platform in exchange for a substantial amount of interest.
Why are startups investing in the DeFi Staking platform Development?
Since it is a fantastic way to draw people to their platforms, many startups and businesses are very interested in the DeFi Staking Platform Development. More users will be interested in donating their assets to the DeFi staking platform's liquidity pool and the more enticing rewards a firm is delivering in its DeFi Staking platform.Users will judge its dependability based on how much liquidity a DeFi staking platform offers.
Additionally, by offering staking chances on the platform, start-ups and entrepreneurs will conduct more transactions which will result in larger transaction fees. As more users stake in the liquidity pool, companies and businesses have begun to include yield farming and liquidity processes into their DeFi staking platforms.
Pros of investing in DeFi staking platform:
DeFi staking platforms are necessary for enterprises for a number of reasons. Here are a few innovative benefits of using a DeFi staking platform for your company. Hivelance is a top DeFi Development Company that can meet all your needs. Let us examine a few of the most important benefits of incorporating our DeFi Staking Platform.
More rapid settlements:
Comparing DeFi to Traditional finance, DeFi enables quicker and less expensive payments. There is no requirement that the transaction be mediated by a third party. DeFi platforms also give you the chance to strengthen the liquidity situation. You can borrow money via DeFi platforms and use your crypto assets as collateral.
Decreased risk:
DeFi Staking platforms enable you to lower the risk exposure. That is because we will let you bet your resources and get paid in return.DeFi staking Platform will enable businesses to borrow money against their crypto assets. It lessens the chance that you will lose money if the value of assets declines.
Enhanced liquidity:
DeFi staking platform increases liquidity and it is perfect for businesses who wish to retain the cash on hand. Additionally, it enables your business to diversify the portfolio by staking the assets across other platforms. With DeFi Staking platforms, you can diversify your risk and increase your earnings.
Core Features of DeFi staking platform development:
Onboarding new users:
The development of an intuitive onboarding platform is crucial for DeFi staking. The registration and purchase of crypto assets is the first step in the process. Our DeFi staking development may include a fiat on-ramp and a variety of payment methods for buying crypto assets. User onboarding may or may not include going through KYC.
Select the assets and the lock in-times:
Most DeFi staking platform developments commit the error of providing a small number of coins for staking. To attract more users to the platform, they must provide a variety of coin staking options , various lock-in durations, or even no lock-in periods. The users must have an easy time selecting different coins and lock-in times.
Calculator for rewards:
On a DeFi staking platform, the reward calculator is the most crucial component. Even before staking his coins, a user can input variables like the assets he will stake, the lock-time, and the reward pay-out frequency to see how many staking rewards he will get.
Reinvestment and payout type:
The platform can be set up to give stakers the option of receiving their staking reward in the form of native tokens of the staking platform. The staker also has the option to automatically reinvest their staking winnings rather than cashing them out.
Advanced choices:
A few examples of advanced capabilities include access to the entire transaction history, portfolio management, trading, referral rewards, and reporting of gains graphs or protocol metrics.
What is the price of developing a DeFi staking platform?
DeFi Staking Platform Development costs are entirely dependent on a number of variables including project scope, features, platform choice for product launch, tech stacks, degree of customization in terms of user interface and functionality, and many other variables. It cost around between $150,000 and $200,000 to complete.
Consult our experts to know the exact cost estimation based on your requirements.
List of our different DeFi Staking Platform Clone Scripts:
DeFi refers to a ground-breaking innovation with the potential to fundamentally alter online lending and borrowing practices. Therefore, it is currently at the top of the cryptocurrency market among blockchain enthusiasts. Additionally , among aspiring crypto business people, the use of the DeFi staking platform clone scripts for business investments in the same industry surged. Therefore, business owners like you frequently employ the DeFi staking platform clone scripts provided below to establish successful blockchain businesses.
UniSwap clone script
SafeMoon clone script
JustSwap clone script
Compound clone script
PancakeSwap clone script
BakerySwap clone script
SushiSwap clone script
In addition , we may have a number of well-known DeFi platform clone scripts for your effective project development. To construct your new software for the cryptocurrency market in the most innovative way, you could use our DeFi Staking Platform Development services.
Steps to develop DeFi Staking platform:
Let's get into the DeFi Staking Development Platform Development for your business:
Decide on a blockchain
Choose the blockchain that you want to construct your DeFi Staking solution on. While ethereum is the blockchain that is most frequently used to build dApps, other blockchains like Binance smart chain are also starting to gain popularity for dApp development. Pick the blockchain that will be the base of your staking platform as an outcome.
Select the features:
Choose the features you wish to include in the staking solution after choosing the blockchain. Make sure your platform is simple to use. Make the user experience as simple as you can and establish high level platform security as well. Customers of DeFi prefer to spend their money on only proven DeFi technology. Confirm smart contracts are thoroughly to remove any vulnerabilities.
Select the cryptocurrencies:
The crypto holdings that your staking solution will permit are another thing to take into account. The approved assets will be added to the pool by your users.
Partner with a trustworthy blockchain development company:
Once you have made your decision, it is time to collaborate with the trustworthy blockchain development company like Hivelance. You should research potential development company by researching their backgrounds and competencies before you choose one
Why Hivelance for DeFi Staking Platform Development?
Hivelance is a leading DeFi development company ,offering you a wide range of beneficial software design solutions for the development of your DeFi staking platform needs.We take care to ensure that your investments generate genuine, significant, and observable profits from DeFi staking platform development.
However, development of DeFi staking platforms necessitates a solid grasp of user interface design, smart contract development, and blockchain technology. We provide a range of DeFi Staking platform Development services, such as post-delivery support, to assist you in expanding following the product launch. Our team of skilled blockchain developers would add value to your company by giving it all it requires and even more.