CryptoPunks Clone Script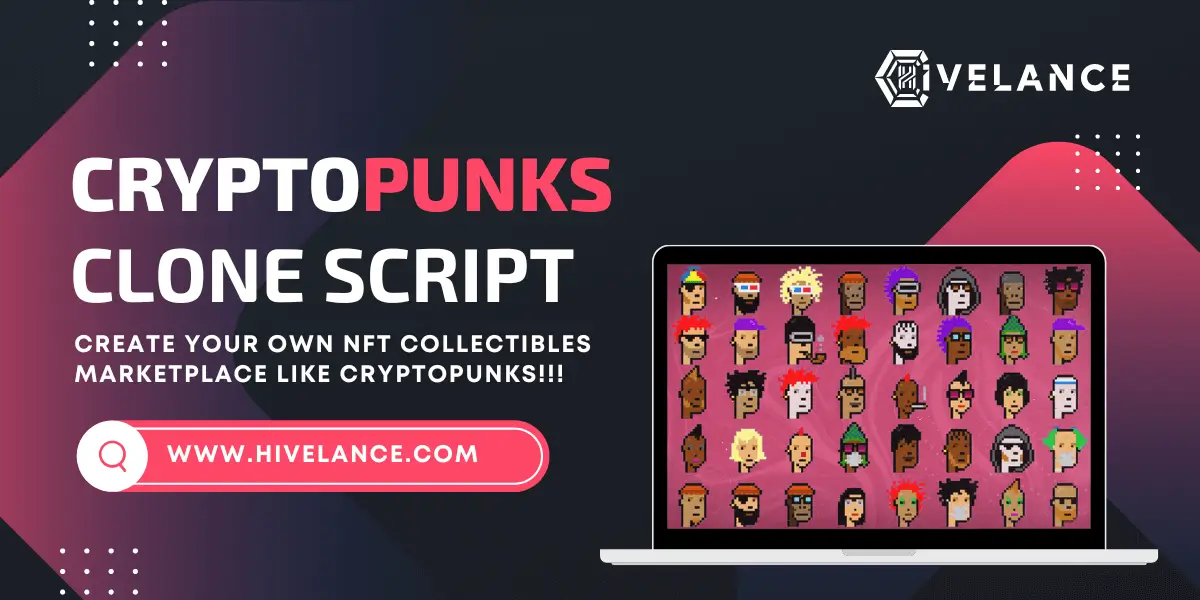 CryptoPunks Clone Script Development Company
Kick start your crypto journey by developing and launching an NFT marketplace like CryptoPunks. We are the praiseworthy CryptoPunks clone script development company enfolding the talented team of blockchain developers always honored in delivering reliable outcomes.
CryptoPunks Clone Script
CryptoPunks Clone Script is a White Label NFT Marketplace script to launch digital collectibles platforms like CryptoPunks that have high unique features and advanced functions with entire customization. We have the best developers within our firm who can assist you whenever needed. We design and develop your script that is cost-effective and easy to access, turning your dream project to come true.
What are CryptoPunks?
CryptoPunks is an NFT collection on the Ethereum networks which was launched in June 2017 by the Larva Labs studio. This blockchain project was an inspiration for the ERC-721 standard for NFTs and the modern crypto art movement, which has since become a part of the cryptocurrency and decentralized finance ecosystems on multiple blockchains.
White Label CryptoPunks Clone Software
White Label CryptoPunks clone software is a pre-build NFT marketplace software that holds all the existing features of CryptoPunks that are needed to start a successful NFT marketplace business. By using this white label CryptoPunks clone software, you can create and deploy an excellent NFT marketplace within 10-15 days as per your business requirements.

Our bug-free white-label CryptoPunks clone software supports 10,000+ unique collectible characters which enable your users to trade a wide range of crypto collectibles as per their wish. You can launch the NFT marketplace like CryptoPunks with our bespoke and white label CryptoPunks Clone Software.
Launching an NFT Digital Collectibles Marketplace Like CryptoPunks becomes very easy
It would be very simple for aspiring entrepreneurs to develop and run the NFT Digital Collectibles Marketplace Like CryptoPunks. A fully customizable and powerful CryptoPunks Clone script is the easiest way to launch an NFT marketplace like CryptoPunks. Such an NFT marketplace script lets you develop digital collectibles platform in a cost-effective manner and also contains advanced features. It just takes 10-15 days to launch the NFT marketplace with the help of ready-made CryptoPunks Clone Script.
Features of Cryptopunks Clone Script
StoreFront - User's info, price history, and bidding info are displayed in the storefront.
Token Search - Users can search their preferred crypto tokens easily without any hassles.
Advanced Listings - The listing facility is available for an easy listing of Crypto or digital token.
Listing Status -The status of the listing can be viewed at any time.
Wallet Integration - Users can store their digital assets by integrating the wallets into their accounts.
Bidding options - Bidding is easy for users by providing several features in pricing, bidding eligibility, etc.
Marketplace - Common spot for purchasing/selling digital assets.
Strong Architecture - Our Clone script is developed with architecture that enables automated functions.
Ratings - Users can view the feedback at any time given to a specific seller and the listing's credibility.

Why Develop Digital Collectibles like CryptoPunks?
CryptoPunks is the latest and top-notch NFT project on the Ethereum blockchain with interesting characters. Can you guess the volume traded? It's above $250 million. So you can opt for the CryptoPunks script and that would be a perfect choice that makes immersive profits. CryptoPunks clone is embedded with features from all the popular NFT digital collectibles marketplaces to improve the performance of trading virtual assets as well as it allows you to create your own digital artwork and list them for sale. Dive into the long list of interesting enhanced features of the CryptoPunks clone.
Components of our Cryptopunks Clone Script
Supply and Demand
Rarity
Whale Owners
Liquidity
Value Estimates
How Does CryptoPunks Clone Script Work?
It is a collection of NFTs that are over 10,000 unique characters with ownership stored on the Ethereum blockchain with the support of the ERC-721 standard that powers most digital art and digital collectibles. Cryptopunks clone script enables users to buy, bid on, and provide punks for sale purposes.
CryptoPunks clone to create a customizable and reliable NFT marketplace on various blockchain networks. Build a customizable NFT collectibles platform with CryptoPunks clone that's embedded with world-class features like store exhibitory, advanced search option, stack listing, IPFS, and more. Making it a versatile pixelated NFT digital collectibles platform.
Top Of The Blockchain Networks To Build Your NFT Marketplace Like CryptoPunks

Ethereum
Binance Smart Chain
Solana
Polygon
Tron
Polkadot
Cardano
EOS
Waves
Stellar
Why Hivelance for CryptoPunks Clone Script Development?
Hivelance is the mission-driven NFT marketplace development company that mainly focuses on rendering the high-quality and standardized CryptoPunks clone script with no bugs. Our blockchain developers have more experience in the relevant field and can bring the output with more scalability. Our main and highlighted features include:
10+ years of experienced blockchain developers
Best UI/UX designers
Blockchain agnostic solutions
Instant Launch
Cross-Chain Solutions
Cost at its reasonable level
Quality assurance team
Zero bug project outcomes
24/7 technical support
Are You Looking to Create an NFT Digital Collectibles like CryptoPunks? Feel free to contact our experts via Whatsapp - +918438595928 | Telegram - Hivelance