DeFi
dYdX Clone Script to Launch non-custodial decentralized crypto exchange like dYdX
DYDX clone script is a custom-built decentralized exchange clone script that replicates the functionalities and features of the popular decentralized exchange platform, dYdX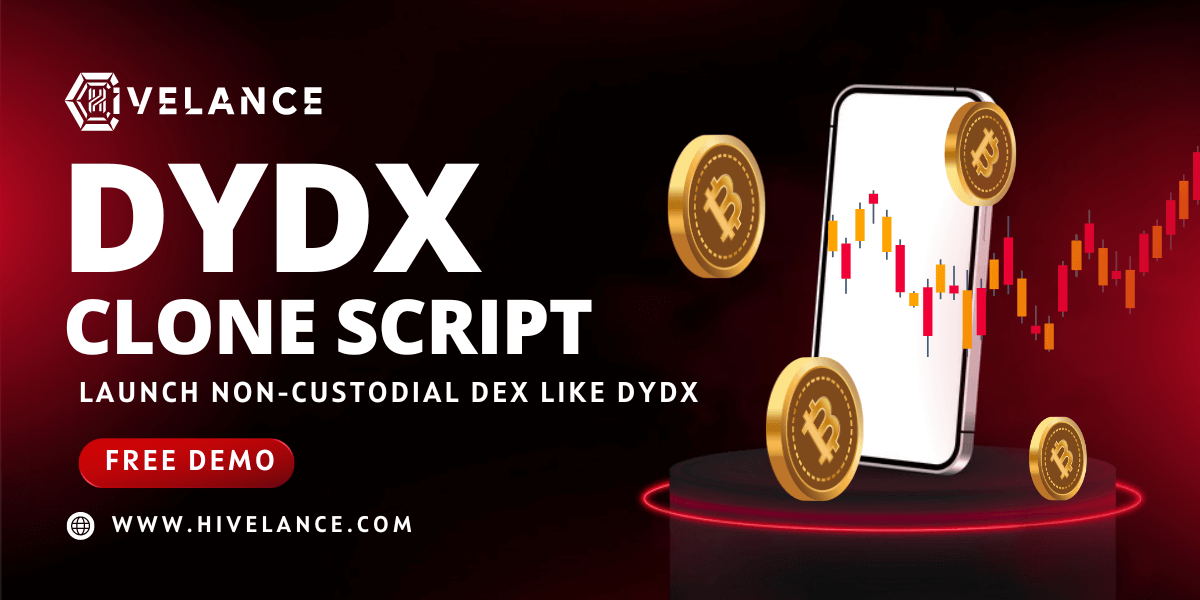 DyDx Clone Script
DyDx clone script is a pre-made software solution that duplicates the attributes and capabilities of the DyDx decentralized exchange. The ultimate aim of the DyDx clone development is to offer customers a decentralized exchange platform that provides similar advantages and features to the DyDx platform in terms of security, transparency, and control over funds.
Hivelance equips entrepreneurs with their ground-breaking DyDx clone script, a complete package for creating your decentralized exchange (DEX) platform.
Understanding DyDx
DyDx is a decentralized trading platform that operates in the cryptocurrency industry. It is built on the Ethereum blockchain and focuses on providing decentralized trading and lending services for various digital assets. DyDx aims to offer users a secure and transparent platform where they can trade, borrow, and lend cryptocurrencies without relying on intermediaries or centralized authorities.
The platform enables users to engage in margin trading, allowing them to borrow funds to amplify their trading positions. By utilizing smart contracts, DyDx enables peer-to-peer trading, eliminating the need for intermediaries and providing users with direct control over their funds. This decentralized approach offers benefits such as increased security, reduced counterparty risk, and improved transparency.
DyDx also facilitates decentralized lending, allowing users to lend their cryptocurrencies and earn interest on their holdings. This creates a vibrant lending market where borrowers can access funds and lenders can earn passive income on their digital assets.
Importance of building a DyDx Clone Script
Your business can get several benefits while creating a DyDx clone script. Here are several main justifications for thinking about developing a DyDx clone script.
Profit from the growing DeFi market
You may get into this booming business and provide users with a website that offers decentralized trading and lending services through the DyDx clone software development. This enables you to obtain a competitive edge and take advantage of the rising demand for decentralized financial solutions.
Improved transparency and security
You can make sure that transactions and user funds are anonymously and transparently recorded on the blockchain by utilizing smart contracts and decentralized ledger technology. This reduces the hazards connected with centralized exchanges and promotes user trust.
Enable users with Self-custody
You can enable users to manage their money independently from their wallets rather than having it on a centralized exchange. The risk of hacking or theft from centralized platforms is decreased while user privacy is improved.
Direct Peer-to-Peer Trading
DyDx clone scripts allow for peer-to-peer trading, which enables users to transact with one another directly and without the involvement of middlemen. This gets rid of the requirement for centralized exchanges to match orders which lower transaction costs and improves trading effectiveness. A more decentralized and democratic trading environment has been promoted by its user ability to negotiate and carry out trades in an unauthorized manner.

Decentralized borrowing and lending
Lending and borrowing capabilities are frequently present in DyDx clone scripts in addition to trading. This enables users to borrow money using their digital assets as collateral and earn interest on the loan. You must promote the growth of a robust lending market inside the DeFi ecosystem by supporting decentralized borrowing and lending.
Possibilities for Customization and Branding
Creating a DyDx clone script gives you the freedom to alter the interface to suit your own branding needs and commercial objectives. You can modify the user interface, add new services, and incorporate payment channels to reflect the brand of your business. You can do this to distinguish your platform and design a special user interface.
Key features of a DyDx clone script
Non-custodial
It offers a trusted minimized design because it does not demand that users deposit their money onto the system. While trading, the money stays in the user's wallet. This reduces hacking and fraudulent activities.
Perpetual swaps
Users can trade perpetual swaps, a form of the derivative instrument through DyDx. Despite not having an expiration date, they are comparable to conventional future contracts. Importantly, perpetual swaps enable traders to stay in the market for longer and seize potential chances.

Margin trading
Additionally, DyDx has an effective margin trading protocol. By leveraging their assets through margin trading, investors can take larger market positions and potentially increase their earnings. It also raises the possibility of greater loss.
Stop losses and limit orders
Limit orders and stop losses are supported by DyDx, enabling users to streamline their trades and lower risk. For instance, if a trader places a stop-loss order at 5% below the price, then the market position is immediately closed when the price reaches the desired level to stop further losses.

Integration between order books and TradingView
It provides an online tool that integrates TradingView capabilities and strategies into a DyDx trading account. TradingView is a well-defined trading strategy planning and execution tool. Trading is made simpler and more effective for DyDx users by their ability to use Tradindview's capabilities directly on DyDx.
Flash loans
A flash loan is a financial tool that enables users to get a certain amount of digital assets from a protocol without collateral or proof of income. This is achievable because the borrowed money is returned as part of the same blockchain transaction. Users can take out quick loans through DyDx, which are typically funded within.

Lending and borrowing
Additionally,DyDx has a potent lending and borrowing feature. Thus, users can borrow to access more chances on the market or lend to earn interest on their assets.
How to get started with a decentralized trading platform like DyDx?
Since it is a decentralized exchange, DyDx does not subject users to Know Your Customer (KYC) verification. To begin trading in only a few minutes, all you need is a funded Ethereum crypto wallet. Hence, it is non-custodial, traders have total control over their money. Steps to get started with a decentralized trading platform like dYdX.
Visit the official dYdX website or get the iOS dYdX trading app.
Your wallet should be connected (CoinStats, MetaMask, Coinbase, etc). When you log in to the wallet, a pop-up prompt asks you to create a stark key. By establishing a secure connection between Layers 1 and 2, the Stark key helps to support the identification of the user's account. To create a signature request, click the generated Stark key button. No gas fee is required, simply sign the transaction.
Accept the terms and register an account.
Make a deposit using Ethereum mainnet money. The Stablecoin USD (USDC) is the only one that the platform currently permits as trading collateral.
Choose your trade type and asset.
Establish a position with desired leverage and constraints.
Keep an eye on your profit and loss report and fund your position as needed.
Why choose Hivelance for creating decentralized exchanges like DyDx?
Hivelance is a leading Decentralized Exchange Development company that provides services to create automated DeFi trading for DEX. Our team of highly skilled blockchain professionals has developed a ready-made, fully integrated BotSwap clone solution with exceptional features and cutting-edge technologies. To exhibit outstanding performance across various blockchain platforms, our trustworthy BotSwap clone software goes through several rigorous testing protocols. This would surely help to increase user confidence in the decentralized exchange platform and its trustworthiness.