DeFi
FalconSwap Clone Script To Build Your Custom Decentralized Exchange Platform
Hivelance offers pre-fabricated and bug-free falconswap clone script that helps businesses to launch their own DeFi DEX platform at an affordable price.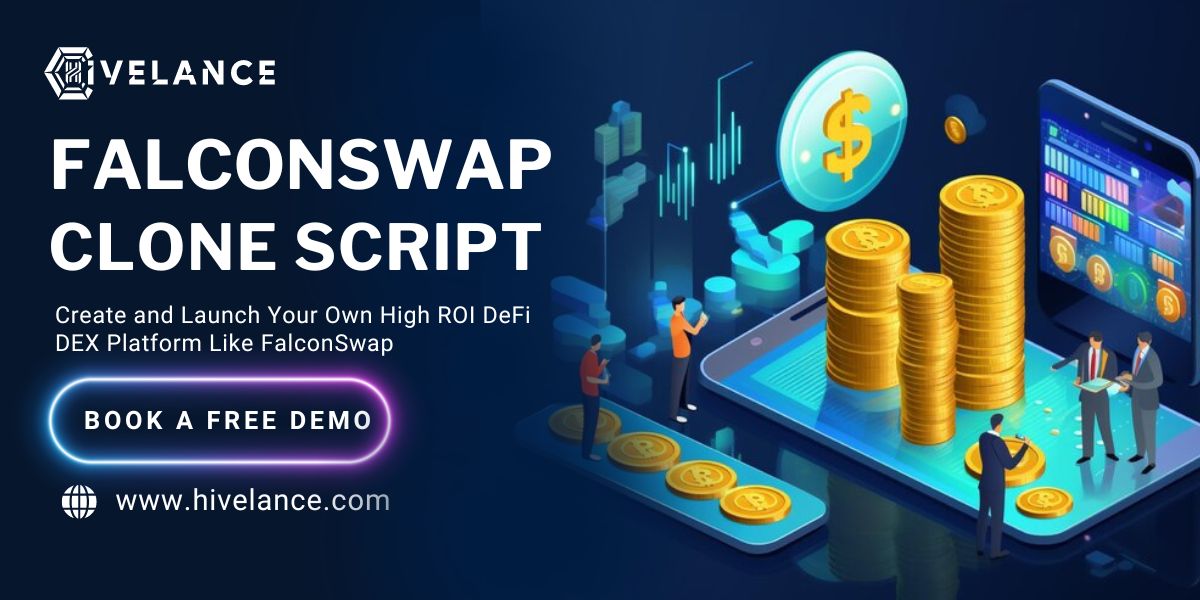 FalconSwap Clone Script
FalconSwap clone script is a ready-made solution to build a decentralized exchange which has similar features and functionality of FalconSwap.Our FalconSwap clone script is a ready to use DeFi based cryptocurrency swapping protocol that delivers the exchange of crypto assets with delicate and dynamic features like the low latent transaction, automated leveraging liquidity, and supervised staking protocol with premium security features.
Hivelance offers 100% source code that has been thoroughly debugged, pre-tested, and equipped with all the components needed to launch a decentralized exchange similar to FalconSwap. We assist startups and entrepreneurs to start their own trading platform like FalconSwap.
Whitelabel FalconSwap Clone Software
Whitelabel FalconSwap clone software is a 100% customizable solution, offering the ability to customize branding , appearance , token listings , and add-on features to present your uniqueness Using our Whitelabel FalconSwap clone software, businesses can significantly reduce the amount of time and money they would otherwise spend developing a DeFi platform from scratch.
Features Of FalconSwap Clone Script
Pairing orders at Layer 2
Executed matching orders are pooled layer 2 before being used to access liquidity from UniSwap's liquidity pools.
Reduced trading costs and Slippage
Trading fees operate with lower slippage rate to prevent slippage from the pool.
Faster transactions
The cause for the quicker transactions completed in this FalconSwap exchange is the deployment of layer2. An aggregator powers transactions for layer2 trade execution.
Secrecy
This layer-2 order matching offers extremely high secrecy.
Aggregation of DEX
A number of liquidity pools from UniSwap, balancer, MooniSwap, etc. These pools are accessed to aggregate orders.
Mining using liquidity
When trading takes place on this platform, FSW coins are employed for mining.
Permissionless
Access to all liquidity token pools is totally decentralized and permissionless.
Locking up tokens
FalconSwap Lockups (FSWL), an ERC-20 token, is locked up before being made tradeable.
Benefits of developing FalconSwap clone script
Creating a FalconSwap might offer a number of advantages and possibilities.
Enhancing opportunities for cryptocurrency trading
The popularity of bitcoin trading platforms has grown. Building a cryptocurrency exchange such as FalconSwap, could tap into this expanding sector and attract traders looking for reliable and effective platforms to trade digital assets.
Various revenue streams
A cryptocurrency exchange might earn money through transaction fees, listing fees, margin trading, token sales, and other means. You can construct a sustainable business strategy by providing a varied range of services.
Liquidity and market making
Building liquidity is critical for traders because it ensures the capacity to purchase or sell assets quickly without severe price slippage. By offering , you can facilitate liquidity and attract traders looking for efficient trading possibilities.
Diversity and innovation
FalconSwap has attracted notice for its unique features, such as the layer 2 aggregation protocol and the FalconSwap token (FSW).
Revenue growth and development opportunities
You can react to the market trends, integrate new cryptocurrencies, and grow your services to satisfy the changing needs of traders.
Community outreach and tokenomics
FalconSwap has built a token economy around its native token (FSW). This allows users to engage in governance, earn prized, and enjoy a variety of platform perks. By developing , you may encourage user involvement, motivate participation, and build a devoted user base.
Security and trust
FalconSwap prioritizes security by employing numerous measures such as smart contract audits, bug bounties, and comprehensive security protocols.
Trade Fragmentation
Several separate exchanges currently operate in the fragmented bitcoin industry. Users' trading experiences may be streamlined as outcome, drawing traders looking for a centralized trading environment.
It is essential to carry out in depth market research, create a complete business plan, and verify compliance with legal and regulatory standards before constructing a cryptocurrency exchange like FalconSwap.
How does the FalconSwap clone work ?
The FalconSwap clone's functionality enables users to participate in the FalconPool. Let's examine its function,
Every single time a Falconpool runs a set of smart contracts
The details of the token pools are contained in a contract that has been implemented on the ethereum mainnet.
Three stages have now been completed and are being processed , redeemed , and unlocked.
Processed - Processing enables the pool developer to properly process pools. Transactions from contributors are sent on layer 2 and pooled in this case.
Redeemed – Redeems the money raised through FalconPool.
Unlocked -The pool creator unlocks the token. The unlock option is accessed by the pool developer through a dashboard.
How to launch a DeFi Exchange platform like FalconSwap ?
Simply follow the steps before you begin to create your own DeFi based exchange similar to FalconSwap,
Examine many DEX platforms currently available, such as PancakeSwap, HoneySwap, JellySwap, BakerySwap, BurgerSwap, MooniSwap, and more.
To have a better understanding of the other exchange platforms with a food themed motif, keep an eye on the other decentralized exchanges.
Open the official FalconSwap exchange so you can learn more about it.
You can describe your needs and desires because our script is adaptable.we are pleased to incorporate it.
Anyone interested in starting an ethereum based exchange similar to FalconSwap can either request a premade FalconSwap clone script or Whitelabel FalconSwap Clone Software.
Why choose Hivelance For FalconSwap clone script ?
Hivelance is a leading DeFi development Company, offers the FalconSwap clone script with its dynamic features like layer2 scaling. We have a commitment to offer FalconSwap clone script which is affordable, scalable, adjustable, and an immediate choice to start your DeFi exchange right away.