NFT
NFT Aggregator Marketplace Development Company - Build one platform for accessing all NFTs
Create your own NFT aggregator marketplace on various blockchain networks!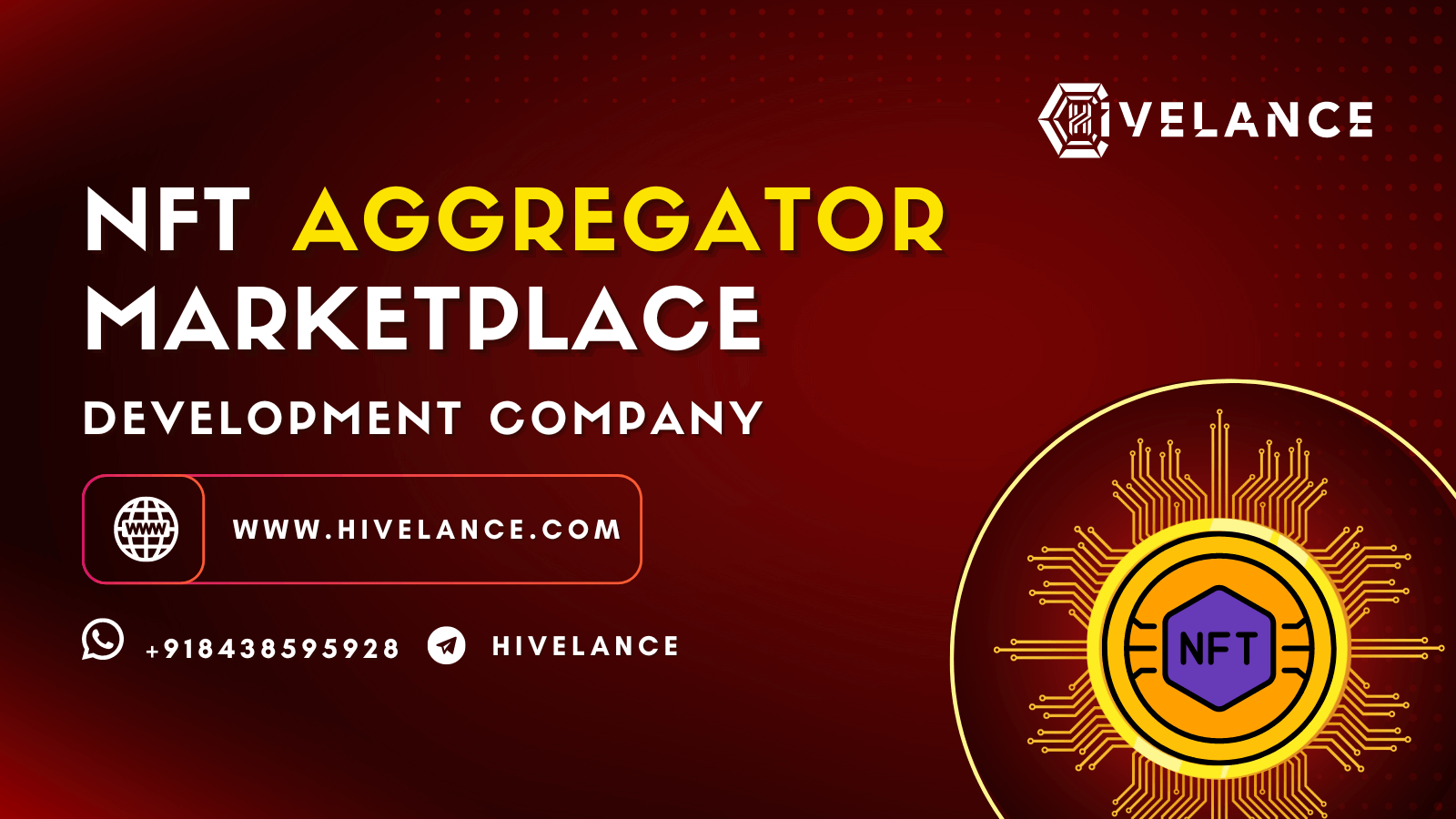 NFT Aggregator Marketplace Development
Become a part of NFT aggregator marketplace development by accompanying us. We are the leading Blockchain based NFT Aggregator Development Company having an astounding crypto ecosystem to expand the business and launch your NFT Aggregator platform on various blockchain networks such as Ethereum, Solana, Polygon, Binance Smart Chain, EOS, and more.
Want to see the demo of NFT aggregator platform? Book Now
What is an NFT Aggregator Marketplace?
An aggregator platform is described as a common spot that brings various shopping places to one destination. Despite logging on multiple platforms, Users can sign up at the NFT aggregator platform. NFT aggregator marketplace is a platform where there is a group of inventory from various NFT Marketplaces taking place.NFT Aggregator Marketplace Development is the process of building an NFT aggregator platform to buy and sell NFTs easily.
In simple words, it is the new upgradation to the NFT marketplace. Our Hivelance team offers white label solutions for NFT aggregator website, and mobile apps based on your entire customization. Develop and Launch your own NFT Aggregator platform attracting many users to your business and witness the growth.
Why Build an NFT Aggregator Marketplace?
NFT marketplace is created to list and buy digital artwork from its store. If there is no interoperability in the NFT marketplaces, the users will not have a connection between creators and collectors. With an NFT aggregator marketplace, you can bridge this gap and provide users a platform to access the entire crypto market. This NFT aggregator platform provides easy navigation, and a better sale and purchase experience for users.
How to build an NFT aggregator?
Step 1 - Determine the scope of popular NFT marketplaces and choose the ones you'are willing to integrate.
Step 2 - Develop the interactive user interface that gives intutive accessibility for the users.
Step 3 - Code the smart contract on the blockchain that has low gas fees for NFT Transactions. You can enable cross-chain bridging later to connect with other blockchains.
Step 4 - Integrate all the third party NFT marketplace protocols to be aggregated inside your NFT aggregator platform. This can be done by developing API in your own or connecting their API within the platform.
Step 5 - Connect the wallet APIs in the aggregator platform that allows users to access any decentralized wallets they use.
Step 6 - Cross-check whether NFT buy/sell process happens fluidly without much delay in transactions.
Step 7 - Deploy the NFT smart contract on the blockchain EVM and promote the aggregators platform using multiple marketing strategies available.
Characteristics of Our white-label NFT Aggregator Marketplace
1. Creation of user's own profile
Through NFT aggregator, users can create their own profiles and showcase their artworks.
2. Search filters to an advanced level
We create advanced filters with options including price levels.
3. Integration of wallets
NFT aggregator platforms support Multi wallet integration serving as the initiative for the users to create, govern and trade NFTs.
4. Entire Customization
According to the user's requirements and browsing history, the NFT Suggestions are displayed by the NFT aggregator.
Related - White-label NFT Marketplace Development
Features in our NFT Aggregator Marketplace Development
Storefront

Multiple gateway payments

Centralized dashboards

Properly managed profiles

Matching prices

Push notifications

Smart contract enabled

Royalty support

NFT advertising

NFT order history

NFT Live tracking

Multiple wallet integration
Benefits of NFT Aggregator Marketplace
NFT users across the globe can enjoy the benefit from the NFT aggregator platform as it provides the route to handle the liquidity and gas value in the crypto markets. The key benefits of the NFT aggregator platform are:
Bulk transactions can be processed

Access to NFTs are convenient

Diverse liquidity options

Reduction of gas fees

Personalized experience.
Our NFT Aggregator Marketplace Development Services
Development of user interface platforms: We develop NFT platforms that are user-friendly and run without any interruptions.

Support of Multiple blockchain networks: Our NFT aggregator marketplace platform supports multiple blockchain networks like Ethereum, Binance Smart Chain, Polygon, Solana, TRON, etc.

Decentralized and High secured platform: Users can take entire control of the platform as it is fully decentralized with an admin panel. High security is provided for neglecting any hacks or misuse

Smart contracts:

Smart contracts enrich the highest security and our NFT aggregator platform is developed with smart contracts with aligned management and functionalities.
How To Generate Revenues From Our NFT Aggregator Platform?
Various ways are there in generating revenues by developing and launching your own NFT aggregator marketplace. The users can earn money by collecting:
Commission fees

Freemium

Listing fees

Subscription fees
Industries that are served with our NFT aggregator marketplace services
Music industry

Sports

Gaming

Fashion designing

Arts

Real estates

Videos

And more
Related - Music NFT Marketplace Development | NFT Fahion Marketplace Development
How does NFT Aggregator Marketplace work?
1. Setup your wallet
Users need to set up their wallets first, before entering into the platform. Some of the popular wallets are Metamask, Coinbase wallet, Trustwallet, Alpha wallet, etc.
2. Create your own profile ( marketplace) with all details:
After the creation of wallets, the next step is to allow the users to create an account. The entire needed details can be filled in based on the user's requirements.
3. Users can search and buy the digital collectibles:
Display of various types of digital assets can be carried on the platform after creating an account. They are provided with the option to select the platform offering the same art at competitive prices like gas fees.
4. Payment can be done from the wallets:
After selecting particular artwork, users will pay the amount from the crypto wallet. All the transactions get secured through smart contracts.
Why Hivelance for NFT Aggregator Marketplace Development?
Hivelance is the top-most NFT Marketplace Development Company with a team of 20+ experienced developers. We deliver a highly secure, stable, reliable, flawless platform cost-effectively. We provide high scalable NFT aggregator marketplace development solutions with advanced tools and technologies. We assure you in delivering the outputs beyond your expectations and on time with a strong technical support team. Start your dream project with our assistance..!!!
PEOPLE ALSO ASK
---
What are the best NFT aggregators marketplace platforms?
Uniswap, Gem.xyz, Orion, Genie.xyz, Blur.io, Rareboard, Flip, Coralcube, NFTgo and Ludo are the popular NFT aggregators platforms out there.
Can you list NFT collections in different marketplace?
You can list your NFT on any third party marketplace based on your reference. There is no limitations to sell your NFT collection on particular NFT marketplace.
What is an NFT aggregator?
NFT aggregator is the platform that aggregates multiple NFT marketplace data in a unified view. The NFT metadata is fetched from popular NFT marketplaces and made available for the platform users to buy or sell.