DeFi
BakerySwap Clone Script - Launch your own Decentralized Exchange Within Your Budget
Our expertly designed BakerySwap clone script will be the ideal answer for aspiring business owners to create a featured-packed DeFi platform to make a significant impact in the crypto sector.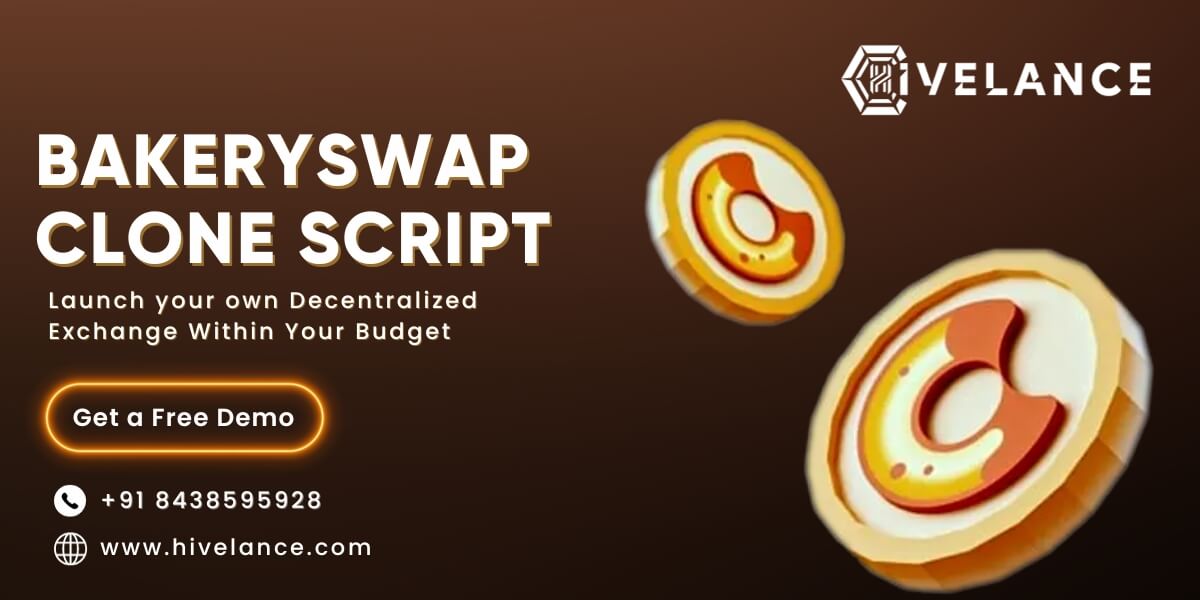 BakerySwap Clone Script
BakerySwap clone script is a ready-to-use solution that incorporates all the essential practices, traits, and tendencies that support the entrepreneur's decentralized exchange in the developing DeFi sector. As a special decentralized platform, it also comes with all the necessary protocols needed for the security needed for exchanging solutions. Hivelance is the leading BakerySwap clone script development company. This BakerySwap clone platform is completely market-ready, saving you time and money, and it can be tailored on-demand to your company's needs.
Benefits of our BakerySwap Clone Script
Extremely scalable
Each bitcoin exchange has the capacity to handle several trades concurrently.Software that is enhanced with a bug-free, BakerySwap clone script shows that the app can manage millions of users.
UI customization
The Bakeryswap application can be recreated according to your needs using a script that allows you to alter the design for your concept.
More rapid deployment
A BakeySwap clone script immediately deploys. We have a propensity for treating our customers like royalty by providing all-encompassing, all-inclusive help at every stage of the growth of a cryptocurrency exchange.
Ready to takeoff
The impressive selection of bitcoin exchange company solutions is not only aesthetically beautiful and extremely secure, but it can also be implemented in a matter of days.
Non-disclosure pact
We strictly abide by the terms of the non-disclosure agreement we made, making the entire development process leak-proof.
Prime Features of our BakerySwap Clone Script
Gamification-Users can participate in a number of games on our BakerySwap DeFi exchange clone platform and get NFT tokens as a prize.
Liquidity pool-Users of the BakerySwap clone software can utilize this platform to stake tokens and increase the liquidity of liquidity pools. It raises users' yearly returns.
Info-analytics-The "info" option provides traders with information on the BakerySwap protocol analysis, lists transactions, and displays trading volume for the previous 24 hours, BNB pricing, etc.
Combo NFT-Fans of NFT can participate in NFT sales thanks to this function. Users can acquire special Non-fungible tokens at a low cost via bidding.
Swapping-By using wallets like the Binance wallet, Metamask, wallet connect, and others with Bakeryswap clone software, users can swap or exchange BSC-based tokens.
Launchpad-The Launchpad feature is a part of our BakerySwap Clone Script. Customers can easily access recently announced projects on the BSC network due to it.
Security Features of our BakerySwap Clone Script
API security
In-built SSL protocol
End-to-end encryption
Native security options
Registry Login
Core Features of our BakerySwap Clone Script
Automated market maker
Multi wallet integration
Multi-lingual support
Customized interface
Transaction history update
How BakerySwap Clone Script Works?
BakerySwap Clone Script utilizes the Binance Smart Chain in order to get around Ethereum's high gas costs and frequent network congestion.BakerySwap community can list their artwork using a procedure that is similar to a typical NFT market.BakerySwap clone with a fully decentralized autonomous structure akin to BakerySwap Clients deal with a liquidity pool.
The contributors to each pool are BakerySwap clone website supporters and users.Users who contribute liquidity to these pools are compensated with liquidity provider (LP) tokens based on their proportionate participation of the pool.They can then exchange these LP tokens back for the tokens they contributed in the first place.
How to begin a DeFi exchange like BakerySwap ?
You can start a DeFi Exchange that functions just like BakerySwap by using the BakerySwap Clone script. It is 100% identical to BakerySwap and is built with all of its features and functionalities.Our ready to launch BakerySwap Clone script has capabilities as the BakerySwap exchange can be used to build a DeFi exchange similar to BakerySwap right immediately.
As an alternative, you can use a white label BakerySwap Clone Script, which is fully customizable that has extra BakerySwap exchange features and functions that you can modify as necessary.
Why choose Hivelance ?
Hivelance is the top-tier DeFi development company that offers services to create DeFi-powered Decentralized Exchanges like Bakeryswap. We provide both scratch software and script software versions of the best BakerySwap clone script.
We provide the BakerySwap clone app with user-friendly features, customized and futuristic UI/UX, and cryptocurrency market research that is supporting the Bakes token connected to the DEX of BEP20.
Please get in touch with us for additional questions and a free consultation.