NFT
NFT Minting Platform Development
Get an end-to-end NFT Minting Development Services & Solutions From Hivelance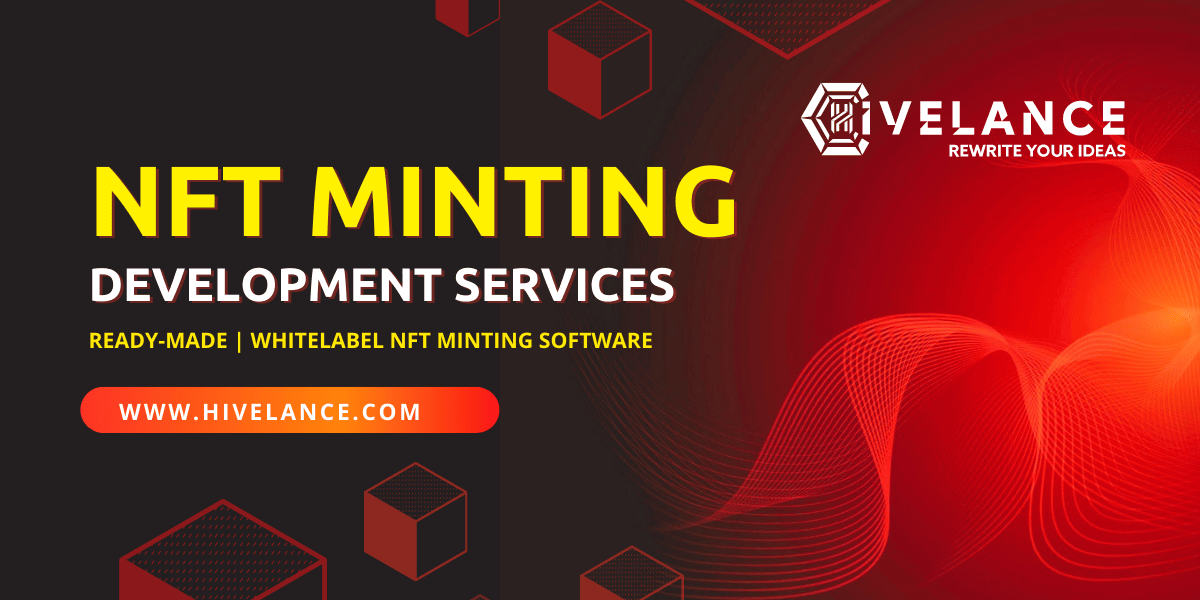 What is NFT Minting Platform Development?
Any digital items that are convertible into Non Fungible Tokens are generated in the web platform. The website is structured with ERC standard smart contract to facilitate the creation of NFT adding all the NFT metadata into it. The process of generating NFT is called Minting and it happens in the platform called NFT minting platform.
We help Entrepreneurs to start their own NFT Minting Platform using our feature rich software solutions.
NFTs are alluring audiences in large numbers as it serves many business demands. Become a millionaire to stand tall among the challengers in the industrial area.NFT Minting platform allows the users to turn their digital assets into NFTs and get profits immensely. Launch your NFT Minting Website Instantly using our Whitelabel NFT Minting Script Software!
NFT Minting Platform Development Company
Hivelance is the Foremost NFT Minting platform development company rendering the best NFT minting platform development solutions for clients who wish to mint their art, music, and photographs to NFTs for earning great incomes. Our developers having extensive knowledge in blockchain technology create your platform minted based on your requirements. Get minted with us to raise your business standards.
Related - NFT Marketplace Development
Features of NFT Minting Services Website
When making use of our readymade nft minting script, you can launch the NFT minting website instantly without hard setup. We develop NFT minting website with features like,
NFT minting capabilities
Creation of smart contracts (erc721, erc721a, erc1155)
Functions for integrating your wallet
Ability to directly mint using any payment method.
Metadata generation for NFT
NFT metadata upload in IPFS
Employing merkle tree technology to Whitelist/Presale
Cross-chain ecosystem
Buy and auction
Advanced NFT minting UI
Ready To Launch NFT Minting Software
NFT minting Software is a white label ready-made NFT software platform deployed to be available to users within 2 weeks. The clients can mint their NFTs which are in the format of art, music, games, and collectibles. By doing so, better market visibility is obtained. We are keen on knowing your requests to indulge the booming artists reach heights. Hivelance offers functionality-oriented, secure, customized NFT Minting software to present you readily available.
NFT Minting Software For Various Collectibles:
Digital Arts
Photography
Music & Video
Metaverse
Game & Sports assets
Memes & Cards
Digital collectibles
And more
NFT Minting Platform Development on Various Blockchain
Binance Smart Chain NFT Minting Platform Development
Ethereum NFT Minting Platform Development
EOS NFT Minting Platform Development
Solana NFT Minting Platform Development
Stellar NFT Minting Platform Development
WAX NFT Minting Platform Development
Tron NFT Minting Platform Development
And more
NFT Minting Platform Development Process
Analysis of requirements: We value our customer's needs as ours. We do deep analysis of your requirements to framework the layout and provide the best solutions.
Smart contract Development: High-programmable smart contracts with the latest software are developed for high-security purposes.
UX/UI Development: With top-notch UX/UI Designers, we develop an NFT minting platform for users' easier convenience.
Architecture Development: Backend functionalities are developed for the entire architecture model construction.
Testing and Product Delivery: After the development of the project we perform much testing for bug-free output and deployed it on the mainnet.
Benefits of NFT minting platform
Reliability: The NFT Minting Platform allows all people to mint their NFT tokens and it assists in elevating the business to overcome market distortions.
Secured: The users will have complete ownership to handle the NFT minting platform making it more secured.
Much market visibility: Due to its unique features helping investors to keep growing, the NFT minting platform gains more visibility.
Why Go For White label NFT Minting Platform?
We create a fully customized platform based on your business needs.
100% brandable design - your brand, colors, theme!
Our developers build a robust architecture.
We help to double your revenues.
As you can fetch a cost-effective platform
Higher security ecosystems
Multi-lingual versions
Rich administration panel
Real-time statistics
Why Hivelance for NFT Minting Platform Development?
With a rapid functioning team of NFT minting website developers having 10+ years of experience specializing in blockchain technology, Hivelance technologies have almost delivered 50+ NFT projects in a diligent pattern. We are being named as the best NFT minting website development company in the short span by providing realistic NFT minting development services and solutions based on clients' needs.
We are the pioneer in manipulating smarter ideas for startups, and entrepreneurs to keep achieving higher success rates. In each stage of the development of Minting, we have a separate Analyst person to go through keenly in deployment, quality assurance check, and testing for any bug correction.
Before the delivery of projects, a series of testing is conducted. Even if there are any errors found after the delivery, our team steps into it immediately for corrections. Coordinate with us to get your NFT minting project to be furnished.
Got an NFT Minting Platform Development Idea? Or want to know how our NFT Minting Software works?