DeFi
USWAP Clone Script To Create Blockchain-based DeFi Exchange Protocol
USWAP clone script is a readymade DeFi exchange script that contains all essential features of the popular DeFi exchange protocol, USWAP.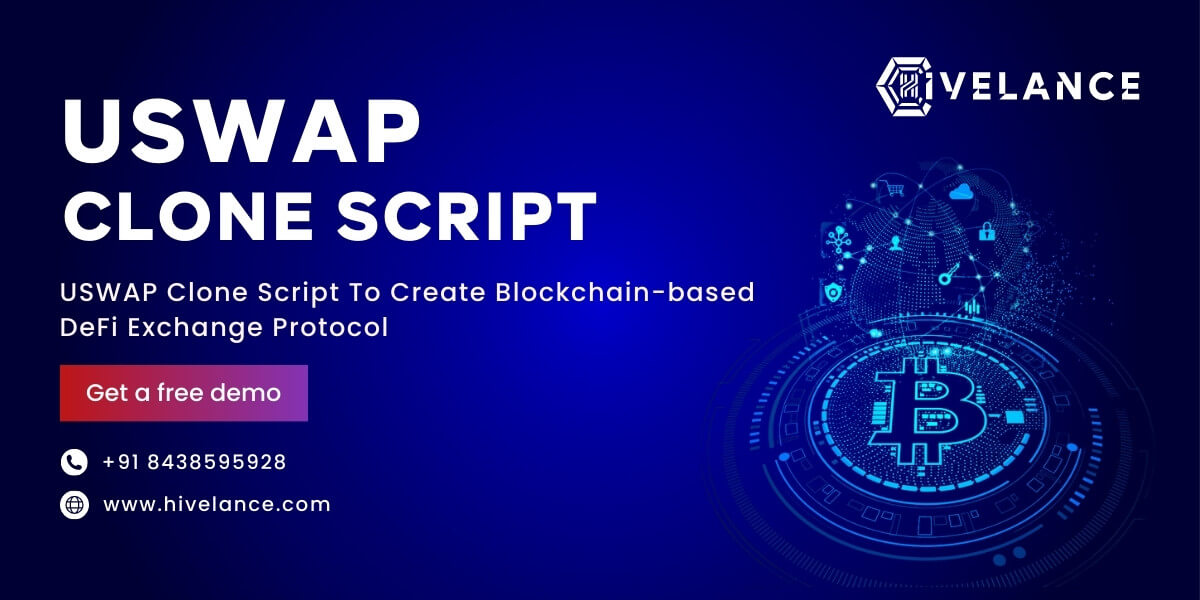 USwap Clone Script:
USwap Clone Script is a ready-made DeFi Exchange solution built on the Tron blockchain that functions similarly to USwap. Our USwap clone script is designed to facilitate the swapping of TRC20 tokens. It supports automated market making (AMM), assets, farming, liquidity pools, staking, referral, and other appealing features.
Hivelance is expertise in developing Decentralized exchanges like USWap based on the TRON blockchain network. We provide some immersive solutions for the development of your DeFi exchange. You might develop your DeFi exchange with all the necessary features to fulfill the current DeFi market criteria, and succeed in the popular crypto industry.
What is USwap DEX?
A decentralized exchange mechanism called USwap that was introduced to the TRON network allows for the trading of any TRC20 token. USwap is an enhanced version of the UniSwap v2 project that the Eclipcity team introduced to the TRON network. USwap DEX only accepts projects and tokens that are validated by the Eclipcity team. The community will vote using UME tokens, ensuring community sovereignty over USwap DEX to determine whether these projects are listed.
Whitelabel USwap Clone Software:
Whitelabel USwap clone software is a 100% customizable software solution, you can personalize according to your additional features and make it unique from the other DEXs. Our knowledgeable and dedicated team who has strong commitments towards the projects and believes in recognizing the exact need of the clients. We guarantee complete support to carry out the decentralized exchange based business necessity.
Features of USwap Clone Script:
User wallet integration:
Integration with well-known cryptocurrency wallets, such as MetaMask, enables safe user wallet management and transaction signature.
Liquidity pools:
By adding token pairs to liquidity pools, users can supply liquidity and receive fees and prizes in return.
Fee structure:
A clone of Uniswap might employ a fee structure whereby a portion of the value of each swap is paid as compensation to liquidity providers.
Token listing:
Tokens that can be traded on the platform are managed by admins.
User dashboard:
a user-friendly interface that enables users to monitor liquidity, conduct swaps, view their balances, and connect their wallets.
Price charts:
Historical statistics and current price charts for different token pairs.
Gas fee:
Optimizing gas fee implementations, as Ethereum network congestion might result in high transaction costs.
Swapping/Exchanging TRC20:
One of the primary features of USwap is that it promotes trading of any asset pair. A speedy trade of your TRC20 token with any trading pair is possible because to its cutting-edge technology.
No Verification
An immutable smart contract on USwap regulates trade and the USwap. Since there is no central authority or middleman to take user money and no necessity for KYC information to open USwap DEX accounts, it does not keep any user funds.
Why to Start A DeFi Exchange Like USwap?
USwap is a wonderful alternative for traders and liquidity providers because it has several advantages over conventional and traditional centralized exchanges, especially over Uniswap. Some of the standout characteristics of the USwap DEX protocol that would encourage enterprises to use it include
Immutable Smart Contract
Migrated liquidity portals
Leveraged referral system
Upgraded portfolios
Integrated stagings
Anonymity
Flash Swapping
Trading of Trc20 Tokens
White Label Solutions
Integration of Payment Methods
Privacy And Transparency
Customizable dashboard
Two-factor authentication
Swapping/ Exchanging
And more
How to Create A Next-Generation DEX like USwap?
In the realm of cryptocurrencies, DEX development is the most well-liked business strategy. However, individuals are still interested in the price associated with developing a DEX project as well as the technical know-how needed to create Decentralized Exchange Protocols like USwap and address other issues. However, given the growing demand for DeFi Exchange development,
We provide a DeFi solution similar to USwap.Popular DEX system USwap has quickly amassed significant financial gains in the crypto industry. A decentralized protocol like USwap is simple to launch. A DeFi protocol like USwap should be introduced at this time.
Blockchain Platforms We Use
Ethereum
Binance Smart Chain
Stellar
Tezos
Tron
EOS
Quorum
Corda
OpenChain
Dragonchain
Ripple
Hedera Hashgraph
NEO
Matic
And More
Why choose Hivelance for developing a DEX platform like USwap ?
Hivelance is a DeFi development company having DeFi specialists who specialize in DEX clone software and creating decentralized exchange websites like Uniswap, PancakeSwap, and others.
We are a team of professionals, specifically targeting your market, your users, and your sector, in contrast to other DEX clone software development companies who merely concentrate on the aesthetics of your brand website/apps.
If you are eager to develop a DEX platform like USwap , then Hivelance is the right place to get in.
To know more contact our experts!!