Cryptocurrency
Cryptocurrency Wallet Development Company
Dynamic solutions for making your own crypto wallets or updating existing ones.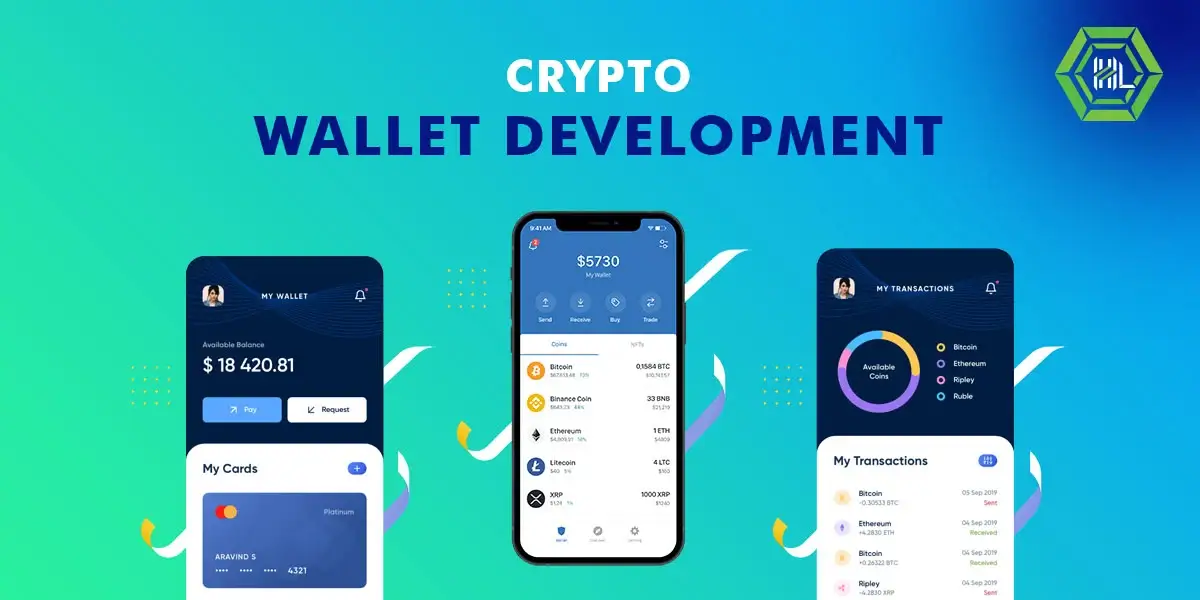 Cryptocurrency Wallet Development Company
Hivelance is the leading cryptocurrency wallet development company having a stockpile of clients in major countries. We follow the cryptographic algorithms and maintain your crypto wallets meet the industry standards. Military-grade security is guaranteed for your crypto wallet with extra measures taken delicately.
What is a cryptocurrency wallet?
A Cryptocurrency wallet is an integral part of trading that communicates with various blockchain networks enabling the users to send, receive, store, and track their crypto funds. Through multiple wallet implementations, users can experience safer and faster transactions. Generally, it is a software application that supports different crypto tokens.
Before moving to cryptocurrency wallet development, let's understand how the backend infrastructure of a crypto wallet works.
Crypto Wallet Development Architecture
People use crypto wallets for transferring & storing cryptocurrency with high levels of security protocols followed. In order to have safer transactions, the architecture of the crypto wallet must be designed with security enriched. The architecture of crypto wallets is explained below for your knowledge.
The entire structure of a crypto wallet is built in a way to perform 4 different functions.
The foremost is wallet management. After depositing the funds, the private keys ensure the security process will be generated by the wallet core and LevelDB stores it.
The Next mechanism is withdrawal and wallet address generation in which the wallet-gateway tracks the transactions and supports data transfer using gRPC protocol between wallet-core and wallet-gateway components.
The important component is the ledger-monitor program, which injects new block events to MQ(RabbitMQ).
Finally, the ledger-consumer merges two MQ consumers, one is to maintain UTXOs for our system wallets and the other is deposit to handle users notifications.
Cryptocurrency wallet use cases
Large investors to even small businesses can utilize crypto-wallets in their business strategy and enjoy its benefits. When fully integrated, the crypto wallet can have multipurpose serving abilities. The use cases of crypto wallets in services like,
Merchant payment services
Bill payment for day-to-day activities
Automated savings process
Contactless payments
Budget planning
Financial advice
To get rewards, coupons, and discounts
Shared online accounts for project fund allocation.
Crypto wallet business model
The business model of a cryptocurrency wallet can be split up into multiple streams depending on the use case.The most popularly used revenue models are shown below.
1. Transaction Fees: A transaction fee is cut from users for executing transactions and giving storage options in the personal wallet. Transaction fees vary with each wallet and are subject to change.
2. Consultation Fees: Cryptocurrency wallet owners can earn a commission for providing consultation services. They guide crypto users on the right investment opportunities like which exchanges are safe to invest. Crypto wallet owners can make a huge amount of earnings through consulting.
3. Staking: Staking is a process of holding crypto assets in a crypto wallet for a certain period of time. It involves locking users' crypto assets on an agreement and rewarding them in the form of interest.
Cryptocurrency wallet Development Services
Crypto-trading along with blockchain technology is going to be the future occupant everywhere. In this trading process, crypto wallets play an exuberant part in making faster and safer transactions. Hivelance being the leading cryptocurrency wallet development company, offers you highly dynamic solutions in making your own crypto wallets or updating existing ones.

Security features we offer in white-label Crypto Wallet Development
Transaction history
Speedy transactions
Cross-platform compatibility
Login protocols
Wallet backups
Multiple currency integration
Two-factor authentication
Eliminating fraudulent transactions.
Unique Cryptocurrency Wallet Development Services
As the leading cryptocurrency wallet development company, we received multiple requests for creating a wallet in the diverse blockchain networks available. Starting from Bitcoin to NFT, we are capable of delivering wallet solutions in all areas.
Bitcoin Wallet Development: Our developers are expertise in building both centralized and decentralized Bitcoin wallets. Entrepreneurs opting for building secure Bitcoin wallets can use our solution that's available ready-made.
Tron Wallet Development: We are the top most tron wallet development company. We guided and helped many startups, and large ventures in launching tron wallets for their businesses.
DeFi Wallet Development: With our defi wallet development solution, you can make your users enabled with an entire control over the private keys. We apply the best protocols in developing non-custodial wallets.
Mobile Wallet Development: We offer you both iOS and Android compatibility crypto wallets with complete source code. Made with the latest technical frameworks like Flutter, the crypto wallet can be customized easily without much engineering cost. Get to witness the visual look of our crypto wallet by booking a demo.
NFT and Multi-sig Wallet Development: NFT wallets play significant applications in the buy/sell process of NFT collectibles. Bring your users engaged with NFT collection by enabling seamless transactions in the wallet. Multi-sig wallet or shared wallet is one of the most sought solutions from us and we are undergoing many ongoing projects right now.
Web3 Wallet Development: If you wish to utilize a crypto wallet committed to your company's token, we can build a solution to your specific requirements. This will help to secure your investment and also give your organization a competitive advantage in the market. Our crypto wallets maintain specific regulations to make sure that your token is secure and simple to use.
Centralized Wallet Development: The funds used in centralized wallet development are held by a third party and can only be used with their authorization. This white-listing of the paper assures that transactions are speedy and secure.
White-label Crypto Wallet Development
Design, customize and get your cryptocurrency wallet within 7 days.! Having years of experience in crypto wallet development, we have ready-made crypto wallet solutions in hand. The white-label crypto wallet solution can bring full freedom to apply your uniqueness in whatever way you want.
Benefits of availing white label crypto wallet
Easy to customize source code
Single-handed code operation
No additional charges
Tested and verified
No revenue-sharing option
Space to add future updates.
Our Crypto Wallet Development Process
Analysis: We do various types of research and probe deeply into the latest technology and we gather all the benefits in crypto wallet development.
Planning and building: We assist clients with the successful launching of crypto wallets and our working technique helps them to stand tall in organizational competitions. We finally build wallets with top-notch solutions.
Implementation: We implement the wallets and take control of the updates and corrections. When inherent user base growth happens in their business, we help them in scaling even after the project delivery.
Why Choose Hivelance For Cryptocurrency Wallet Development?
We are well aware of the security threats, fraudulent activities, and loose ends that may cause your crypto wallet to be lost in the market. To bring bank-grade protection to the wallet, we developed a secured code with our own in-house experts.
PEOPLE ALSO ASK
---
How Does a Cryptocurrency Wallet Works?
A cryptocurrency wallet is a software application that allows users to securely store, transfer, and receive cryptocurrencies. Cryptographic keys, which are used to access and control the digital assets on the blockchain, are the foundation of how it operates.
Can I Store Multiple Cryptocurrencies in Wallet?
Yes, you can store multiple cryptocurrencies in a cryptocurrency wallet that supports various assets. Multiple cryptocurrencies may be stored, sent, and received using a single interface, Our Crypto wallet supports leading cryptocurrencies such as bitcoin, Ethereum Tokens, Bitcoin cash and more.
How Much does it cost to build a crypto Wallet?
Cost of developing your Cryptocurrency Wallet is depends on the features and functionalities demanded. On the other hands, choosing our Crypto Wallet is cost-effective.
How soon can I launch a crypto wallet solution from scratch?
We can build a complete crypto wallet solution from the ground up in 90 days. You may launch, On the day you've chosen,
Is Your Crypto Wallet Customizable?
Yes, we also offer white label solutions for developing your crypto wallets. It will depend on requirements of your project