Cryptocurrency
Crypto Futures Trading Development Company
Get our robust and cutting-edge cryptocurrency futures trading software to create a stunning trading platform and boost your revenue.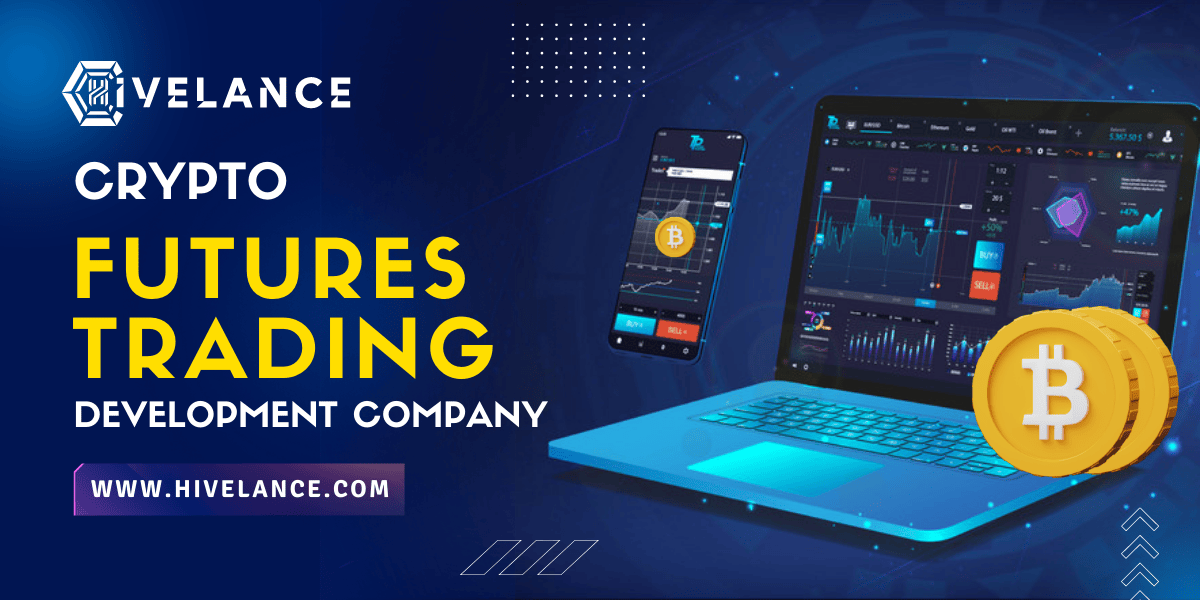 Crypto Futures Trading Software
Crypto futures trading software is a pre-built and multi-tested software built with esteemed features like real-time market data, price charts, and order books. This software allows traders to analyze the market, trade, and generate revenue based on future price fluctuations and allows them to earn both increasing and decreasing cryptocurrency values. Hivelance offers ready-to-use crypto futures trading software that aids start-ups and entrepreneurs to launch their own crypto futures trading platform in a few days.

Crypto Futures Trading Software Development
As a reputed cryptocurrency futures trading development company, we can develop your crypto futures trading platform with all potent and impeccable features for betting on the cryptocurrencies price in the future. Join our expert team..!!!
What is Crypto Futures Trading?
Crypto futures trading is the process of speculating the asset price which also comprehends the cryptocurrencies without having ownership of it. The noteworthy feature is that Crypto futures allow traders to bet on the currency's future price.
In simpler terms, futures are a type of derivative trading product. This product can afford many opportunities and the potential to enhance and protect the user's portfolio using leverage.
In crypto futures, the traders will step forward in buying or selling derivative contracts that will indicate the value of provided crypto at a particular date in the future.
Use of Leverage in Crypto Futures Trading
Leverage option in crypto future trading enables higher efficiency where traders don't have the need to lock up the entire capital amounts. The vital advantage of this feature is it decreases the risks and increases the potential returns. If encountered with any poor performance, the futures trade can hedge the outcome with the leverage amenity and withstand the loss happening.
How Crypto Futures Trading/Exchange Works?
The working methods of crypto futures trading is similar to regular trading and there is not much difference. In both trading processes, the traders perform the same things like opening long and short positions with the implementation of risk management ideologies. Futures enable margin trading with high leverage.
Best Crypto Futures Trading Platforms
It is complex to give an up-to-date list of the best crypto futures trading platforms for 2023 as the crypto market is highly dynamic and new platforms may emerge. However, some of the most well-established and popular platforms that have been around for a while include:
BitMEX
Binance Futures
Bybit
Deribit
FTX
OKEx
It's important to note that the best platform for you may depend on your individual trading needs and preferences. It's recommended to do your own research and compare the fees, features and overall reputation of each platform before making a decision. Additionally, it's also crucial to check the regulations and legal compliance of the platforms to make sure they are operating within the legal framework of your country or jurisdiction.
Crypto Futures Contract
A Crypto Futures contract is entitled to the agreement between both buyers and sellers to confirm the purchase or sell of the digital asset at a predetermined price and date. It can provide the users with a tracking facility of the underlying asset which means the bet on crypto price has a standardized expiry date.
Various Types of Crypto Futures Contracts
Standard future contracts
Futures with physical delivery
Perpetual contracts
Business Benefits of Crypto Futures Trading Development
The trading process can be performed easily with convenient options
Higher potential profits
Flexible trading methodologies
No funding rates
Things to Consider Before Starting Crypto Futures Trading Platform
There are a few aspects to incorporate to start futures trading:
Leverage trading
Liquidity assessment
Hedging
Diversification
Market volatility
Expiration date
Is Crypto Futures Trading a Profitable Business?
Absolutely Crypto futures trading is the most profitable one when the risk management features are included properly. It is portrayed that futures trading is more efficient than bitcoin mining as it has the highest performance.
If you have an idea to start a normal Crypto Exchange platform, you can make use of the Cryptocurrency Exchange script that's readily available with us.
Why Hivelance for Crypto Futures Trading Platform Development?
We are a team of proficient developers and we are famed as a top-notch crypto futures trading development company. Crypto futures are gaining more popularity and are expected to be the future as it is going to offer more profits to traders. Keeping the traders in mind, we prioritize their needs of them to be satisfied. We help you to create futures contracts where both parties can negotiate price volatility. With those contracts, we can ensure top-level security.
Inherent trading options
Highest profit-generating ideas
Futures contract development solutions
Development of plans for interruption-less trading
Proper risk management services
Incorporation of trade performance parameters.
To create such a perfect crypto futures trading platform, use our Finest crypto futures trading software.
So, why are you still waiting? Use our robust and cutting-edge cryptocurrency futures trading software to create a stunning trading platform and boost your revenue.