Cryptocurrency
Solana Token Development Company - Tokenize your Assets or Create new tokens on Solana
Hivelance, a leading Solana token development company, assists in the development of feature-rich tokens on the Solana blockchain network, ensuring trust, transparency, and efficiency.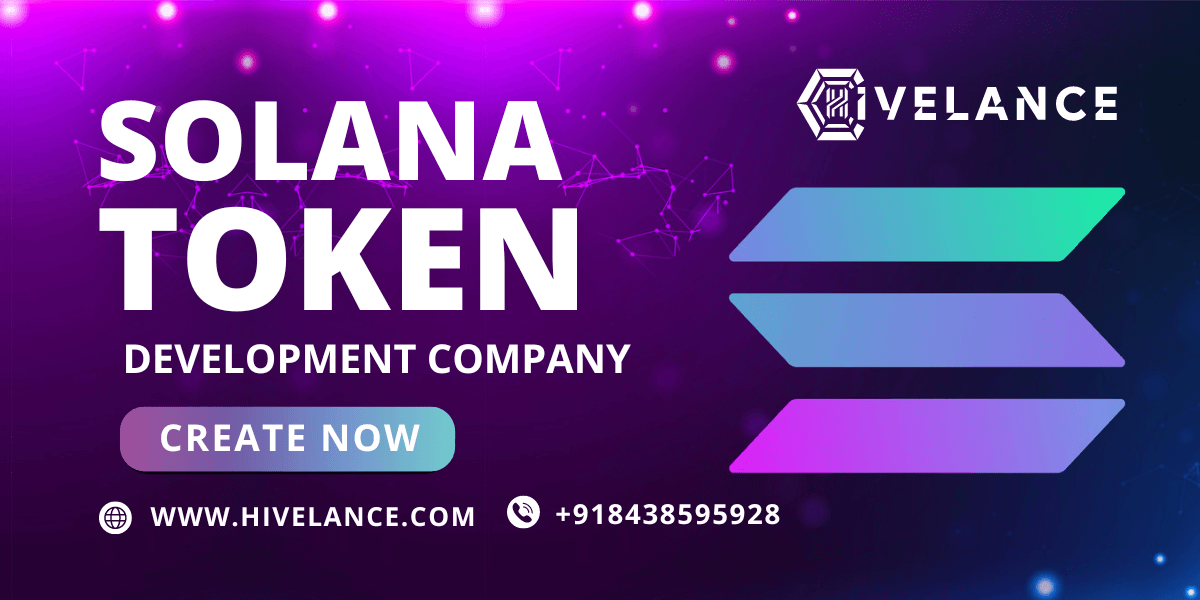 Solana Token Development
Tokenization is blooming as the most promising business model in the digital world. As the Solana network provides many benefits, it's no surprise that many businesses are eagerly awaiting to invest in Solana tokens.If you are in need to tokenize artwork, music, or video content on Solana, Hivelance provides innovative Solana token development services tailored to your needs. Our Solana developers may design exchangeable Solana tokens that are customized to your company's needs.
Solana Token Development Company
If you are searching for a Solana Token development company, then you are at the right place to get started. Hivelance is the leading token development company specializing in Solana blockchain development services. You can create Solana tokens for your crypto project and integrate them into popular crypto exchanges with the help of our exchange listing services.
Solana Token Standards
1. Solana Program Library(SPL)
All the Solana Token standards are specified in the Solana Program Library which includes a set of Solana chains software programs. The SPL-compliant tokens can be compatible with Solana blockchain and wallet integration. You can make the SPL-based tokens to compose the dApps on the Solana ecosystem.
2. Solana Token Program(STP)
The Solana Token Program comes under the Solana program library. It is actually an interface for creating, issuing, transferring, and burning the SPL co,plaint tokens. STP lets you control the entire mechanism of token circulation and supply. Solana Tokens are compatible with ERC tokens standards with low gas fees.
How to create a token on Solana Blockchain?
To create a token on the Solana blockchain, you would need to have a thorough understanding of the Solana blockchain protocols and their features, as well as experience with coding and blockchain development.
Step 1 - Define the properties and behavior of your token, including its name, symbol, and supply.
Step 2 - Write the code for your token using any other programming language supported by Solana.
Step 3 - Test and debug your token code to ensure it is working properly.
Step 4 - Integrate your token with the Solana blockchain, either by deploying it on the mainnet or on a testnet for testing purposes.
Step 5 - Publish your token and make it available for use within the Solana ecosystem.
Keep in mind that creating a token on the Solana blockchain is a complex process that requires a high level of technical expertise. It is advisable that you seek the help of experienced blockchain developers if you are planning to create a token on Solana.
Solana Token Development Use Cases
1. dApps
When you create tokens on Solana Blockchain, you can take advantage of the complete dApps ecosystem that supports Solana blockchain. From creating simple web apps to building highly advanced DeFi apps, you can build dApps on the Solana blockchain that's affordable and the fastest platform to scale.
2. DeFi
DeFi apps are the modern gateway for accessing finance services without considering geographical boundaries. DeFi apps are built on top of Solana blockchain platforms that use smart contracts to enable users to access a wide range of financial services, such as lending, borrowing, trading, and more, without the need for a traditional financial intermediary.
Entrepreneurs create Solana tokens to support their DeFi project in exchange for token sales. After that, users can get rewards and royalties on the staking protocols described in the DeFi platform.
3. NFT Marketplace & Storefront
NFT marketplace is a platform where users can buy and sell unique digital assets, such as collectible items, art, and other types of digital content. An NFT storefront, on the other hand, is a specialized online store where a specific creator or artist can showcase and sell their NFTs to potential buyers.
Creating Solana based NFT marketplace & storefront can be another use case Solana token developers are interested in.
4. Games
Solana tokens can be fungible and Non-fungible which is obviously used in game applications. Web3 game developers are rapidly using the Solana-compliant tokens to create and mint NFT that greatly reduces gas fees in a considerable manner. Most of the NFT games now are using Ethereum smart contracts for NFT creation in which transaction time is very high with respect to gas fees.
Instead of using Ethereum token standards, entrepreneurs can make use of Solana tokens to avoid monopolization.
Why Choose Solana Token Over Other Token Models?
Solana is a high-performance blockchain platform that uses a Proof of History (PoH) consensus algorithm and supports smart contract execution. Compared to other blockchain platforms, Solana offers several unique features, such as,

Solana handles a high volume of transactions per second while charging low fees.

Many innovations, including PoH and PoS, have made the system highly scalable.

Solana has a growing ecosystem of developers, dApps, and investors, which creates opportunities for collaboration and innovation.

Solana uses Rust, a modern programming language that is fast, safe, and reliable, making it easier for developers to build decentralized applications.

These distinguishing features set Solona apart from other Blockchain platforms.
Benefits of Solana Tokens Development
As the Solana-compliant token owner, you can have endless benefits on both the user side and your side. You can see some of the major benefits for reference.
1. Transaction Per Second(TPS)
Solana blockchain can handle 2500 transactions per second which greatly influence the token buyers. The settlement time is 10x times faster than its rival Ethereum blockchain.
2. Low gas fees
For every NFT transaction, there are smart contract charges called gas fees. This gas fee can be charged in the NFT minting process or after NFT sale. Due to its high-speed transaction, the average gas fees charged are cheaper and affordable.
3. No Mempool
Mempool contains blockchain transactions that are yet to proceed. This is where most of the congestion happens in other blockchain networks. In Solana, every transaction is immediately transferred to validators thus removing the need of mem pools.
4. Scalability
Solana network is popular for its ultra-fast scalability. The network can process up to 50,000 settlements in a second with low-cost fees. Transaction throughput is clearly structured using the Proof-of-History and Proof-of-History consensus mechanism. That's why scalability is never a worrying problem for dApps owners who use Solana smart contracts.
Cost estimation for Solana Tokens Development
The average cost estimation for the Solana Token development process can vary depending on the project's technical specifications. There are many microservices that need to be done for Solana tokens development. It may include token creation, tokenomics calculation, monitoring the token sales, token listing, issuance, burning the supply, and website creation for a token sale.
This seems a complex process for non-tech entrepreneurs who would need a simplified process. If you are struggling to get your tokens created, don't hesitate to contact us for further help. We would help you to explain the cost estimation for the entire token creation process from start to finish.
Why Hivelance for Solana Token Development?
Hivelance is a leading Solana token development company that provides comprehensive Solana token development for NFT, DeFi, Metaverse, Crowdfunding Projects, and others. We provide token development services for various blockchain standards such as Ethereum, EOS, Tron, Polygon, Polkadot, Binance Smart Chain, and others. Our extensive experience in token development has enabled us to create scalable tokens that promote greater trust, security, and transparency. We design and develop a Solana token to help startups, scale-ups, and enterprises gain an advantage in the competitive crypto space.