NFT
DeGods Clone Script: Your Gateway to Creating a Thriving NFT Marketplace
DeGods clone script is a readymade NFT marketplace solution that helps to launch your NFT marketplace on top of the blockchain networks like Solana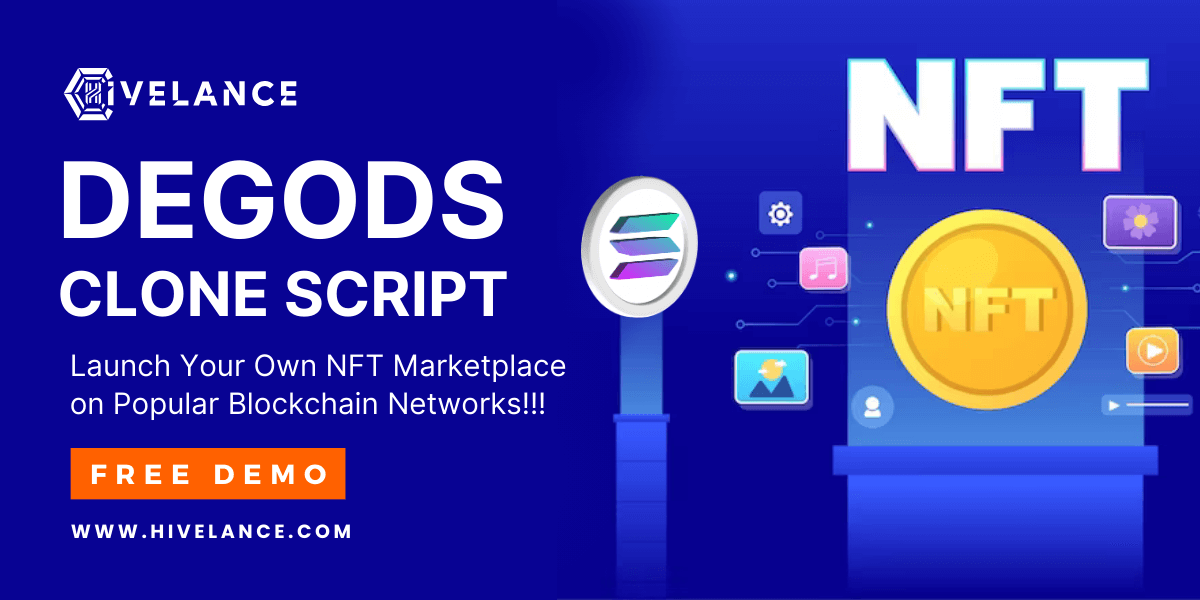 DeGods Clone Script
DeGods clone script is an NFT Marketplace enclosing a wide range of art collections and is built on the Solana blockchain network. DeGods clone script is a pre-made copy of DeGods. Our DeGods clone is one of the leading NFT projects available on any blockchain and is a rival to well-known NFT collections like Moon-birds, Bored Ape Yacht Club, Mutant Ape Yacht Club, and CryptoPunks. Hivelance is the leading NFT development firm that offers services for developing scripts that are similar to DeGods. Our team of developers can build your script with all essential features and functionalities to satisfy your business requirements.
Overview of DeGods
DeGods is a deflationary collection with a Solana center made up of 10,000 virtual gods who exhibit artistic talent with their unique appearance and attractive colors. Today, celebrity endorsements, excitement, and a dash of controversy seem to be the go-to engines for NFT collections to compete with one another.
DeGods Clone Script Development
DeGods clone script development is the process of building and launching the NFT Marketplace similar to DeGods. At Hivelance, we have worked so far with more than 100+ NFT projects, so we can construct your DeGods clone script with features. Through these, users can purchase the NFTs in an easier way. Our skillful developers have 13+ years of experience in blockchain technology to implement all strategic ideas.
Features of DeGods Clone Script
Unique selling point
StarDust and DeadGods
Authentication of digital assets
DeDAO
Community owned Multimedia portal
Native Token of DeGods
The Native Token of DeGods is DUST. The project's ability to be beneficial in the future is made possible by the DeGods community token, or DUST. SPL tokens have no supply at this time on the blockchain. The only way to mine DUST tokens is to stake a DeGod NFT or purchase them from secondary markets. Users may begin future collections, and participate in raffles, and auctions.
How to purchase the DUST Tokens?
Burning: The option to burn a DeGod also exists for keepers, which increases the worth of the entire DeGods collection by removing the "god" from circulation. The team will shortly develop a flame dApp to make it easier for people to burn DeGods so that owners can get DeDAO Treasure DUST tokens.
Staking: DeGods holders can stake their NFTs to generate 10 DUST tokens daily, giving them a ready source of passive income.
Why Choose Hivelance for DeGods Clone Script Development?
A well-known NFT project creation company, Hivelance, offers NFT projects like DeGods. One of the most innovative and lucrative options now offered on the NFT market, this Solana NFT project is the most vital. In order to assist you with your needs for business growth, our expert developers conduct extensive research. Our team has specialized professionals for the creation of NFTs, which work organized in completing your projects. We have a record of history in indulging the projects with the clients internationally. We work around the clock to make progress in your business ventures and enhance the flagship to attain success.