NFT
NFTrade Clone Script
Create your own cross-chain and blockchain-agnostic NFT marketplace like NFTrade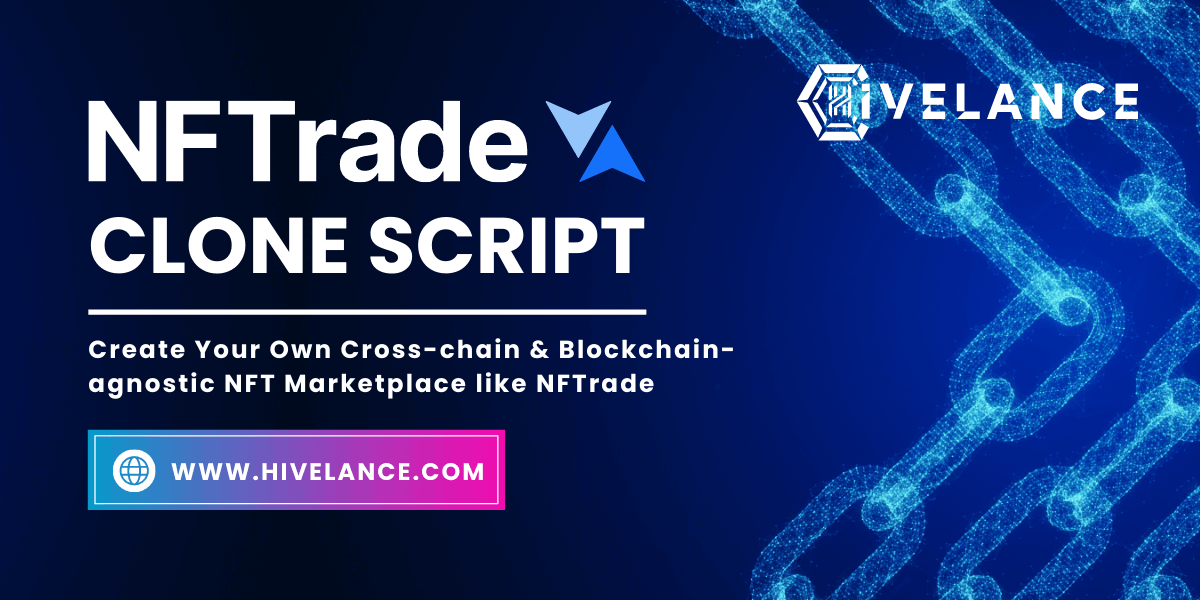 NFT Trade Clone Script
Take part in the decentralized and escrowed P2P swaps revolution by launching a hassle-free NFT marketplace like NFTrade offering you to create, trade, and Swap NFTs in a decentralized and secure environment, with an escrow mechanism facilitating swaps between users. Hivelance offers a ready-made NFTrade Clone Script that aids in starting an Escrow-powered NFT marketplace like NFTrade. Our NFTrade Clone has the high potential to engage more NFT creators, owners, and traders in your platform around the world.
We develop NFTrade clone script for handling all the activities of NFTs like creation, swapping, buying, farming etc. Our organization is a well-reputed architect in developing an NFT marketplace like NFTrade according to your customization. Get started with your journey of NFT handling with us..!!!
Multi-chain and Cross-chain NFTrade Clone Software
NFTrade Clone Script is a customizable, decentralized, and escrowed-based P2P NFT marketplace clone script designed and developed with the core P2P swapping features to meet the requirements of the NFT audiences. Hivelance offers the best Multi-chain and Cross-chain NFTrade Clone Script built with an advanced NFT Aggregator that enables military-grade security in the P2P NFT marketplace. By default, Our NFTrade Clone comes with Multi-chain and Cross-chain compatibility mode executing functionalities that allow anyone to seamlessly create, buy, sell, swap, farm, and leverage NFTs across different blockchains.
The White Label NFTrade Clone Software is made available in the competitive market only after undergoing a number of security checks which cover itself as the most handling P2P NFT marketplace in the current era. Our NFTrade Website Clone allows NFT collectors, investors, creators, and fans to create, buy, sell, swap and farm NFTs. Get exposed to the multi-million dollar NFT marketplace business through Hivelance's turn-key P2P NFT marketplace script - NFTrade Clone Software.

What is NFTrade?
The foremost and most used Decentralized cross-chain NFT platform is known as the NFTrade, which plays a vital role as the collection of all marketplaces that handle the entire functionalities of NFTs.The major functions include create, buy, swap, farm and leverage NFTs across various blockchain networks. These 4 are known to be the most prominent functional areas. It allows users to unlock the full value of the NFT ecosystem.
Major functionalities of NFTrade
Create: After creating a decentralized NFT collection with the platform, users can upload their files containing anything ranging from images, music, memes, gifs, and pictures. Utility tokens are also available on the platform and are known for their inherent value codes.
Trade: NFTrade serves as the easiest way for the user to create and trade their NFTs and enables them to get them from any blockchains to sell them at an affordable price.

Farms: NFT farming is the most appropriate way to get more value out of your tokens. By staking them on the NFT farm, the users can earn rare, creative, and utility NFTs.

Swap: By using these functions, the users can swap NFTs in a decentralized network having an escrow mechanism that will help the users to swap their NFTs.

Benefits of Launching NFT Marketplace in Multi-chain

NFT marketplace created with multichain functionalities can be defined as the add-on feature enhancing the top-most specifications. Let's discuss the benefits that a Multi-chain NFT marketplace offers:

Interoperability: Commonly when speaking about NFTs, Interoperability will be the major attribute. Regarding the multi-chain NFT platform, interoperability is defined as the primary key that supports and enables users to trade their NFTs across anywhere in the world.

Liquidity: Compared to other NFT marketplaces, the multi-chain NFT marketplace has a higher liquidity ratio and thereby attracting many users to the platform.

Decentralization: The multi-chain NFT marketplace is being very safer as they are smart contract coded hence called decentralized However, there will be no intermediaries to help the users to trade their NFTs.

Cross-chain: This platform enables the users to trade between any blockchains and is considered an important benefit of a multi-chain NFT marketplace.

Whitelabel NFTrade Clone Software

In order to maintain and get all details of the trading process of NFTs, we create an NFtrade clone script including the user-friendly options. Our team of developers can render you the software that is cost-effective and easily accessible in tracking all the functionalities of trading. We have the best blockchain developers experienced for more than 10+ years, so we can guarantee you to deliver the platform on time.

Features of our NFT marketplace clone script:

Our NFT marketplace clone script is structured in such a way to give you the best solutions for monitoring the functions of NFTs and hence we develop them with special features as listed below:

Storefront: This enlists all the important details about the NFTs, helping the users to know about the histories of NFT trading and NFT ownership.

Easier Payment Options: The users can pay for their NFTs in the simplest way and there are multiple payment options available like credit/debit cards, internet banking, UPI payment, etc.

The Advanced Search Option: This will help the users to filter and search for their desired NFTs without many constraints.

Wallet Integration: Users can make use of the integration of crypto wallets like MetaMask with the platform. The crypto wallet will help the users to store, buy and sell their NFTs.

The Review Option: This feature will help the users to share their feedback about the creators and the users know how to trade with them.

Why Choose Hivelance For NFTrade Clone Script Development?

As a leading NFT marketplace development company, Hivelance is the popular creator of NFTs and its marketplace, especially in developing the NFT marketplace with multi-chain functionalities. We being the pathfinder in blockchain development, assist you in each and every development process. Jump start your NFT development journey and its monitoring functions. Our enlightened services include:
Technical assistance
24/7 customer support
Reliable payment delivery
Quality assurance team
Bug-free outputs
10+ years experienced as blockchain developers
50+ NFT projects delivered
Searching for cross-chain and blockchain-agnostic NFTrade Clone Script for your business?