Cryptocurrency
Centralized Crypto Exchange Development Company
As a leading Centralized crypto exchange development company, Hivelance helps to create centralized crypto exchange platform using avant-garde technologies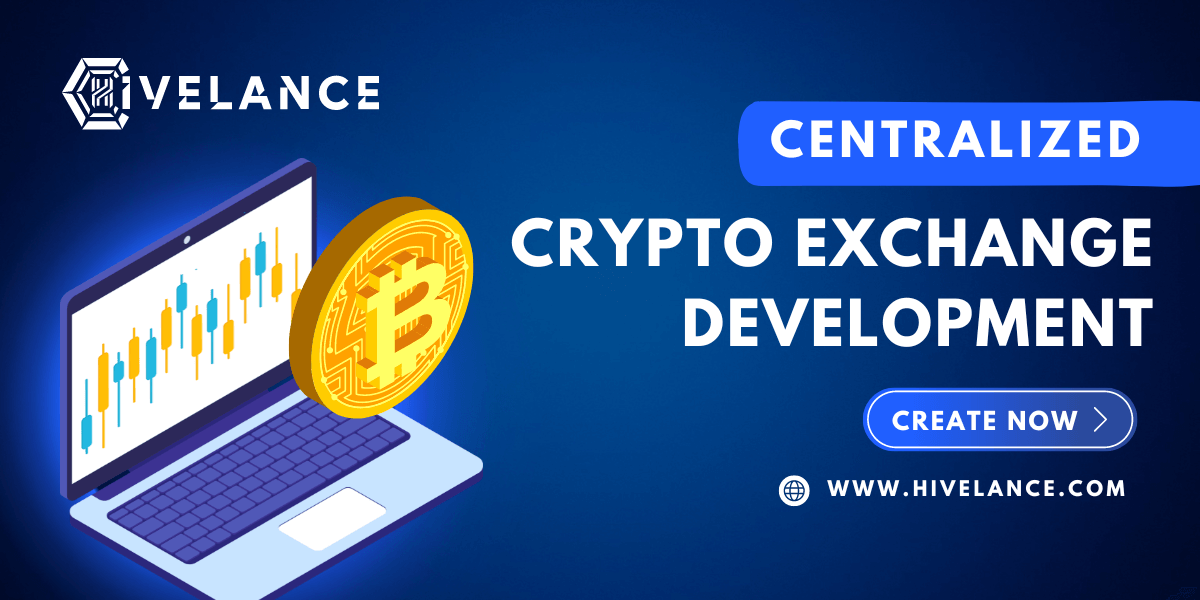 The growing need for cryptocurrency exchange platforms drives aspiring entrepreneurs to develop their own exchange platforms. If you run a startup, you could have to deal with yet another annoying preference issue. You can be faced with the choice between a centralized and decentralized exchange for the effective expansion of your business.
The solution to this problem is complicated and heavily influenced by your objectives and requirements. You can try setting up a centralized exchange to increase your chance of success and gain more benefits.
Centralized Cryptocurrency Exchange Development
A Centralized Exchange serves as a middleman to enable the exchange of products and services between sellers and purchasers, connecting buyers and sellers in bitcoin transactions in a way similar to a traditional bank. Thus, the outcome is more reliable, secure, and user-friendly assistance.
A Centralized Crypto Exchange Development System handles the security and reliability of the platform through third parties, APIs, and services. Anyone may easily build their own centralized cryptocurrency exchange with our fully customized trading platform.
What is a Centralized Cryptocurrency Exchange?
Users can swap their crypto assets securely on a centralized exchange platform. The Centralized Exchanges provide a secure setting for buyers and sellers to conduct business. Furthermore, CEXs also play the part of liquidity providers for supported coins in their capacity as market makers. The relevant blockchain which underpins the relevant digital assets in crypto transitions, drives the transaction centralized exchanges by electronically validating and documenting them.
Centralized Cryptocurrency Exchange Development Company
Hivelance is a top-grade company for Centralized Cryptocurrency Exchange Development and collaborates with top developers to offer best-in-class Centralized Exchange Development Services. Our team of blockchain developers is equipped with the expertise to build a highly effective centralized crypto trading platform that satisfies market and client demands. A wide range of cryptocurrency traders can benefit from an amazing trading experience with our Cryptocurrency Exchange Software solutions.
Whitelabel Centralized Crypto Exchange Software
A Whitelabel Centralized Cryptocurrency Exchange Software called centralized Cryptocurrency Exchange solution makes it possible to trade cryptocurrencies like Ethereum, bitcoin, and others without any hassle. Business owners can quickly create a Centralized Cryptocurrency Exchange using White-label software that has a robust backend and a completely customizable front end. We provide businesses with a Whitelabel centralized Crypto exchange software that enables them to build a CEX exchange with feature-rich functionality, security, and a unique user experience depending on branding needs.
Our Cryptocurrency Exchange Development Services
Centralized Exchange - We offer excellent Cryptocurrency Exchange Development Services to create a centralized cryptocurrency exchange that provides a secure platform for trading cryptocurrencies. It is integrated with a potent trading engine to allow customers to match orders and complete transactions more quickly.
Hybrid Exchange-The liquidity and functionality of the centralized exchange platform as well as the security and confidentiality of the decentralized exchange development will serve as the basis of a hybrid cryptocurrency exchange.
Derivative exchange- Both centralized and decentralized exchange systems are capable of developing derivative cryptocurrency exchanges. Exchange owners may exploit the potential of the derivatives exchange to connect with more investors. We make it possible for investors to gain greater advantages while handling complexity more simply.
Futures Exchange Development- Our futures Exchange Development solution is a full-featured futures platform that enables customers to design and manage unique leverage multipliers, perpetual futures contracts, and custom futures contracts. Additionally, it enables automatic maintenance of origins and service contract margins.
Cryptocurrency Exchange Script- Grab the bitcoin exchange script to create a website that trades and exchanges bitcoins similar to well-known sites like Binance, Bitfinex, Bitstamp, and Poloniex.
Cryptocurrency Exchange App-We create lightning-quick Cryptocurrency Exchange Apps that run on both Android and iOS devices. Get our one-click mobile apps for a flawless cryptocurrency exchange experience.
Features of Centralized Cryptocurrency Exchange Development
Verified login - Initially, the user login process is complex with security standards including KYC and AML verification as well as the essential personal information.
Large-scale app functionality - The centralized cryptocurrency exchange offers a wide range of application functions, such as pair trading, margin trading, lending borrowing, and more.
Custom DDI(Data Driven Interface) - Creating a data-driven interface for your ideal exchange allows you to show the public how amazing your exchange is according to your precise strategy and concept.
Higher liquidity - The centralized exchange platform with high traders' confidence.
ICO support - The Whitelabel centralized exchange's ICO option connects businesses and investors directly to collect money.
Order matching mechanism - All of the buying and selling orders are matched through the order matching system, which allows trades to be executed concurrently.
Escrow application - Escrows keep cryptocurrency until the buyer and seller conclude their agreement and begin trading more securely during the procedure of exchange.
Benefits of Creating a Centralized Cryptocurrency Exchange
User friendly-Provides a user-friendly layout that makes registering and logging easy. Users can log in and use order books to place orders.
Efficacy liquidity-Have ideal liquidity since many users may purchase a certain item at once when there is a high demand for it.
Fiat currency exchanges-Provide trading in fiat-crypto and crypto-crypto to platform users. The user can now trade money.
High scalability- Includes the newest features and functionalities to keep up with the rising demands of the industry. As a consequence, it greatly facilitates scaling for your business.
Reliability -offers several levels of security and dependability for trading and transactions.
Confidentiality- The pre-programmed centralized crypto exchange could be used to construct smart contracts that maintain confidentiality.
How to Create a Centralized Cryptocurrency Exchange?
Our Centralized Crypto Exchange Software is made to give users appropriate trading options, which could eventually result in a larger user base. Let's get started on how to create a centralized cryptocurrency exchange.
Users start the process of logging into your centralized exchange by entering all necessary data.
Only once users use our centralized exchange to deposit fiat money into wallets does trading take place.
Cryptocurrency buyers start buying them with fiat money from their wallets.
The purchase of desired cryptocurrencies is now possible with either fiat money or cryptocurrency that has already been acquired.
Through the allotment of individual user balances on the centralized exchange, the transaction between sellers and purchasers is carried out.
Techstack we used for Centralized Cryptocurrency Exchange Software
Frontend - AngularJS, React, Javascript, Bootstrap, Vue Js
Backend- Node JS, Express JS, Java , Spring, Go
Framework-Laravel. YII, MongoDB, Mean, MERN
Mobile App-Swift, Kotlin, Java, Flutter
Database-MySQL, MongoDB, PostgreSQL
Servers-Amazon AWS, Google Cloud, Digital Ocean, Linode
DevOps-Kubernetes, Jenkins
Centralized Cryptocurrency Exchange Clone Script
A Centralized Cryptocurrency Exchange Clone Script is a software solution that replicates the functionality and features. It enables business owners and entrepreneurs to develop a custom Cryptocurrency Exchange Platform with features comparable to those actual exchanges. With the help of these features, users can securely manage their money, trade different cryptocurrencies, keep an eye on market values and execute buy/sell orders.
By utilizing our Centralized Cryptocurrency Exchange clone software entrepreneurs can save significant time and effort in developing an exchange platform from scratch.
List of Centralized Cryptocurrency Exchange Clone scripts
There are several clone scripts available for the popular Centralized Exchange that we provide,
Hire Centralized Cryptocurrency Exchange Developer
Hire our cryptocurrency exchange developers to simplify every aspect of the operation of your centralized system. For each crypto-based product and service, our streamlined development methodologies are more effective.You can learn about the uncertainties and set up your business to prepare for the worst scenarios with the help of our specialists. Additionally, you get to increase operations and use cutting-edge technologies to produce the best outcomes. Our experts in centralized crypto exchange development provide you with the best option and turn your platform into the preferred option for traders.
Why Choose Hivlance for Centralized Cryptocurrency Exchange Development?
Are you a Cryptopreneurs searching for the development of your own Centralized Cryptocurrency Exchange? Hivelance is a top-grade provider of Centralized Cryptocurrency Exchange Development with a team of blockchain experts and years of experience developing cutting-edge Centralized Cryptocurrency Exchanges. Our team offers you the best CEX exchange that suits your business model and passive income stream because we were a pioneer in the development of Centralized Crypto exchanges.