Build next-gen web3 wallet app using Metamask Wallet Clone Script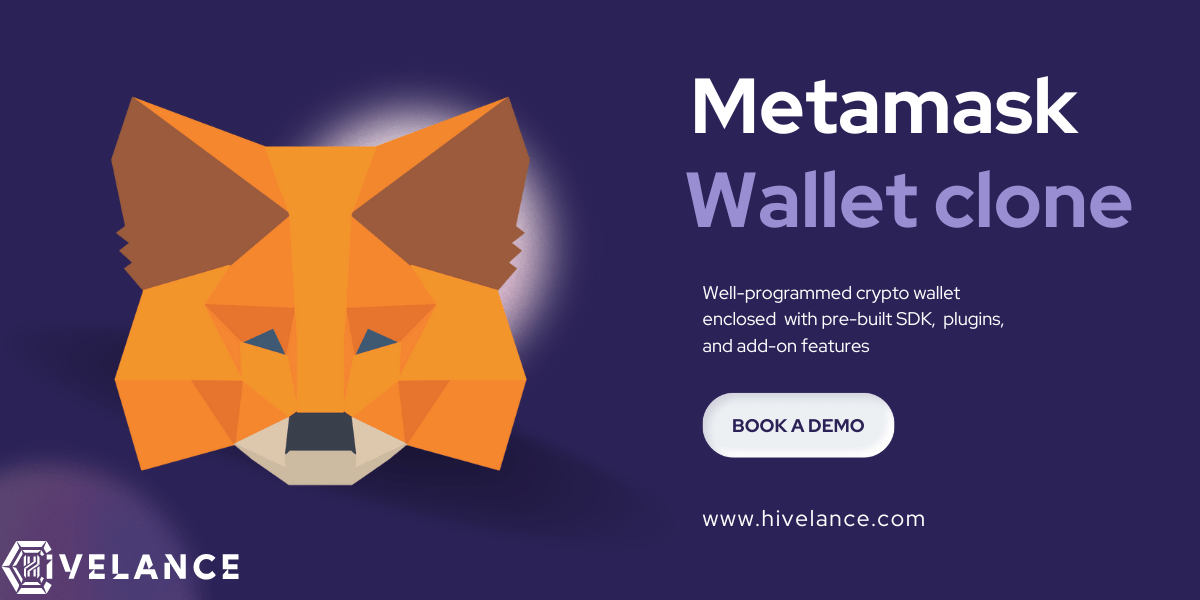 What is Metamask Wallet clone script?
Metamask wallet clone is the decentralized crypto wallet which is programmed identical to Metamask wallet app. The key features, SDK, plugins, and security protocols are equipped in the script so that entrepreneurs can get started with their wallet creation process easily. It's a complete software package that consists of an iOS app, an Android app, and a browser extension. Our engineers at Hivelance have designed this Metamask Wallet clone app that saves much of your time in code development.
Get Metamask Wallet Clone Demo
Crypto wallet script for web3 Dapps, defi, and NFTs
As the web3 space is poised to rule the decentralized web, crypto wallet development is acting as the only gateway to access those applications. Using a single wallet application, you can access dapps marketplace, defi investing space and NFT marketplaces all in one. Metamask wallet is the kind of application that can do all. When you are an entrepreneur who wishes to create such a wallet, then Metmask wallet clone script can help you.
Crypto startups want to build a wallet for two main reasons. One is to give wallet availability for specific defi apps they are building. Another reason is to create a wallet that can support unlimited blockchain networks coupled with web3 apps.
Related - Trust Wallet Clone Script
How does Metamask wallet clone work?
The metamask wallet clone script is the ethereum based wallet available as app SDK and browser plugins. When the metamask clone script is deployed on the web, any user is able to use the wallet through desktop browser or mobile app. The wallet can be further connected into third party Dapps marketplace and defi ecosystem if needed.
Those who wish to develop wallets can buy the crypto wallet script, rename them, do customization, add coin support and launch instantly.
Features in Metamask wallet clone script
The metamask wallet clone we developed comes with sophisticated features you can't imagine in other clone apps. Some of the notable features you could find for the reference.
1. Swaps
The feature lets you exchange tokens, get best token prices from popular defi exchanges, aggregators and NFT marketplaces. You can get the best price for the digital assets in a timely manner without losing privacy first.
2. Gas efficiency
The wallet app is designed by keeping the gas fees as the first priority in mind. We enclosed dedicated APIs that keep your gas fee less and maximize the transaction speed. The EIP-1559 protocol is exclusively implemented in our metmask clone that simplifies gas fees to a greater extent.
3. Buy/sell crypto
Buying and selling of cryptocurrency through multiple modes of payments like bank transfer, credit/debit cards and mobile UPI payment methods. Access any cryptocurrency or tokens from any blockchain networks with all from privacy first wallet.
4. Key vault
Users are facilitated with the option for generating unique keys and paraphrases that can't be stolen or hacked. Security encryption is unmatchable with additional triggers such as key vault, two factor authentication, biometric authentication and Multi-signature.
5. Multi-cryptocurrency
The metamask clone can be adaptable with multiple cryptocurrencies no matter what their blockchain network is. It can support the new cryptocurrency that's going to emerge in the market.
Customizable coin support in Metamask wallet clone
The Metamask wallet clone has been designed in a way to support multiple blockchain networks like Ethereum, Binance smart chain, Polygon and Avalanche. The cryptocurrencies and tokens that depend upon these blockchains can be easily supported in the metmask wallet clone.
P.S - When a new blockchain network is to be added, there is a possibility for making customizations and adding chain compliance.
How to build a wallet like Metamask?
Crypto wallets like Metamask can be built in different ways. It is based on their own interests and terms.
Some people who are well versed in coding knowledge will hire dedicated blockchain developers and build wallets from scratch. In this way, you need to hire a chief technical officer, app developers, and a designer to make the project coordinated in the right way. Moreoften, this seems to be the pocket burning approach for most of the founders.




On the other hand, making use of metamask wallet clone script can help the founders who are less tech savvy but want to create a wallet with user-centric features. This is the foremost method of development that is budget friendly, quick market live time, and less resource management.
Why is Hivelance right for Metamask wallet clone development?
We are the fastest growing Blockchain development company handpicked by many crypto ventures for Metamask wallet clone development. Our product development approach is far more exceptional than others. We take a 1:1 service approach for every project that we are committed to.
We have delivered 20+ crypto wallet projects in both custodial and non-custodial wallet types. There are exclusive wallet development services like Multi-sig wallet, Multi-party computation wallet available with us. Still more counting on our future product updates.