DeFi
Botswap Clone Script To Create Your Own Automate DEX Exchange Like Botswap
Hivelance offers pre-built and bug-free botswap clone script that helps entrepreneurs and businesses to launch their own DEX platform like Botswap instantly.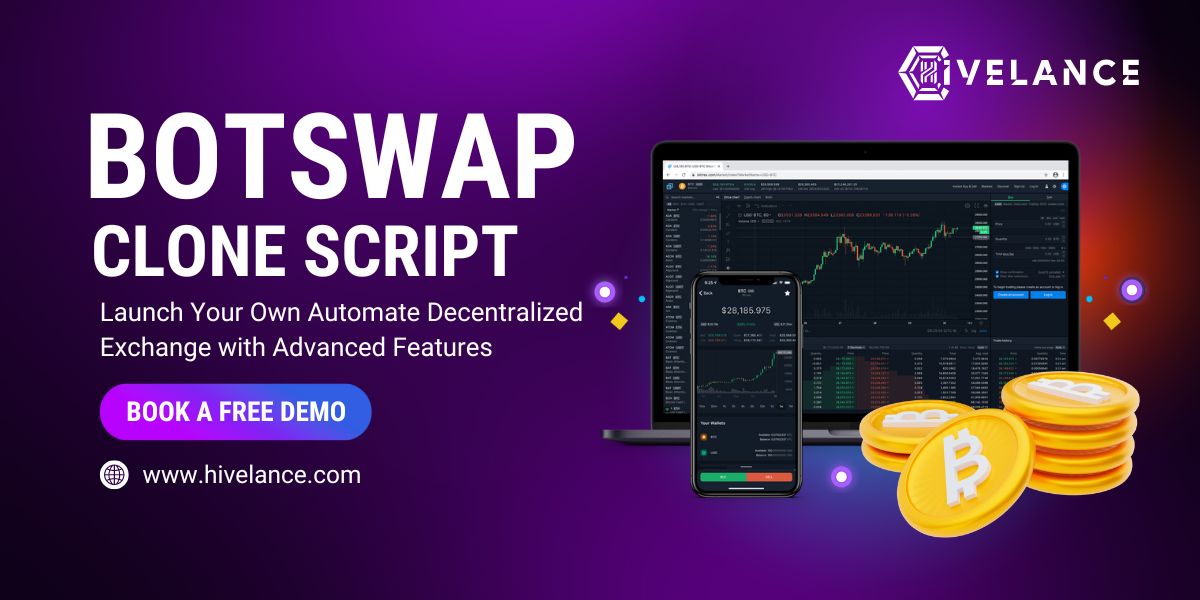 BotSwap Clone script
BotSwap clone script is a ready-made solution that duplicates the features and functions of the BotSwap decentralized exchange. BotSwap clone development aims to provide clients with a decentralized exchange platform that offers benefits and features comparable to those of the BotSwap trading platform in terms of fixed staking, farming, NFT staking, etc.
Hivelance provides entrepreneurs with an innovative BotSwap clone script, a comprehensive solution to developing an automated DeFi trading platform.
Overview of BotSwap: Automated DeFi trading for DEX
A Decentralized Exchange BotSwap is an exchange that uses a distributed registry as its basis and does not save customer funds or personal information on its server. It merely functions as a matching tool for programs to buy or sell user assets. On such platforms, trading occurs directly between users, without the use of a middleman. Furthermore, BotSwap will have features for farming, staking, and examining coin charts. It won't just be an exchanger in a nutshell. Additionally, DEX will operate in a variety of networks, unlike many other DEX that are similar.
Unique features of BotSwap Clone Script
Fixed staking APY

Lowest fee in DeFi

Farming

NFT staking

Diverse staking rewards

Cross-chain
Benefits of creating BotSwap clone
Setup and tool guidance
Set-up and tool guidance renders DeFi yield and return opportunities available to everyone.
Secure
Infrastructure that has been put through the rack and smart contracts that have been examined by top firms.
Refine and control
On the fly modify your trade, liquidity, and arbitrage settings.
Revenue models of BotSwap
NFT
NFT is a tagged token that represents a digitized real object-artwork, music, or video text- and has a distinctive digital signature. The NFT signature of BOT prevents duplication, ensuring the owners of these tokens have exclusive ownership.
Watching or engaging with advertisements
The user is given enticing tasks to complete in exchange for watching adverts in the messenger and is rewarded with a BOT.
P2E Game
When users fight one another, the winner keeps the donation in token form, and the user is left with nothing.
Farming
Increase liquidity for the exchange to cultivate BOT. You receive BOT when you encrypt them in a smart contract.
Staking
Gain benefits by staking assets in the liquidity pool, including a portion of transaction fees and governance tokens.
Lottery
Users can buy lottery tickets for a chance to earn BOTcoins through the BOT lottery. Everyone has a chance to win in the BOT lottery which is impartial.
Why Hivelance for BotSwap clone development?
Hivelance is a top provider of decentralized exchange development services to assist an automated DeFi trading platform like BootSwap. A ready-made BotSwap clone solution with excellent features and cutting-edge technology has been created by our team of highly qualified blockchain experts. Our reliable BotSwap clone software undergoes several stringent testing processes to demonstrate great performance across various blockchain platforms. This would undoubtedly contribute to user confidence in the reliability of the automated DeFi trading system.