Cryptocurrency
Cryptocurrency Exchange Listing Service from Hivelance
Hivelance offers cryptocurrency exchange listing services to ensure that your crypto token or coin is listed on all major exchanges. Our comprehensive exchange listing services will significantly boost your trading exposure. We are conveniently located near all of the market's major crypto exchanges.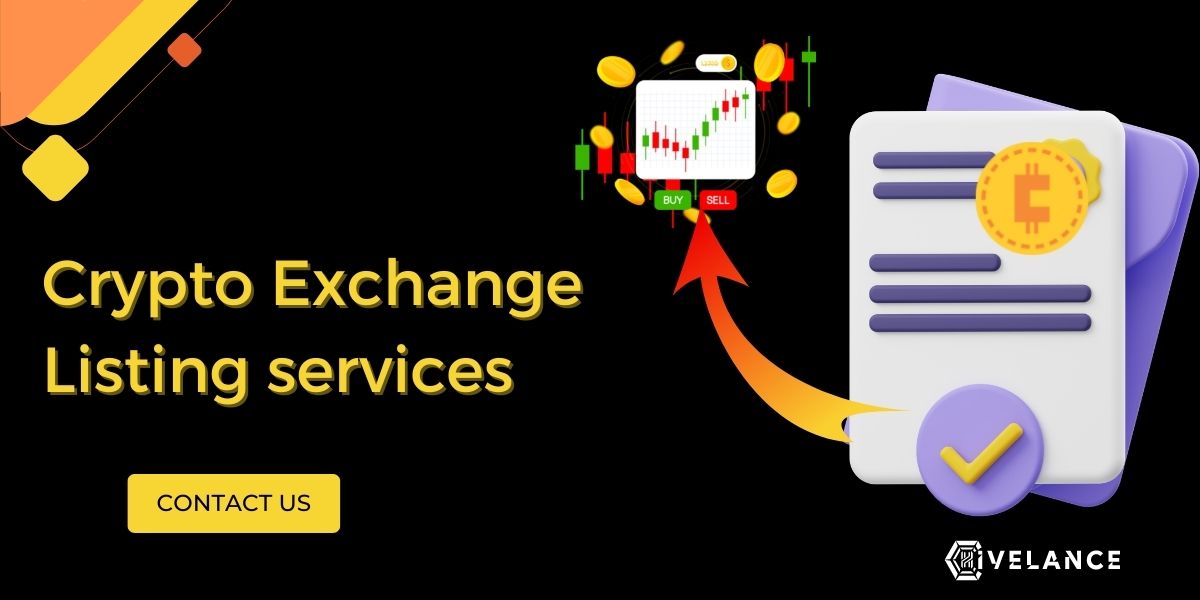 Do you have your own cryptocurrency or tokens wanting to be listed in some of the popular cryptocurrency exchanges? If yes, our cryptocurrency exchange listing services can help you at the fullest. Hivelance have partnered up with some of the reputable cryptocurrency exchanges to help token owners list their coins listed on the platform without much complex process.
Let's see how our coin listing services can be unique compared to others.
Crypto Exchange Listing Services
We can help you to connect with top tier cryptocurrency exchanges and avail the complete benefits offered by them. We provide Coin listing services & Token listing services on reliable group of crypto Exchanges as mentioned above,
1. Token listing on Exchange
Token listing on an exchange is the process of making a digital asset (token) available for trading on a cryptocurrency exchange. A token listing on an exchange typically requires the token issuer to go through a rigorous process and meet certain requirements imposed by the exchange.
How to list a token on Exchange?
In order to list a token on an exchange, the token issuer must first complete an application form, provide relevant documents, and pay a listing fee. The exchange will then review the application and the documents provided and decide whether to accept or reject the listing. If accepted, the token issuer must also meet any additional requirements, such as setting up a wallet address and completing a KYC/AML process.
The listing of a token on an exchange is an important step in the token's life cycle, as it allows investors to easily buy and sell the token, allowing for increased liquidity and greater access to the token. Furthermore, a token listing on an exchange can also increase the token's visibility, which can lead to increased demand for the token and a higher market capitalization.
However, token listing on an exchange also comes with a certain level of risk. As the exchange is responsible for the custody and trading of the token, it is important that the token issuer does its due diligence to ensure that the exchange is reputable, secure, and compliant with relevant regulations. Moreover, the token issuer must also be aware that the exchange may delist the token at any time, which can result in a sudden drop in the token's value.
2. Listing Cryptocurrency on Exchange
Listing a cryptocurrency on an exchange involves the same steps as token listing.
First, the cryptocurrency team must make their project publicly available and have a working product ready to be listed.

The team must then submit an application to the exchange and provide all the necessary documentation, such as proof-of-work algorithm, source code, and other technical details.

The exchange may also require some KYC/AML documentation to establish the identity of the team and the project.

Once the application is approved, the exchange will typically add the cryptocurrency to its listing and allow users to buy and sell the tokens.
Crypto Exchange Partners
We are partnering with popular cryptocurrency exchanges listed below.
Advantages of Coin listing on Exchanges
1. Increased Liquidity
Coin listing on exchanges provides more liquidity to the coin, as the more exchanges it is listed on, the more people have access to it, which leads to more trading. This increases the chance of liquidity as more people can both buy and sell the coin.
2. Massive Awareness
Listing on exchanges also helps to increase awareness of the coin, as it is now more easily accessible to more people. This can lead to a larger user base, and more demand for the coin.
3. Investing Attractiveness
Listing on exchanges can make a coin more attractive to investors, as it is now more trustworthy and easier to trade. This can lead to more people investing in the coin, which can increase its value.
4. Easy Accessibility
Listing on exchanges also makes it easier for people to access the coin, as it is now available on multiple exchanges. This makes it easier for people to buy and sell the coin, as there is not just one exchange to access it from.
Hivelance - Best Coin listing agency in Market
We at Hivelance have been delivering the Cryptocurrency Exchange listing services to make the coin listing process hassle free. We gained significant momentum in getting every cryptocurrency or tokens listed on the biggest exchanges without rejection.
We follow all the rules and guidelines mentioned by crypto exchange firms in order to move the listing process faster. Our business development managers can give you 1:1 directional advice for passing through exchange approval mechanisms. Our services are more cost effective than any third party listing agencies.