Multi-Chain NFT Marketplace Development Company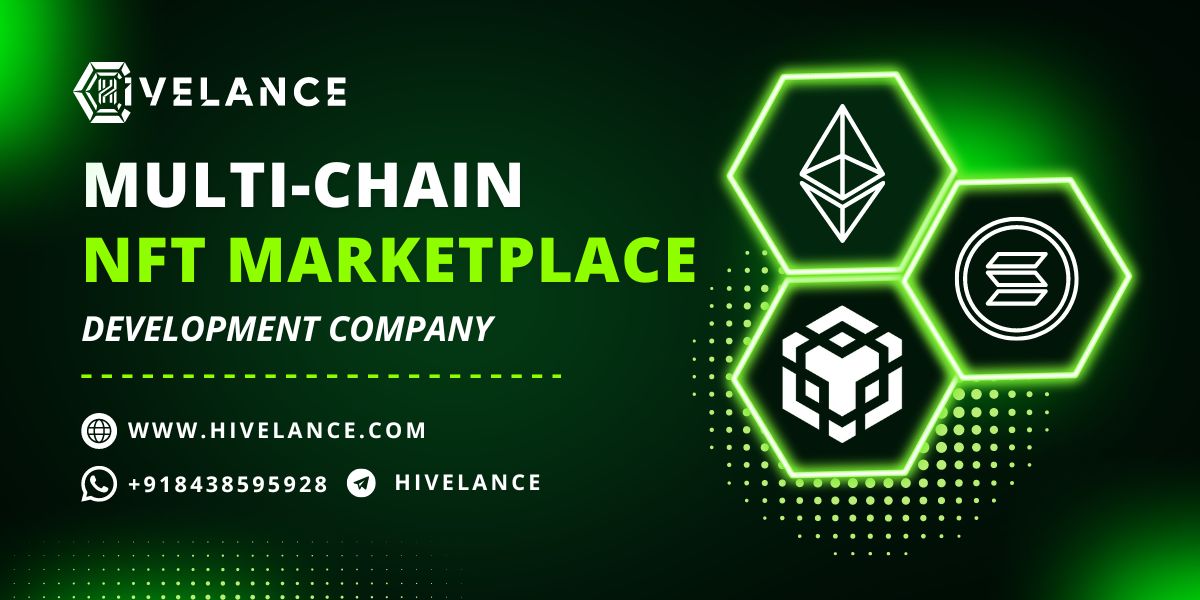 In recent days, NFTs have thrived very fast, propagating many businesses towards a profitable dynamism. NFT marketplace development can be the most promising trump card to deliver a great fortune in the long term. Multichain NFT marketplace incorporates a list of benefits like transverse across different blockchain networks, low gas fees, and seamless connectivity. With minimal resources, we develop a Multi Chain NFT marketplace adhering to your business growth.

Multichain NFT Marketplace Development Company
With Billions of blooming business verticals, we are the leading Multi-chain NFT Marketplace Development Company assisting many startups, Entrepreneurs in developing and reaping the benefits from the flamboyance of the NFT marketplace. Get ready to behold massive profits from your Multichain NFT marketplace platform developed by our team.
What is Multi-chain NFT?

NFTs are generally minted with any one of the blockchain frameworks such as Ethereum, Binance smart chain, polygons, etc. But multi-chain NFTs are minted by employing all these blockchain technologies together. This is mainly done for eliminating the barriers like interoperability, high gas fees, and Energy consumption.

What is Multi-chain NFT Marketplace?

Currently, some of the NFT marketplaces operate on single blockchain technology. It allows the buyers to get the NFT only using the native cryptocurrency that the blockchain is built with. When the NFT marketplace is equipped with multiple blockchain chains to mint, trade, or exchange. In simple terms, A multi-chain NFT marketplace is an online platform where NFTs are built on different blockchains and can be traded on the same interface. Some of the major blockchains used in the development of NFT marketplaces are:
Ethereum
Binance smart chain
Polygon
Solana
Avalanche
Harmony
Want to know how NFT marketplace Works? Explore here

Why Multi-chain NFT Marketplace?

As we said, the multi-chain NFT marketplace exists here to make the crypto collectibles widely adopted without limitations. It makes the NFT landscape more interoperable, sustainable, and less energy consumable in the future. Here's how

1. Interoperability

When you mint the NFT, the operational scope should not be defined in a single blockchain. This is where interoperability comes in. For example, you usually play the NFT game with in-game assets that are available in the form of tokens. If you want to use this NFT on another interesting metaverse, single chain NFTs don't always facilitate this since both of them are not made to inter-operate with each other. Cross-promotion becomes impossible too in a single chain marketplace.
Multi-chain NFTs on the other hand can connect with the other NFT projects that share the same blockchain chain.

2. High gas fees(Sustainability)

Most probably Ethereum is the widely adopted blockchain network adopted for the majority of the NFT projects. But in reality, it has a major fallback in terms of sustainability. Because Ethereum charges high gas transaction fees for every successful transaction. In the case of high-value transactions, the seller has to pay a large sum of money in gas fees.

Gas fees are defined as the transaction cost that is charged by NFT trading platforms when the trade gets completed. It is usually the smart contract execution cost that occurs on the Ethereum network.

When the NFT marketplace has multiple blockchains to support, the users have more options to choose the NFT based on their preference by cutting maximum gas fees. Polygon is the latest emerging framework that processes maximum transactions per second with minimum gas fees.

3. Energy consumption

NFTs are said to impact the environment through the use of blockchain technology. When an NFT is minted on an Ethereum network, an average of 260 kilowatt-hours of electricity is used. This is way more than enough to cause an environmental impact. Usually, Ethereum uses a proof of work method to validate the transactions that are recorded on the blockchain.

Instead, if NFTs use proof of stake consensus as the Polygon, Cardona, and Solana blockchain uses, the energy can be cut into low. This is where multi-chain

NFT exists to eliminate the barriers in the current NFT landscape.
When considering the energy impacts on the environment, multi-chain NFTs are the must-go for entrepreneurs who wish to start a zero-emission NFT marketplace.

Benefits of Multichain NFT marketplace development
Supports trading in multiple networks
Low gas fees
Interruption-less connectivity
High transparency
Traverse across different blockchain networks
Unique abilities of networks incorporated.

Features of Our Multi-chain NFT Marketplace Development

White label solutions available( pre-coded)
Low capital investment.
Unique platform furnishing with entire customization
Highly designed architectural framework
Fully advanced and equipped tools
The inception of preferred blockchain networks
API based integrations
High security
Allows cross-chain compatibility
Unbeatable programming and debugging processes included.

White label Multi-chain NFT Marketplace Development Solutions

White label Multichain NFT marketplace is a pre-designed script readily available with us, and we deploy it according to your requirements. The focussed part of offering white label solutions is that users can adopt the platform in a short time and with low costs. With minimum pricing and resources, users can get multiple benefits and high ROI. We develop a Multi-chain NFT platform for:

Arts
Videos
Games
Music
real estate
Sports

Why Choose Hivelance for multichain NFT Marketplace Development?

Hivelance is one of the top Multichain NFT marketplace development companies, having a maximum reach across the global market.We choose the specific promising blockchain networks for developing your Multichain NFT marketplace based on your expectations. We make you grasp your own identity in the crypto industry. Our way of working is very efficient, steady, and progressive. With a live demo, we guide you through the entire phase of development with reliable and cutting-edge solutions. We have:

10+ years experienced as blockchain developers
Tailor-made approaches
The inception of the latest tools
Technical support
Resolved technological ideas
24/7 customer support
Agile methodologies
Quality assurance team
Testing team
Null defect outcomes.

Want to create your own Multi-chain NFT Marketplace on various blockchain networks? Feel Free to contact our team of experts via WhatsApp | Telegram