Cryptocurrency
Spot Trading Crypto Exchange development
As a frontrunner in crypto services, Hivelance proudly offers spot trading crypto exchange platform development.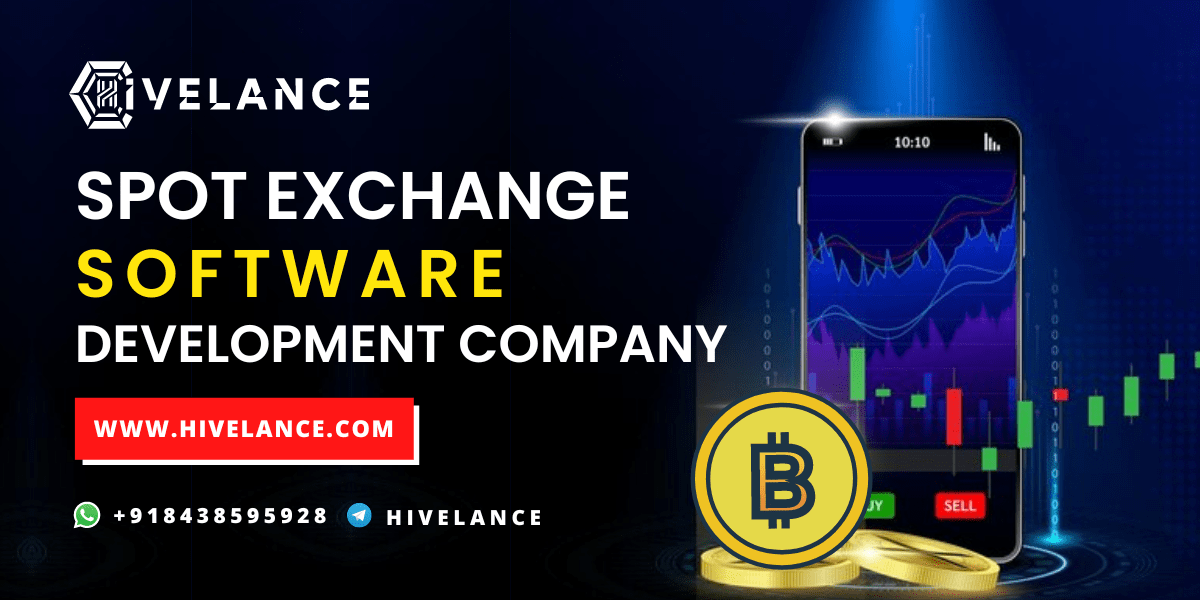 As a frontrunner in crypto services, Hivelance proudly offers spot crypto exchange platform development for accomplishing your trading.Get your digital assets tokenized in a safer way through our spot trading exchange.
What is spot trading?
Spot trading is the process of buying and selling digital assets like cryptocurrency, FX, stocks, and bonds on the spot market. The digital asset will be rendered spontaneously. Spot trading occurs in exchange-based spot markets directly between traders. While trading on spot markets, there is no leverage or margin.
Centralized exchange for spot trading:
Centralized exchanges enhance features like regulatory compliance, security, custody etc. Hence, we develop centralized exchanges for spot trading to make trading easier.
Centralized exchange acts as a middleman between market participants and as a custodian of the traded assets while performing KYC and AML tasks.
The exchange also helps in managing proper pricing, security, and customer protection while charging fees on transactions and listings.
Our developers are the vibrant talents who have previously engaged in developing centralized exchange platforms.They have shown success rates within a short period and help you launch centralized exchanges instantly for spot trading purposes. Accompanied with blockchain exploring ability, they can make your strivings come true.
Our Highlighted services for you
As centralized exchanges are the vital source regulating the spot trading without any hassles, we can furnish the centralized platforms for you based on your requirements. By including all the latest features like option menus, themes, backgrounds etc and the working functionalities, we make your business reach all the targeted audiences.
Features of our Spot trading exchange
Speculative user interface: User-friendly interface is the most enriched component needed for the centralized spot trading. Thus, our team of developers built a durable platform with a unique user interface.
Accurate data provider: Spot trading platform offers in-depth analysis of pricing, execution and account management.
Entire management: It offers full control and maintenance over your specific physical assets and higher tax benefit for the gains you make.
Benefits of spot trading
It allows faster transactions and easier execution.

Presents you the correct spot price lists

Your orders gets delivered in a safer way

Spot traders with small investments can make bigger revenues.

Trading happens via the listed order books or over-the-counter books.
Why Hivelance for Spot crypto exchange development?
Being flexible to all your needs and showing off extensive mission driven results, Hivelance can be the best option for developing your Spot crypto exchange platform. We have been in the field for more than 10+ years and served a special solution for all the crypto exchange business persons.
Likewise clients portrayed us as the top spot trading development company with 5 star reviews. Our developers can showcase you with demos of our prior developed exchanges and clarify all your doubts regarding the project. Other special features we enclose in our services include,
Market's best blockchain developers

Tools for implementing add-on features

Quicker completion as per instructions provided

Round the clock support

Easier guidance to international clients

Bug free outcomes.
Are you a Startup, Entrepreneur aiming to set a record in your crypto businesses? Why not start with spot trading through centralized exchanges? Make use of our experts' ideas and begin the pathway for bigger success and long-term income earning!