AI
AI Game Development To Create Dynamic NPCs with AI in Game Development
Looking for comprehensive AI game development solutions? A leading AI game development company, Hivelance provides end-to-end AI game development solutions based on clients' requirements.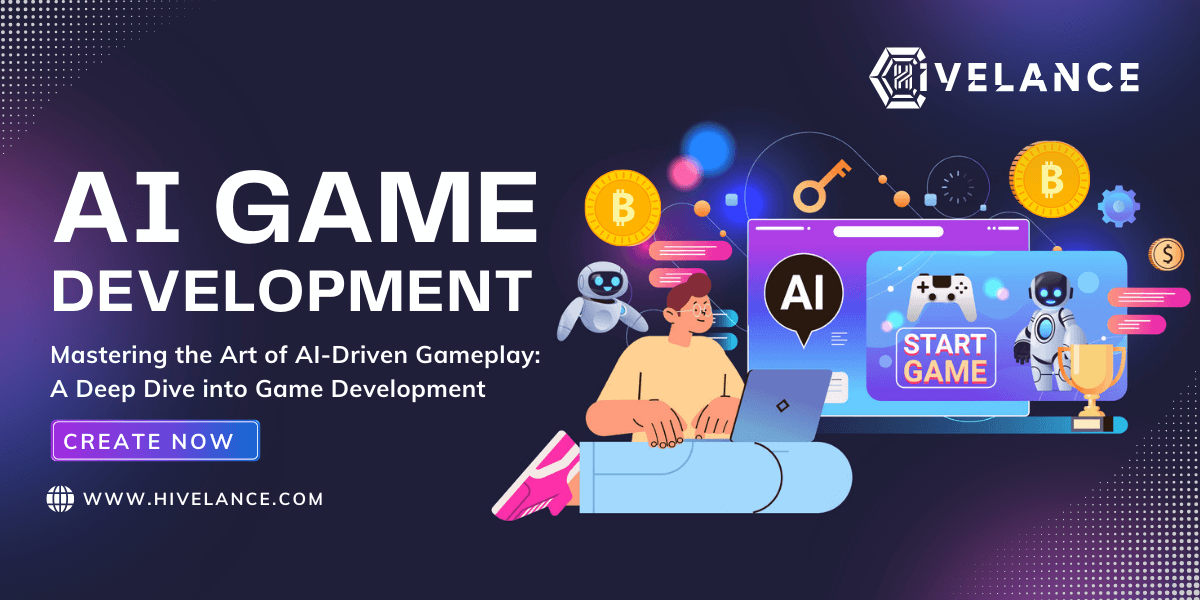 Gaming has developed into a significant, popular pastime from being an enjoyable activity. Gamers need cutting-edge technology and engaging experience from the things they buy, according to the most recent trend data. With the outcome of AI, game development has advanced significantly. Game studios utilize AI in a variety of ways to enhance their releases, and this trend is expected to continue.
AI Game Development Company
Hivelance is a revolutionary AI Game Development Company that specializes in delivering cutting-edge solutions across multiple industries. We can help you streamline your business operations, enhance efficiency, and stay competitive in the dynamic digital market. We enable organizations to revolutionize their operations and achieve exceptional success by leveraging our extensive experience in artificial intelligence and machine-meaning technology.
What is AI in gaming?
Artificial Intelligence systems (AI) are referred to observe their surroundings, think critically about information, gathering knowledge from data, and take decisions or actions to accomplish certain objectives.
AI in video games refers to responsive and adaptive gameplay. The non-player characters (NPCs) who typically used to create these AI-powered interactive experiences operate creatively as though they were being directed by a human gamer. An NPCs behavior is controlled by AI in the gaming world.
AI has existed in some form in video games for a while, it is still seen as a growing new era in the creation and enjoyment of games. AI games progressively give the user, whose actions contribute to the game experience, more influence over the gameplay.
AI procedural generation is a term used in game design called procedural storytelling. To describe the production of game data through algorithms, as opposed to each individual component being created by a developer from scratch.
Improve your business strength with our specialized AI Development Services
We provide leading-edge AI development services designed to help your business thrive in the digital age.
AI-powered assistants and chatbots
Utilizing AI-powered assistants and chatbots is essential for tailored and effective experiences. Our innovative AI assistants and chatbot development improve customer engagement and ease business processes.
Generative AI development
Hivelance focuses on providing cutting-edge, innovative, and creative AI development services. Our knowledgeable team of AI researchers and developers uses generative models.
Custom AI designing
Our AI developers and designers are aware of how AI may completely alter user experiences. By utilizing AI technologies, we create user-friendly interfaces, individualized interactions, and adaptable designs.
AI as a service
We provide flexible and scalable AI capabilities through our AI-as-a-service solutions to match the needs of your business. Our skilled AI experts provide tailored solutions in line with your objective and needs.
Custom AI solutions
Our adaptable AI solutions provide unique breakthroughs that are in line with your goals. We use specialized AI solutions to deliver measurable results across predictive analytics, intelligent automation, and recommendations.
Comprehensive AI model development
Hivelance offers thorough AI model development services that give your business access to specialized tools for process improvement, data extraction, and innovation.
Game AI development
Our AI game development services use cutting-edge AI methods to create engaging and immense gaming experiences. We enable game components to offer dynamic gameplay using AI.
Development of AI Products
With an emphasis on transforming industries, modern AI technologies are used by our talented AI developers and engineers to produce innovative and intelligent products. We assist you in utilizing AI's full potential to obtain a competitive advantage.
Development of AI-powered digital twins
Our AI digital twin development services use cutting-edge AI algorithms, machine learning, and sensor data integration to produce intelligent virtual models. These AI digital twins imitate actual conditions while having more vibrant features.
Discovering Our AI Clone Services
If you are looking for AI services comparable to those that are already dominating the market, then have a look at Hivelance's AI development clone solutions.
ChatGPT Clone Script
ChainGPT Clone Script
Mid-journey Clone Script
Sensei Clone script
AI Game App Development
At Hivelance, we have the privilege to provide outstanding artificial intelligence (AI) Game app development services that enable the development of creative and clever mobile applications. We provide unique solutions that improve user experiences, promote efficiency, and open up new opportunities thanks to our expertise in AI technology and mobile app development.
Different Types of AI Game Development We Serve
Artificial intelligence (AI) has been used in many different kinds of games to boost gameplay, create dynamic experiences, and offer more challenging opponents. Here are some examples of the popular game kinds that have used artificial intelligence (AI).
Real-Time Strategy (RTS) Games
Turn-Based Strategy Games
Non-Player Characters (NPCs)
Role-Playing Games (RPGs)
Action Games
Sports and Racing Games
Puzzle Games
Simulation Games
Educational Games
Horror Games
Multiplayer Games
Narrative Games
Dynamic Storytelling
Artificial Creativity Games
Virtual Reality (VR) Games
Hire AI Developers
At Hivelance, we take satisfaction in providing top-notch AI and ML development services that provide you the chance to assemble your very own committed team of highly qualified and knowledgeable AI experts. We are able to produce outstanding outcomes since our team includes the greatest talent in the sector and is highly skilled in machine learning and artificial intelligence.
Why choose Hivelance for AI game Development?
Hivelance is a premier AI game development company, that offers services for AI games. Selecting the appropriate partner is essential to the success of your projects when it comes to AI development solutions. We provide thorough AI development services that distinguish us from the competitors.
Looking for creative AI Game Development Services? Feel free to contact our experts and start to discuss your project!!!