DeFi
DeFi Smart Contract Development Company - Build Strategic Smart Contracts For All DeFi Protocols
Hivelance offers best-in-class DeFi smart contract development services that help you to discover the impact and benefits of smart contracts in the DeFi sector.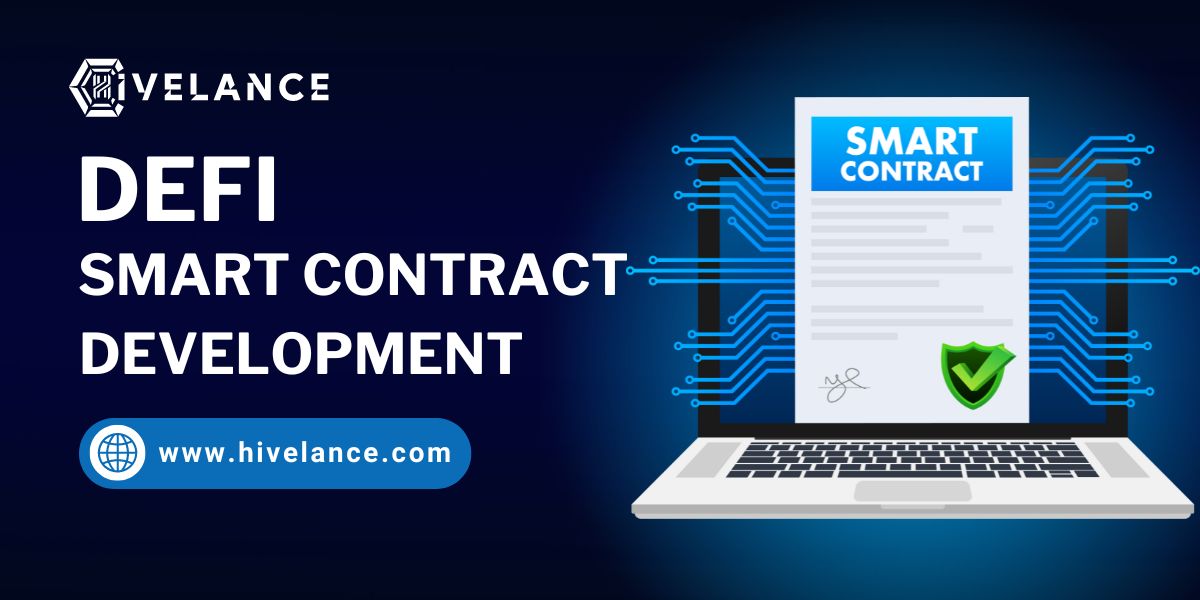 DeFi Smart Contract Development Company
Embrace the future of finance and unlock the new revenue streams.We give your blockchain projects the frictionless, safe, and trustless solutions with our cutting-edge DeFi Smart Contract Development services. We create custom smart contracts that are tailored to your particular business requirements and seamlessly integrate with your decentralized applications to enable unique features and opportunities.
Overview of DeFi Smart Contracts
DeFi smart contracts are self-executing contracts where the terms of the agreement are encoded directly into the code on a blockchain. They have a significant impact on the rapidly expanding realm of decentralized finance, which aspires to transform established financial systems by removing middlemen and enabling P2P transactions. These Smart contracts are immutable once they are implemented on the blockchain, which means that their code cannot be changed or interfered with. The logic of the contract cannot be altered without authorization, offering a high level of security.
DeFi Smart Contract Development
DeFi smart contract Development is the process of developing and deploying self-executing contracts on blockchain networks to support decentralized financial applications and protocols. As a top blockchain development company, we focus on creating cutting-edge smart contract solutions that promote innovation, security, and seamless functionality within the decentralized ecosystem. We are passionate about empowering organizations with DeFi smart contracts that have the transformative potential, serving numerous benefits to the users.
Our DeFi Smart Contract Development Services
Our Skilled blockchain development teams provide DeFi smart contract development services to help companies, startups, and individuals create unique decentralized financial applications. These services cover a broad variety of tasks involved in developing, deploying, and maintaining DeFi smart contracts, allowing customers to take advantage of the exciting potential offered by the decentralized finance ecosystem.
DeFi smart contract development
DeFi smart contract consulting
Security auditing
Native token creation
DeFi wallet development
DeFi cryptocurrency platform development
Decentralized lending and borrowing platforms development
Yield farming protocols incorporation
AMM ( Automated market maker) development
Cross-chain integration
DeFi ICO development
Benefits of DeFi Smart Contract Development
DeFi smart contract development provides numerous benefits and they are listed below:
Decentralized Governance: Decentralized governance methods are used in several DeFi projects, allowing users to participate in decision-making through voting procedures.
Transparency and Immutability: Blockchain networks, where every transaction and contract code is transparent and unchangeable, wherein smart contracts are deployed.
Trustless transactions: Smart contracts enable users to engage with them and carry out transactions without having to rely on a central authority, promoting open and transparent financial transactions.
Global Accessibility: Any user can utilize DeFi smart contracts to conduct international business without being constrained by conventional financial systems.
Automated Contracts: Depending on predetermined criteria, DeFi smart contracts automatically carry out predefined tasks. Processes are streamlined, administrative costs are reduced with these contracts.
Industries that Can make use of Our DeFi Smart Contracts
DeFi smart contracts have become very popular and are being used in many different industries to bring-in more innovation. DeFi smart contracts are used in a number of different industries, including:
Supply Chain Management: Supply chain management systems that are transparent and safe are being developed using DeFi smart contracts. These agreements can enable real-time tracking of items across the supply chain, automate payment releases, and guarantee the legitimacy of commodities.
Healthcare: DeFi smart contracts may be used in the healthcare industry to manage insurance claims, medical information, and to provide open and secure access to medical services. Healthcare applications built on blockchain can improve data privacy and interoperability.
Gaming Industry: DeFi smart contracts allow for the production of NFTs for in-game items, digital collectibles, and provably fair gaming platforms in the gaming sector.
Finance and Banking: By offering decentralized lending and borrowing platforms, decentralized exchanges and yield farming protocols, DeFi is upending conventional finance and banking.
Real Estate: In the real estate sector, DeFi smart contracts are being investigated to ease property sales, leasing agreements, and fractional ownership. These agreements can simplify the purchase and selling of properties as well as automate rental payments and escrow services.
Features of DeFi Smart Contract Development
Highly secured
Entire customization made possible
Cost efficient
Accuracy
Real time execution
Financial saving
Decentralization plays a major role
Highly transparent and immutable
Automated executions
No involvement of any central authority.
DeFi Smart Contract Development on various Blockchain Platforms
Ethereum
TRON
Hyperledger
Binance smart chain
EOS
Polkadot
DeFi Smart Contracts are the future of Finance
DeFi smart contracts are thought to play a big role in the future of finance and have a great deal of promise. The emergence of DeFi has revolutionized the world of traditional finance and opened up a wide range of advantages and opportunities for clients everywhere. Innovative financial services and products can now be developed, which was previously not possible. This encourages financial ingenuity and creates new revenue streams. The DeFi ecosystem is constantly changing as new projects, protocols, and applications are continually created. The DeFi industry will continue to expand and innovate because of this dynamic character. By enabling financial services for people without access to conventional banking institutions, DeFi smart contracts level the particular arena and advance financial inclusion on a global scale.
Why Choose Hivelance for DeFi smart Contract development?
Hivelance is the top-notch DeFi smart contract development company, having a qualified team of blockchain developers with wide DeFi smart contract development knowledge. Their in-depth skills of blockchain platforms guarantee first-rate solutions. We provide specialized smart contract development services that are specifically targeted to each client's needs and goals, resulting in bespoke solutions for optimal effectiveness.In the quickly changing DeFi landscape, staying ahead is essential, hence we make sure that your projects are superficial as we incorporate cutting-edge features into your smart contracts. Since our smart contracts are designed for scalability, they will work at their best even in situations with a lot of transactions. Clients are kept informed of project milestones on a regular basis, and their input is appreciated, establishing a cooperative and open working environment.