NFT
How To Create NFT Marketplace Like Binance NFT? | Binance NFT Marketplace Clone Script
Create and Launch Your NFT Marketplace Like Binance Using Binance NFT Marketplace Clone Script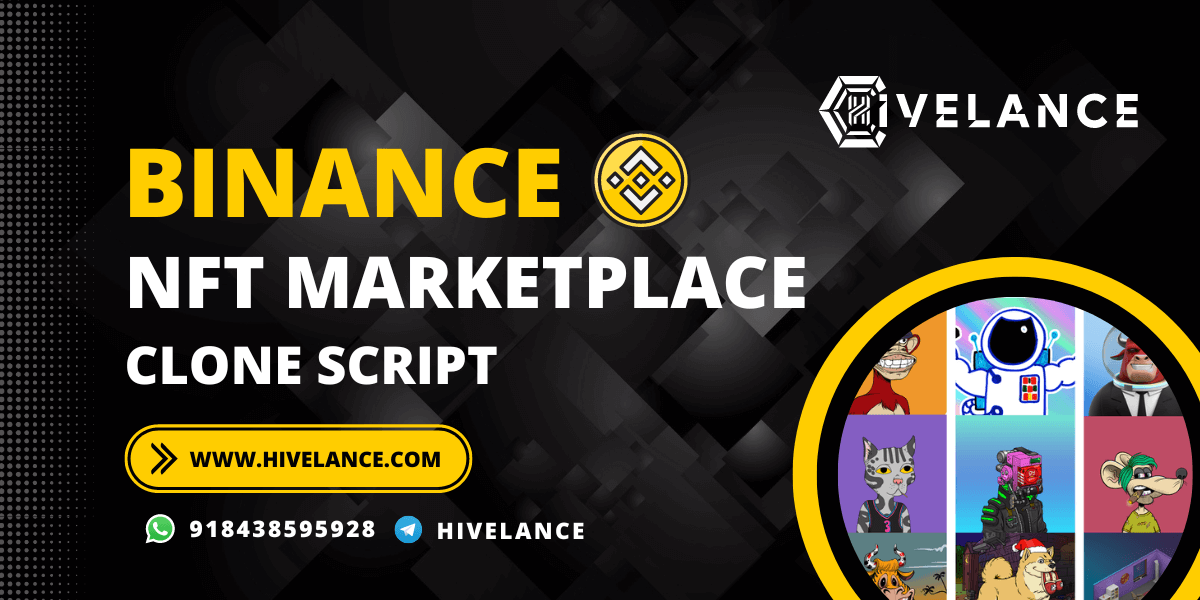 Binance NFT Marketplace Clone Script
We are the leading Binance NFT marketplace clone script development company acting as the bridge between the clients in developing the future highlighted clone scripts. Develop by associating with us.
What is Binance NFT Marketplace Clone Script?
Binance NFT Marketplace Clone Script is the look-alike model and a white label pattern of NFT marketplace of binance which is designed with highly-coded programming languages and is a ready-made script with the source code built on Binance smart chain blockchain networks. We build your binance NFT marketplace by gathering your business requirements and delivering according to it.
Features Of Our Binance NFT Marketplace Clone Script
User-friendly application layer
Multiple language support
Easier access
Wide-range of cryptocurrencies support
Royalty payment support system
Ratings
Listings
Storefront
Search options with filters
Assets available from various domains
Whitelabel Binance NFT Marketplace Clone Software
One of the finest solutions to have an NFT marketplace like Binance is a white label Binance NFT Marketplace clone script. With a white label Binance NFT Marketplace clone software, you will have a professional NFT marketplace. One of the advantages of the white label Binance NFT marketplace clone script is that it project cost less than an NFT marketplace development cost from the scratch. In addition, you can have Binance NFT marketplace clone website script in less than 10 days. Have a professional NFT marketplace with a white label Binance NFT marketplace clone and earn a huge ROI.
Key Features of White-label Binance NFT Marketplace Clone Software
Fully Customizable
Digital Wallet Integration
Advanced UI
Easy To Use Interface
Multi-language support
Real-time trade updates
Advanced Smart Contract
Sufficient Liquidity
100% source Code Access
Ultra Security
Instant Launch
What is a Binance NFT Marketplace?
Binance NFT marketplace is known as the most prominent space for buying, selling, and auctioning of digital assets. This marketplace enhances the usage of the native currencies of Binance smart chain as a vital factor in the transaction processes. This NFT marketplace of binance performs several user-enriched functionalities and the trading process.
Various Supported Domains of Our Binance NFT Marketplace
Gaming industries
Arts creation
Sports
Digital collectibles
Fashion designing
NFT for goods
Music
Binance NFT Marketplace Wonderful Stats
Daily Volume - Above $42,000,000
Daily Sale - Above 122,000
Total Collection - Above 700
Users - 77+ Million users
Countries - 50+ Countries
Gas Fees - Yes(when making payment)
Other Primary Factors
Low transaction fees
Innovative mystery box feature
Offers NFTs on Ethereum and Binance Smart Chain
Can buy crypto on Binance in exchange for NFT purchases
Why Start An NFT Marketplace like Binance?
By starting an NFT Marketplace like Binance, the users can get into trading easily and make your brand visibility to be worldwide. We accomplish your business to grow at higher rates with all the core functionalities according to the user's customization.
Rewards are provided at the end of every trading process
1% of processing fees which is the lowest
More NFT income generation
Inclusion of premium events
1% lifetime royalty
Filters available for search
Main Components Of Our Binance NFT Marketplace Clone Script
Token ID
Lister ID
Buyer ID
Reference NFT ID
Bid Details
Description about NFT
Smart contract address
Creator ID
NFT file size in pixels
Provenance
How to start an NFT marketplace like Binance?
Decide the type of NFT marketplace you are in need of.
Choose the apt blockchain network, tokens and the extra add-on features you wish to have in your marketplace.
Proceed with the selection of design patterns for your website.
Legal document preparation must be prepared
The requirements are based on your preference whether to develop from scratch or white label solution.
Binance NFT Marketplace Operation Modes
Binance NFT marketplace functions in three different ways and they are Different Types of F
Genesis: The Genesis section will list the best iconic forms as well the digital assets.
100 Creators programs: The 100 Creator programs will display the creativities of the artists which can be tracked simultaneously.
Mystery Box NFTs: The scalability of the platform can be increased by this scheme having the inability of successful transaction processing.
Why Choose Hivelance for Binance NFT Marketplace Clone Script?
Hivelance is the best Binance NFT marketplace clone script development Company guiding users to obtain the specific estimated target. We have developers with 10+ years of experience in blockchain. We implement agile development process for uplifting many startups with on-time delivery support system.
Want to know how our Binance NFT Marketplace Clone Works?