DeFi
PantherSwap Clone Script - To Develop Your AMM based DEX like PantherSwap
The PantherSwap Clone Script is a DeFi Exchange programme created on the Binance Smart Chain (BSC) that enables entrepreneur to launch a DeFi exchange that is identical to PantherSwap.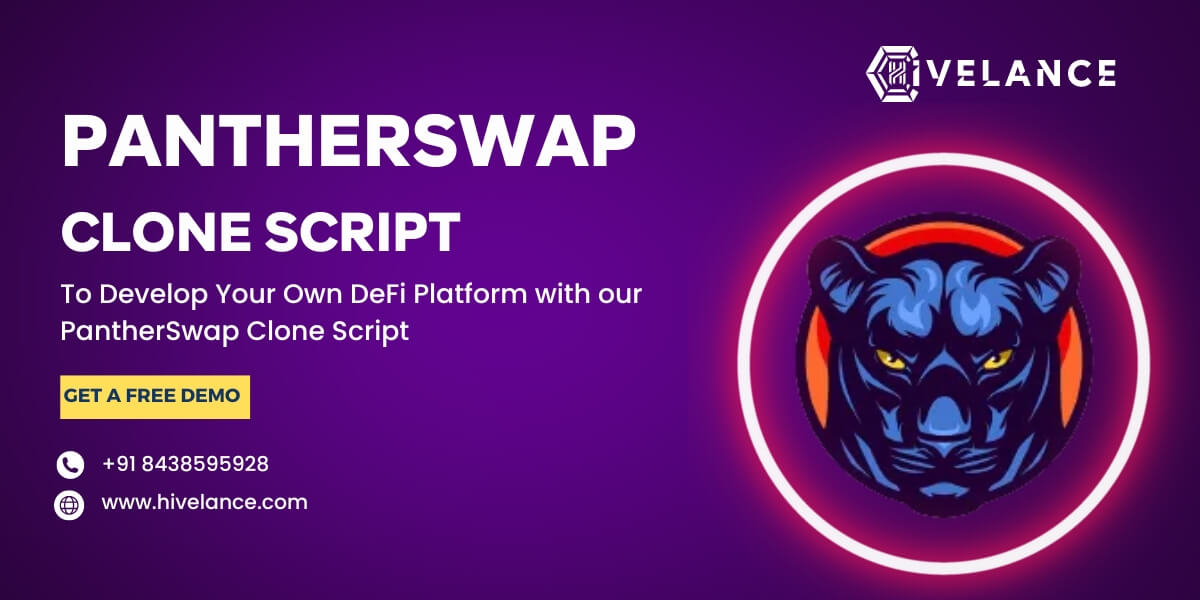 Start Building your Decentralized Crypto Exchange like Pantherswap
Make a significant contribution to the realm of decentralized funds by using the PantherSwap Clone Script. By creating your own DEX, you may embrace the financial future and transform the DeFi environment. Unleash the power of DeFi by starting right away. We also use cutting-edge smart contract technology, providing the highest level of protection for the funds of your users.
What is a Pantherswap Clone Script?
Pantherswap clone script is a set of pre-written codes that copy the functions and features of the original PantherSwap decentralized exchange (DEX). On the well-known DeFi platform PantherSwap, which is based on the Binance Smart Chain, users can exchange the BEP20 tokens, providing liquidity, and engage in yield farming to get incentives. The Platform, which makes use of its PANTHER token, enables initial token launches, yield farming, liquidity providing, and token staking. Our clone script will enable business owners to swiftly construct their own DEX with features comparable to PantherSwap. Including the special features, we can promote the distinctive brand identity.
White Label Pantherswap Clone Software:
White Label PantherSwap clone software is a fully customized copy of a DeFi exchange like PantherSwap that was built totally on top of BSC. PantherSwap clone includes a number of cutting-edge, secure, and superior features that let your DeFi Exchange function with market makers and automatic yield farming tools, enabling you and your traders to make money indefinitely. Our team of developers with 10+ years of experience in blockchain technology, has relatively worked with many DeFi projects so far. We also create a user-friendly web interface that makes using the platform and interacting with it simple.
Features of Our Pantherswap Clone Script:
By utilizing the features of our pantherswap clone script, business owners will be able to easily introduce a DEX with capabilities similar to those offered by others. In a PantherSwap clone script, you could notice the following characteristics:
Yield farming: Users can stake their LP (Liquidity Provider) tokens in the yield farming pools in order to gain more rewards. These awards often take the form of the native token of the platform or other priceless items.
Token swapping: Users can exchange one BEP-20 token for another using the automated market-making (AMM) feature of the clone script. Without the need for a middleman, users may quickly exchange their tokens, bringing liquidity to the platform.
Liquidity provision: Users can create liquidity pools by adding liquidity to different token pair combinations. Based on the trading volume of their supplied tokens, they receive fees for adding liquidity to the platform.
Token staking: Users may stake the native token or other supported tokens using the platform's potential token staking features. Users earn rewards in exchange, providing incentives for token holders to help the ecosystem.
User Dashboard: Users have access to an intuitive dashboard where they can monitor their balances, manage their assets, and keep tabs on their farming and staking operations.
Tokenomics: The clone script enables customisation of tokenomics, including the allocation of tokens for different uses and the conditions for token issuance.
Elite Components of Our Pantherswap Clone Script:
Multi-factor authentication
Integration of multiple wallets
Faster transactions enabling options
Crypto bridging
Cross-chain compliance
DAO Compatible structure
Farming and staking pools management
Governance mechanism
Multichain support
EVM Compatible system
Proof-of-stake consensus mechanism
Benefits of Our Pantherswap Clone Script
There are several advantages for business owners who want to enter the decentralized finance (DeFi) industry to use a PantherSwap clone script to start a decentralized exchange (DEX). A PantherSwap clone script has the following benefits:
Automatic Liquidity provision
Automatic burning
Faster deployment
Anti-whale mechanism
Harvest lockup
Lesser time and cost savings
Security and reliability
Yield farming and liquidity
Reliable user experience.
How does Our Pantherswap Clone Script work?
The PantherSwap clone script works as a decentralized and automated marketplace where users can simply exchange tokens, offer liquidity, and take part in yield farming and staking activities while earning benefits from the platform's native tokens and taking advantage of governance options.
Token Creation: You can build up a variety of token pairs for users to trade on your DEX as the platform owner. Many BEP-20 token pairs represented here are those that may be found on the Binance Smart Chain.
Liquidity Pool Formation: By depositing an equal amount of both tokens in a chosen token pair, users can increase platform liquidity. By doing this, a liquidity pool is created for that particular pair, making it simple for users to trade these tokens.
Token swapping: Users can start token swaps by choosing the desired token pair and the quantity they want to exchange. The automated market-making (AMM) component of the clone script seamlessly executes the deal and determines the optimum rate depending on the liquidity present in the pool.
Farming and Staking: Users should be able to take part in yield farming and staking with your PantherSwap clone script. Users may stake the LP (Liquidity Provider) tokens they have earned by supplying liquidity in order to get rewards in the native token of the platform or other valued assets.
Exchange: The PantherSwap function makes it possible to transfer tokens between other currencies, which reduces the need for bridging specialists.The platform may now do more than just make funds, which also acts as a marketplace for users looking to trade.
Lottery: For individuals who qualify, the Panther token may be used to buy lottery tickets.Furthermore, the awards from that lottery will depend on how many tickets have the same serial number.
Why Choose Hivelance for Pantherswap Clone Script Development?
Hivelance is the top DeFi development company that assists entrepreneurs in launching their DeFi Exchanges utilizing pre-written PantherSwap clone scripts. We offer its applicants the PantherSwap Clone Script, which features market-standard compilation settings, 100% unique and secure scripts that are impervious to hackings, and scalability-improving interfaces. Additionally, we provide customisation services so that clients can include special elements like branding, tokenomics, and unique features to set their DEX apart from rivals and establish a distinctive presence in the DeFi market. To improve the functioning of the DEX, our team includes the integration of other DeFi protocols such as token vesting, token locking.