Blockchain
Blockchain Powered HYIP Software Development
Hivelance have many years of development experience in Blockchain HYIP software development. We have helped many entrepreneurs to launch their HYIP investment programs using tamper-proof blockchain technology.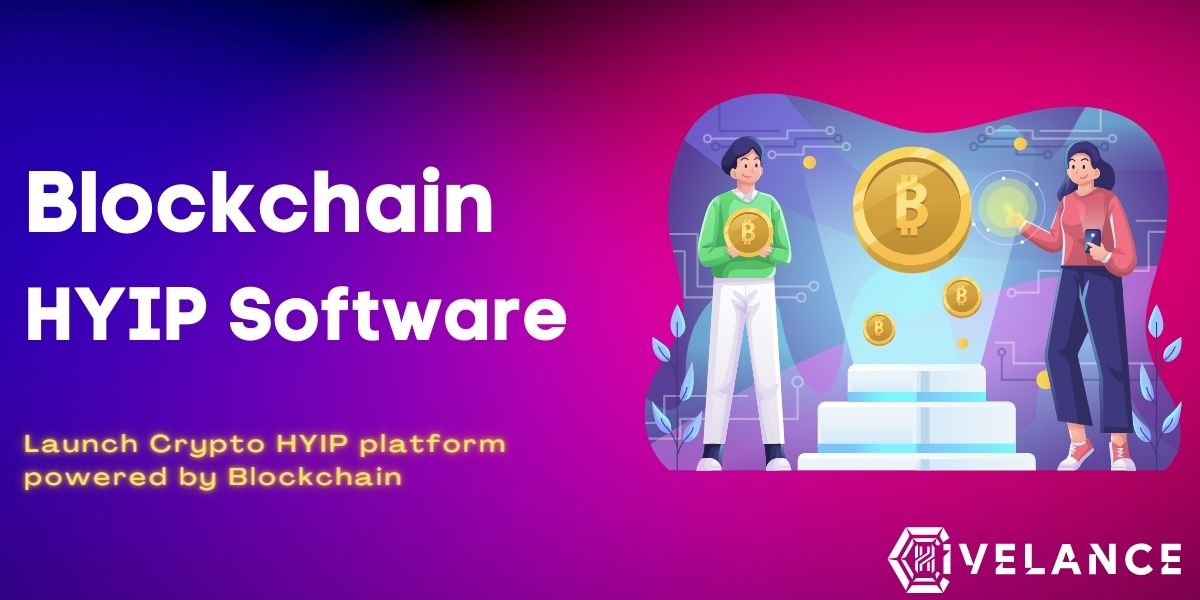 Blockchain HYIP software development
Blockchain HYIP software development is a process of developing a HYIP software program that uses blockchain technology. Blockchain is a distributed database that allows for secure, transparent and tamper-proof transactions. This makes it ideal for use in a HYIP software program, as it can provide security and transparency to the transactions that take place within the program.
What's included in Blockchain HYIP software?
Blockchain HYIP software is designed with blockchain powered HYIP investment features & functionalities so that anyone with little coding knowledge can launch the HYIP platform. The HYIP investment program is encoded inside the smart contract enabled software.
Every deposit and withdrawal operation is validated through blockchain validation with the help of smart contracts.
Need more information about Blockchain HYIP software? Book a demo
Features of Blockchain HYIP investment platform
1. Admin Dashboard
The admin dashboard is the collective management panel designed for platform operators. The user data, performance overview, controlling of assets, verification, content management, notifications alert system and user database is maintained inside the dashboard.
2. Crypto Investment program
The crypto HYIP investment program is the process of how investors money is going to work inside the platform. The logic can be encoded using different HYIP mechanisms. The crypto investment program is coded inside a smart contract and then interacts with blockchain distributed networks for validation.
3. Wallet System
The wallet system facilitates the freeflow of crypto investments to be carried in the HYIP platform. Anyone with access to crypto wallet can invest in the platform after the signup process. The fund flow between wallets to the HYIP platform is processed using the wallet integration feature.
4. Payment Gateways
Payment gateway is used to allow the investors deposit funds through banks and third party payment processors. Payment gateway integration makes the way for every individual to access the HYIP scheme without much requirements.
5. Profit calculator
Profit calculator is the feature used by investors to calculate the return of investment. Users can choose preferred currency, and set the time period to get the value. Based on the platform's HYIP scheme, the profit calculator is programmed in the script. It gives users a bird's view on how the investment is going to work in the period of time.
6. KYC
KYC verification is the reliable factor for HYIP investment platform. Using this feature, you can approve the legible users to enter the platform based on specific circumstances. Proxy users, automated bots, anonymous users can be eliminated easily using our blockchain HYIP software.
7. Two factor authentication
This is another important security feature that should be included in Blockchain based HYIP investment platform. 2FA gives users an extra layer of protection for keeping their investments funds safer. We carefully coded this 2FA feature in our blockchain HYIP software with no security glitches.
8. Multi-level referral system
The referral system module allows users to multiply their profits when they refer new users to the platform. The investment made under the referral parties directly contributes to the person who refereed them.
9. Dynamic Languages
Making an international HYIP investment platform is the vision for every entrepreneur. Using the blockchain HYIP software, you can add any international languages as per your preference. It can open the gateway for anyone to participate in the HYIP investment scheme without geographical restriction.
10 . Unlimited Withdraw Method
It is the most user-centric feature that every HYIP investment platform has. Withdrawal frequency, mode of withdrawals, withdrawal limit can be pre-fixed using the blockchain HYIP software.
How to launch a Blockchain based HYIP investment website?
When making use of the Blockchain HYIP software, you can launch the Crypto HYIP investment website in a span of 2 weeks. This doesn't need big development to handle. Even with minimal resources, you can deploy the platform in live servers without a long testing phase.
White label blockchain HYIP software advantages
Some of the advantages of white label blockchain HYIP software are that it can be used to create a variety of different types of HYIPs, including those that focus on different cryptocurrencies, such as Bitcoin, Ethereum, Litecoin, etc. Here are three significant advantages for you.
1. Branding
Using the whitelabel solution, you can unleash the full branding potential in your HYIP investment platform. Feature customization and theme modification is easily carried out by your internal development team or get the help from Hivelance.
2. Easy installation
As the blockchain HYIP software is pre-tested and subjected to maximum reliability, the code can be directly installed on the server. Easy installation process helps entrepreneurs to avoid the last minute bottleneck.
3. Affordable
The whitelabel solution is affordable when compared with custom development. Additionally, white label blockchain HYIP software is often much easier to use than traditional HYIP software, making it a good choice for investors who are not familiar with the underlying technology.
Hivelance expertise in Blockchain HYIP software development
Hivelance have many years of development experience in Blockchain HYIP software development. We have helped many entrepreneurs to launch their HYIP investment programs using tamper-proof blockchain technology. Our experts have hands-on experience in distributed ledger technology, diversified HYIP investment protocols, and smart contracts.