Cryptocurrency
Multi-chain crypto wallet development company
Multi-chain crypto wallet is the kind of digital wallet that can support multiple blockchain networks and its adjoining cryptocurrencies.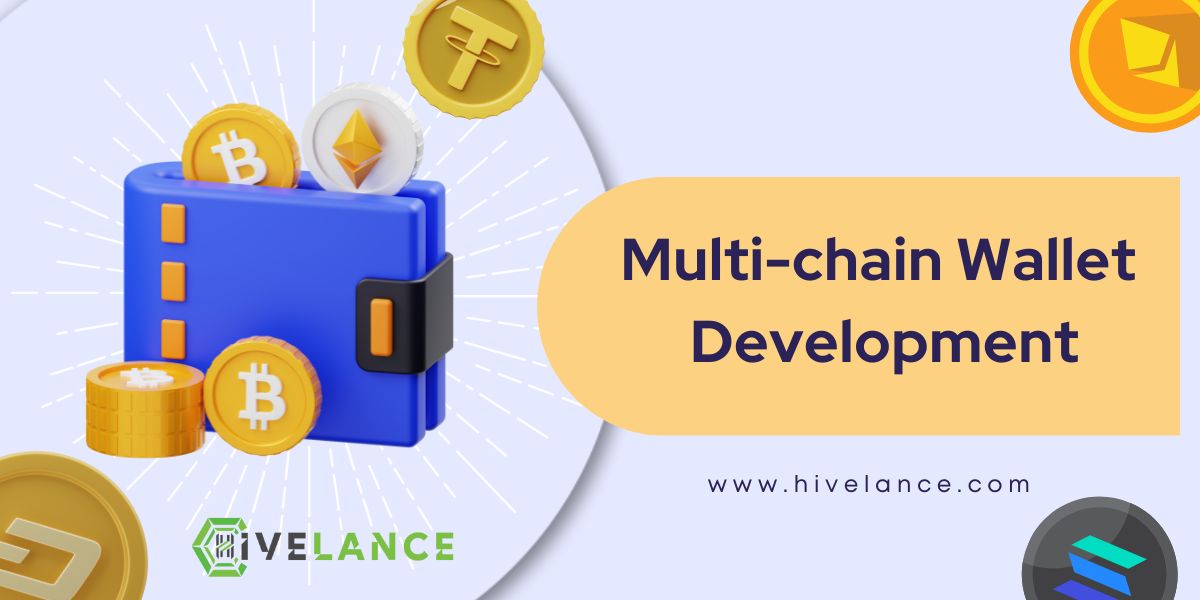 What is a Multi-chain crypto wallet?
Multi-chain crypto wallet is the kind of digital wallet that can support multiple blockchain networks and its adjoining cryptocurrencies. It works the opposite way how a single chain crypto wallet works. The application can allow users to monitor their digital funds all in one place and let them spend it when it is needed.
Users are given individual wallet addresses for every blockchain and everything is controlled by single private keys(password).
Multi-chain wallet development company to choose
With Hivelance, it's never been a hard decision for you to develop a multi-chain wallet. Prior experience in crypto wallet development, blockchain knowledge, and expertise in programming will be the added advantage for you. Get in touch with us to see our clients portfolio.
Why do Multi-chain crypto wallets exist?
Single chain crypto wallets may support only one blockchain network. Users can't switch to other chains in a single application. That's the biggest pain point here. Because, defi and NFT users are given endless possibilities to invest. But everytime, if a user needs to switch multiple crypto wallet applications, there is a solution to be found.
Multi-chain wallet development was born as the best solution for this issue. Now users can opt-in to buy, store, receive, and lend any cryptocurrencies no matter what the blockchain is.
Features of Multi-chain crypto wallet
We have developed the multi-chain crypto wallet with user-centric features and components. Additional security protection like multi-signature is offered with following features as follows.
Blockchain Availability (Ethereum, most EVM Networks, Avalanche, Arbitrum, and Solana)

Multi-Wallet creation possibility

Cryptography Transfer and Storage

DApps with In-App Browser Accessibility

DEX aggregator

Integration of Liquidity Pools

Integrated Decentralized Swaps

Integrated bridging

KYC

Two factor authentication

Launchpad access

Swap P2P

Non custodial function

Dashboard for Advanced Asset Management
Advantages of Multi-chain crypto wallet
1. Easy management
When using the multi-chain wallet, users can manage the digital assets and make informed decisions on the go. There is no additional software application needed anyway. Also as per the latest study, users feel frustrated about maintaining multiple apps in their mobile phone.
2. Additional security
In multi-chain wallet, there are two separate keys used. One is a passphrase that can give you access to all of the digital assets. It can be similar to the password for your locker. Another one is public key(i.e wallet address of every blockchain network, exchanges, defi marketplace). People use this key to receive, send and store digital assets.
3. User-friendly
Compared to the single chain crypto wallet, multi-chain wallets offer a better user friendly interface. Simple navigation, asset monitoring, portfolio maintenance, notification alert, minimal steps in buy/sell process, and web3 marketplace access are the most needed features among the people.
4. Wide opportunities
Even Though cryptocurrencies are crashing, NFT and defi maintains the steady phase in attracting investment from users. Fractional NFT investment, defi lending, staking, play-to-earn business models are booming and get the mainstream attention. Multi-chain crypto wallet can bring a wide pool of investment opportunities at the click.
5. Speed & efficiency
Users can never miss any transactions in multi-chain wallet since all the native blockchains are integrated already. The speed is faster in multi-chain wallet for receiving and sending cryptocurrencies, NFTs.
Multi-chain crypto wallet development at scale
We at Hivelance have a strong foundation as a multi-chain wallet development company. We design, develop, test, and deploy multi-chain wallet projects from the scratch to scalable solutions.
You will get a multi-chain wallet with native blockchains integration, mobile app, web app, chrome extension, firefox extension and supporting APIs. There is a dedicated team of wallet developers and designers to make your wallet more unique. The customization is subjected to terms and interest.