Cryptocurrency
CoinDCX Clone Script to Launch a Cryptocurrency Exchange Similar to CoinDCX
CoinDCX clone script is the software solution to entrepreneurs for launching their own cryptocurrency exchange trading platform.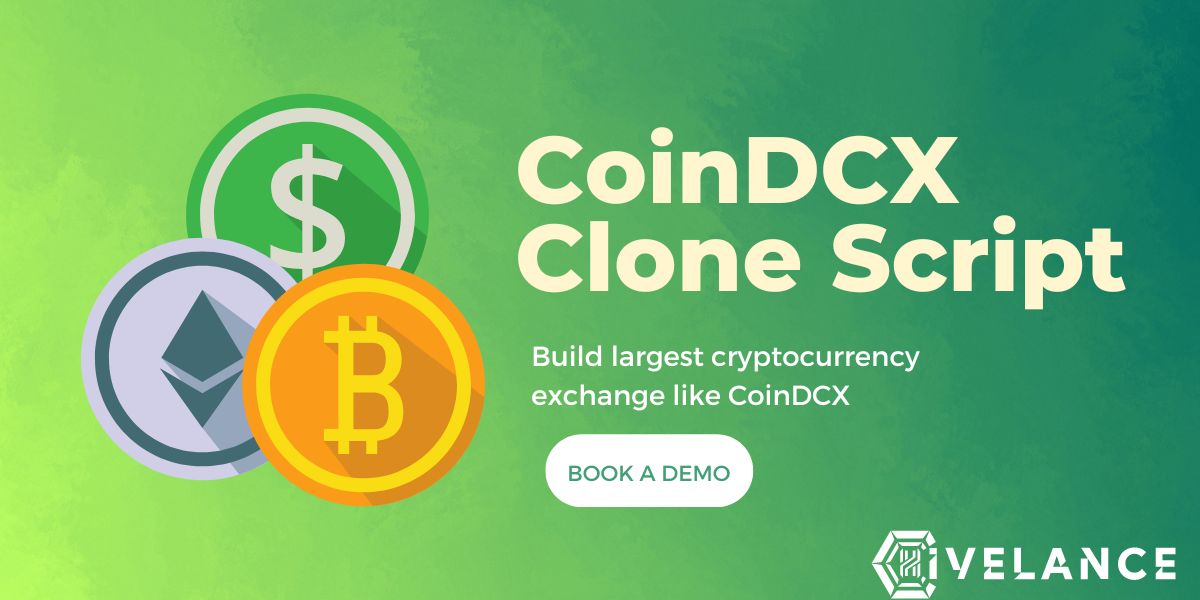 Create the next big cryptocurrency investment app like CoinDCX. Use our CoinDCX clone script and get started with development in a swift manner. We(Hivelance) completely covered every aspect and features of CoinDCX to be available in the script.
You can take advantage of coinDCX clone apps that are designed in both iOS and android formats. Let's dig more into the script specifications and details.
What is CoinDCX clone script?
CoinDCX clone script is the software solution to entrepreneurs for launching their own cryptocurrency exchange trading platform. The script is coded with in-built features & API as same as CoinDCX.
Some of the notable features include spot trade, Lend, margin trade, Future Markets, Staking, Liquidity services, API broker and more.
White Label CoinDCX Clone Software
White Label CoinDCX Clone Software is a 100% Customized source code that replicates the core features and functionalities of CoinDCX. Our White Label solution offers you the chance to implement the required features, functionalities, and UI of the software to attain your business targets. This helps startups and entrepreneurs to launch their own cryptocurrency exchange platform like CoinDCX instantly in a cost-effective manner.
Features of CoinDCX clone script
Instant trading - Instant crypto trading is the most wanted feature in every crypto exchange. Understanding this in terms of user perspective, we added the deposit, and withdrawal functions in a completely intuitive way. Integrating bank accounts, KYC verification, and making fiat deposits can be carried out in a hassle-free way without too many steps.
Spot trading - Spot trading is the feature that settles down any cryptocurrency transactions within a short period of time. Spot trading in our coinDCX clone is engineered with support like charting tools, multiple order types, high liquidity data, and arbitrage opportunities.
Margin trading - Margin trading is the advanced feature being employed in crypto exchanges for pro traders. Through this feature, traders can make use of 6x leverage in 200+ altcoins and can perform crypto trading. As an exchange operator, you can create large liquidity pools and facilitate your users to access it.
Crypto Future - Future is a highly sophisticated trading method in crypto exchanges. It uses up to 15x leverage to execute the crypto trade. We designed this feature with the fastest order matching engine, safeguarding funds through insurance coverage, and a variety of contracts to opt-in for the users.
Lending feature - Lending is the process of depositing crypto on a fixed term to earn interest in terms of rewards. Lending is the trending crypto investment model that's been applied to all digital asset management platforms. We integrated crypto lending features exclusively in this coinDCX clone script.
Add-on Features in CoinDCX clone script
Trading bot implementation - A trading bot helps traders to find suitable trade execution with a predefined set of rules that can be fixed by the trader itself. This AI-enabled bot can perform crypto trading automatically 24*7.
Escrow application - Escrow is the most reliable function used by many exchanges to earn the user's trust at first. It facilitates the trading process transparently and is trustworthy.
AI chatting bot - The chatting bot can help you to reduce customer support management time. It greatly reduces the human inputs in user communication. The custom messages can be set by the chatting agent and automation is seamlessly applicable.
Related - Crypto Exchange script Technical Specs
Security Features in CoinDCX clone script
Funds are insured By BitGo to ensure safety.

The data is encrypted with a hashing mechanism.

Safe & Secure cold wallet storage.

Two-factor authentication

Anti-distributed Denial of Service

Jail login guard

SSL integration

End-to-end encrypted transactions.

HTTPS authentication

Browser detection security

Server-Side Forgery Protection

CSRF protection
Benefits of CoinDCX clone script
CoinDCX clone script is supported with 200+ cryptocurrencies

The script is enclosed with a wide array of investment protocols like lending, trading, staking, and more.

The coinDCX clone script has liquidity-ready data that can help you to start the exchange operation today itself.

It adheres to the secured process of token listing and management.
Why Hivelance for making CoinDCX like an exchange?
Hivelance has emerged as one of the reliable cryptocurrency exchange development firms in recent times. We have a strong base of clientele across many countries. We cover end-to-end solutions for Crypto exchange development at any stage.
If you have a well-developed crypto exchange that needs support or wants to develop a new one? We can help you in both scenarios. In addition to that, our coinDCX clone script is developed by profound developers who are in the field for many years.