NFT
Initial NFT Offering Platform Development Company
Create your Initial NFT offering platform using our ready-made INO Crowdfunding Software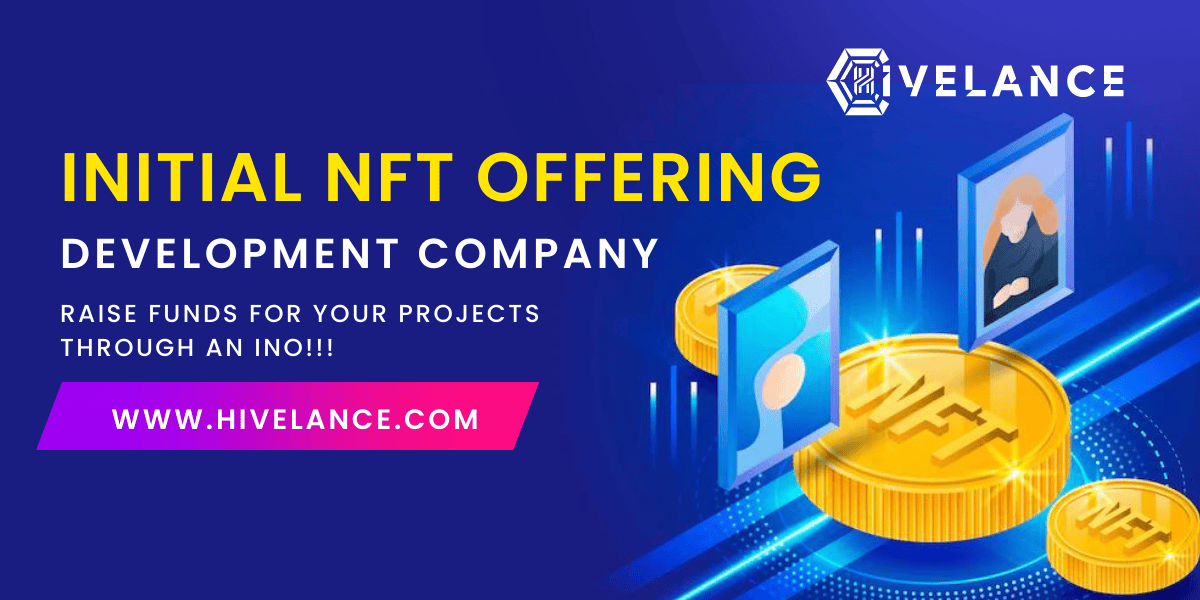 The Need For Initial NFT Offering
Cryptocurrencies, and NFTs are buzzing words revolving around the crypto markets at a rapid pace. Decentralization is the focus of strength that made these hot revolutionary aspects to evolve. Apart from these concepts, Crypto markets are becoming popular as it showcases the world with fundraising models.In order to raise funds and earn profits for your business, there comes the crowdfunding platforms as the main role-play. Commonly, fundraising models are divided into ICO( Initial Coin Offering) and IEO ( Initial Exchange Offering).
Most probably these fundraising models were an integral part and as NFTs gained a massive attention in the industry, Business people turned their interest to collaborating both NFTs and crowdfunding models together. This purpose laid the pathway in raising funds at an unbelievable level and hence named as Initial NFT offering platform.
Initial NFT Offering Platform Development Company
Onto the Crypto markets in providing fundraising services for more than 10+ years, Hivelance is the global lead Initial NFT offering platform development company. With the best pickup of talented blockchain developers, we offer custom-built solutions in developing your crowdfunding platform with utmost care. Be a part of our innovations..!!
What is Initial NFT Offering?
Initial NFT offering is the latest approach that helps to raise funds via crowdfunding platforms. Here the NFTs are sold at a certain time. These non-fungible tokens can be artworks, collectibles, music files, audio, and videos, etc.
The owner of the digital assets is the most benefited from initial NFT offerings as it makes the selling process take place in an easier way. Investors can also benefit from the regular availability of NFTs.

The initial NFT offering platform serves two uses like offering rewards and also overcomes the challenges when difficulties are encountered while selling NFTs.
Benefits of our Initial NFT offering platform:
High ROI:
When the trading volume of NFTs keeps increasing, the owner holding the NFTs can get the possibility of earning a High ROI.
Less transaction fees:
The transaction fees are lower compared to other platforms as it is decentralized. Hence serving a wide range of benefits to both owners and investors.
NFT lending:
Investors can lend the assets to the borrowers for a certain period of time and gain an extra source of income with the help of the NFT lending protocol. By implementing this procedure, the crowdfunding platform paves the way to earn interest.
Easier NFT purchase:
With lesser risk, Investors can purchase Non-fungible tokens as they provide partial ownership to the investor and can earn higher profits.
Successful NFTs Launch:
As a precious gift, the INO platform tends to reward the artists digitally and raise funds with a list of NFTs.
Exclusive Features of Our INO Software:
Launchpads
Peer-to-peer marketplace
Revenue generation programs
Decentralized exchange
Multiple NFT marketplaces
Two Factor Authentication
DDOS protection
High encryption
How does the Initial NFT Offering Platform Work?
The working mechanism of the Initial NFT offering platform is described below:
The supply of NFTs will be totally dependent on the first entry onto the platform and so on..This enables the interactive engagement ( might be gaming sessions) of the users on the platform.
NFTs are allocated to the user's launchpad depending upon the number of native tokens they hold.
In order to get allocations of their own NFTs, users can stake their crypto tokens and this enables to purchase rare NFTs.
Why Choose Hivelance for Initial NFT Offering Platform Development?
Hivelance is the trustworthy and market-leading Initial NFT offering platform development company providing assisted services on crowdfunding for your projects in a short duration. Going back to our previous projects, we have acquired an outspoken level of appreciation from our clients in the development of fundraising platforms like IEO, ICO, etc. Our exposure to the crypto projects, made us develop many avant-garde NFTs, NFT marketplaces, and now the INO platform helping to raise funds with low transaction fees. Our team assists you in raising your standards globally with high financial returns. Some of our other specialties are:
Enclosing a panel of 10+ years of experienced talents
Skilled blockchain developers
Advanced market tools implementation
Integration of global-level reachable ideas
Project submission within the time
Multiple times tested INO platforms
Zoom video calls, WhatsApp, telegram assistance
Quicker responses
Quality enriched platform
Technical crowdfunding proposals.
Are you eagerly waiting to launch your Initial NFT offering platform to gain immersive profits? Our INO platforms can satisfy all your expectations with safer transactions, ultimate privacy, faster processing, interruption-less operations, etc. We customize a few of your needed features to the platform instantly. Take a demo by reaching our core team…!!!! Your collaboration with us is mostly welcomed…!!