CoinSwitch Clone Script to Launch India's Simplest and Most Trusted Crypto App Like CoinSwitch Kuber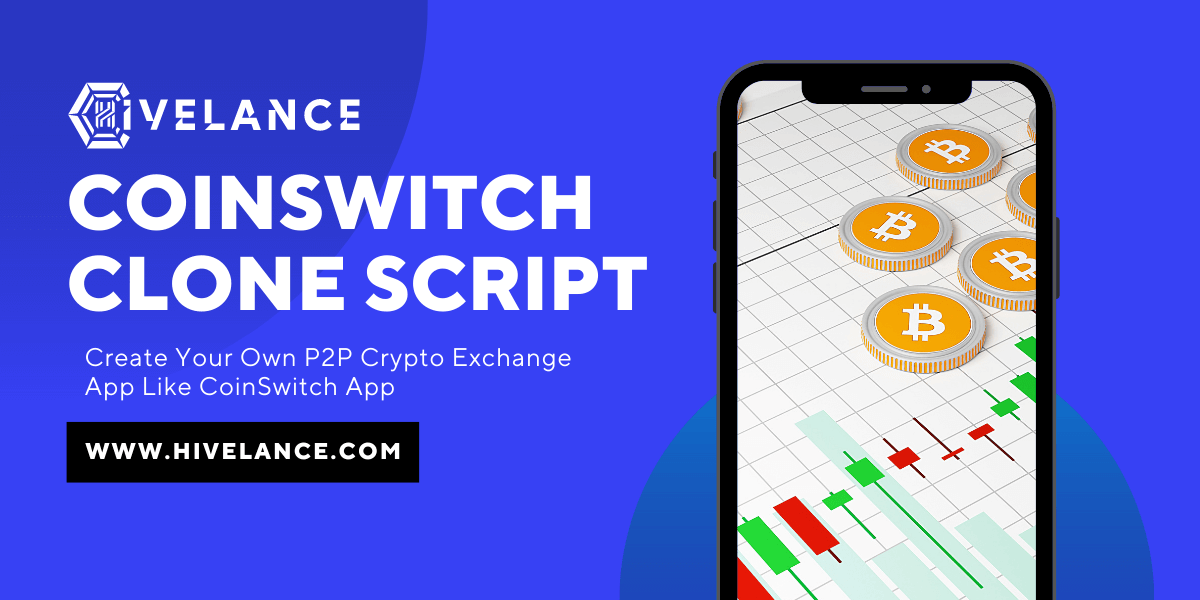 Digital assets purchase is becoming quite common as the worth is beyond comparison. Acquisition of assets through cryptocurrency exchange is the existing market trend. Since the exchange process takes place in a closely secured manner, the peer-to-peer crypto platform is gaining universal recognition. One among those platforms is Coinswitch exchange which helps traders to experience seamless trading with multiple options.
As a successful and renowned firm, we helped many ventures and our ideas pushed many companies to democratize cryptocurrency exchange businesses. We present here the development process of CoinSwitch p2p cryptocurrency exchange with all exuberant features and functioning.
Abstract about CoinSwitch
CoinSwitch is a p2p-based crypto script enabling you to trade digital assets. Along with blockchain technology, it enhances the seamless trading procedure. It supports buying and selling of multiple crypto coins. The platform offers better efficiency to the trading channels and turns all business verticals to be successful. Trading speed and volume is higher with ultimate protective measures.
What is CoinSwitch Clone Script?
As quoted earlier, CoinSwitch clone script is the replica of CoinSwitch platform that is pre-built and can bring it to launch instantly as per your estimated timeframe. It is the platform that offers strong command over the helpful prospects as well and the accurate trading volume.CoinSwitch clone script assists traders with long-term incomes. We can develop your CoinSwitch clone script with 100% source code and all reliable functions.
Features of Our CoinSwitch Clone Script
Supports the establishment of wide networks for elaborating ICO's in many steps.
Implementation of a more strategic channel.
Helps in executing exchanges with the help of phones and other devices.
The exchange helps in the formulation of the right patterns of trade and gives more time to each transaction with ease.
The system investment gets implemented and it allows you to be more supportive of the region-specific cryptos.
Our CoinSwitch clone script keeps the traders getting more knowledge and also helps the newbies.
The transaction process offers more time for the traders by streamlining the channels.
Advantages of Using Our CoinSwitch Clone Script
Offers more premier results
Multiple tokens available that work on distributed ledger
Higher profits with the exchange process
Access through mobile phones for a greater experience.
CoinSwitch Clone App Development Company
We provide CoinSwitch Clone App development services at a pocket-friendly cost to help your crypto exchange business grow effectively. Our CoinsSwitch Clone app development has all the outstanding benefits and is focused on building India's Simplest and most trusted crypto investment app Like CoinSwitch Kuber.

What do We offer in Our CoinSwitch Clone App?
You may have plenty of concepts in mind for your crypto exchange website or app. The question is whether or not you have the economic means. Cost and time both are required for crypto exchange app development.

It might complete all your savings by the time when your crypto exchange app like CoinSwitch App is ready to launch in the market. So why put up with these difficulties when you can get into this cost-effective market by using our CoinSwitch clone app? Furthermore, you may customize it to fit your business requirements using all of the features of CoinSwitch App.

We provide the most end-to-end technical assistance for CoinSwitch clone app. You'll be able to check out our high levels of service effortlessly. We're here to help you get the most out of our crypto exchange app development solutions by providing instruction and troubleshooting. In addition, you'll be able to keep up with the latest technologies and tools. It will keep you up to date on the latest trading trends and developments.

Our end-to-end CoinSwitch Clone app helps you to launch P2P Crypto Exchange app like CoinSwitch App that allows your users to buy, sell and trade their crypto from over 100 listed coins with no lock-in period. Our CoinSwitch clone script is compatible with all devices like a Web/mobile app-based solution that enables the smooth synchronization of the crypto exchange app between multiple devices which offers better security and scalability. Our CoinSwitch clone app helps to develop a P2P crypto exchange app like CoinSwitch App that is designed to be quick, efficient, and intuitive trading action.
Unique Features For CoinSwitch Clone App
Our CoinSwitch clone app makes it easier for traders to trade cryptocurrencies from the comfort of their smartphones. Keeping that in mind, Here, we have listed the key benefits of the CoinSwitch Clone App, let's get started!

1. Multi-Platform Compatibility (Web/Mobile App)
2. Faster trading
3. Security
4. Flexibility
5. Convenience
6. Efficiency
7. Accessibility
8. Portability
9. API Integration
10. KYC/AML
11. Multi-Crypto Support
12. Multilingual
13. Multi-Sig Wallet
14. Referral Program
15. DDos Protection
16. And more
Why Hivelance for CoinSwitch Clone App Development?
Hivelance offers the best crypto exchange app development solutions for startups, and entrepreneurs to start their crypto exchange business with our CoinSwitch clone app. The functioning of trading ensures a great future and provides flawless prospects. Our experts help all the business persons ambitions into a true reality. Our ideas can propel you in all future endeavors with the help of our CoinSwitch clone script. Get higher incomes by getting hitched with our panel of skilled associates..!!!!!

Talented blockchain developers
Support through live demos
Video call friendly sessions
Accurate time maintenance
24/7 customer support
150+ crypto projects delivery history
Affordable price estimations.

Want to launch your P2P Crypto exchange app like CoinSwitch App? Talk to our experts to launch your own app like CoinSwitch App in 10 days!!!