Move To Earn Game Development Company | M2E NFT Gaming Solutions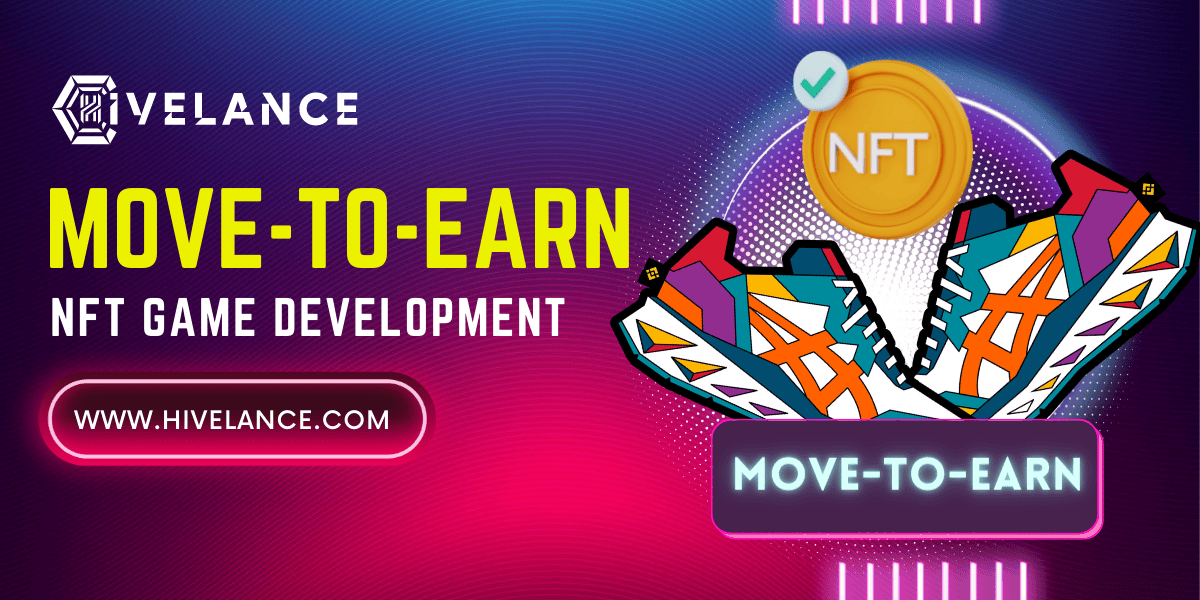 What is Move-to-Earn( M2E)?
Move-to-Earn is the latest kind of game in Web3.0. The main scope of Move-to-Earn is to make people move very often. Users will be rewarded with in-game tokens for the activities they do, and are recorded in the GPS live tracking systems. Hopefully, the platform has many users as it combines both Social-Fi and GameFi concepts. It not only improves your financial situation but also your general health with many benefits.
Move-to-Earn Business Model
Move-to-Earn models are similar to play-to-earn in all functions but the difference is that in play-to-earn, the rewards are NFTs that can be used in in-game activities in which you wish to participate in the future. But in Move-to-earn, the rewards will be the sneakers NFTs that are used to purchase the tokens. These collected tokens can be minted and come into picturization in dominant quality, attractive designs, and rarity levels. There is an NFT marketplace within the platform, where these tokens can be purchased and sold. As discussed earlier, there is the implementation of the latest technologies like step counters, augmented reality, GPS, etc.
Move-to-Earn Game Development
Enter into the digital space and earn rewards for all the physical activities you do on a daily basis. Combining the latest advantages of web3.0 technology, Move-to-Earn apps enable users to participate in all outdoor physical activities and maintain a healthier lifestyle.
Move–to-Earn Game Development Company
With the upcoming revolutionary web3.0 advancements, people tend to adopt move-to-earn apps and earn rewards for the daily physical activities they do. Move-to-Earn games are one of enhancing needs of many users across the world. This provides users with NFTs, and cryptos in turn. HiveLance is the leading Move-to-Earn game development company that can help you to launch your Move-to-earn platform according to your requirements. Our M2E game development services include feature-enriched options, the use of cutting-edge technologies, and integrated development procedures.
Features of our Move-to-Earn Game Development
User dashboard
A User-dashboard is designed in such a way to have easier access to the users with recorded data to reach the goals in a time period.
GPS tracking
This option helps in live GPS tracking of all the physical movements you perform.
Integration of smartwatch
Users can embellish a fitness app into their smartwatch to keep track of active goals that can provide a healthier lifestyle.
Marketplace integration
In our move-to-earn app, we can design a marketplace that acts as the common spot for buying or selling digital collectibles like shoes and other fitness accessories.
Social media integration
M2E app provides users to have access for sharing their daily goal status or achievement status on social media.
High-end security
The game platform is designed with the help of blockchain technology and therefore there is no need to fear threats or any fraudulent activities.
Innovative designs
Our developers design the platform with market-pulling features and hence it can be the medium with more comfortness with exclusive designs, themes, backgrounds etc.
White label Move-to-Earn NFT Game Development
We are the experts in rendering white-label solutions for your projects. Our white-label solutions can be made customizable according to your business requirements. Whatever may be the additional features and functionalities you need, we value it and bring them to reality. Our white label solutions for your move-to-earn games can be provided at an affordable cost with all maintenance support constantly.
Why choose Move-to-Earn rather than Play-to-earn?
Play-to-Earn has also become the most used app these days. It mainly relies on the process of earning rewards by playing games and winning several game levels. Yet Move-to-Earn has become more important than P2E as they are in demand by people of all ages. As they concentrate on healthier lifestyles and physical activities, Move-to-Earn apps are used on a daily basis by everyone. Hence, it can serve as the platform that generates high revenues for the physical movements you do. Stephen is the first launched move-to-earn app where the rewards are offered in the form of NFTs and have the option of live tracking facilities with the benefits of blockchain technology.
How much does it cost to build M2E games?
Building a game involves several steps with keen ideologies.Our experts bring your imaginations into reality.The right price list entirely depends on the list of factors to be added, game genre, animation influence, number of platforms, the selection of appropriate blockchain network etc. Some of the other features that influence the cost of M2E game development are:
Multiplayer mode
In-game store
High realistic graphics
New game tokenomics
Esports mechanism.
The Top M2E dapps you should use to get money quickly
STEPN (GMT)
Genopats (GENE)
Dotmoovs (Moov)
OliveX (DOSE)
MetaGym
Dustland (DOSE)
Sweatcoin (SWEAT)
Step (FITFI)
Why choose Hivelance for Move-to-Earn game development?
HiveLance is the pioneer in Move-to-Earn game development and it offers a reliable and instant M2E gaming platform with your preference settings. It helps you to generate millions of dollars and enhance the future of your business with marvelous success. We can prioritize your customization and act according to it for promoting and marketing it. We have the best team of well-talented blockchain developers with 10+ years of experience who can satisfy all your business plans and lead you from the beginning to the launching moment. As a top-tier NFT game development company, we can assure the security of the platform at the highest level.
A panel of world-class proficient developers
Top-notch web3.0 solutions
Trending blockchain networks can be implemented
Best fintech ideas can predict
Successful rendition of 150+ NFT game projects
Round-the-clock support
Upgradation options underpinned
Maintenance and support after the delivery.