Cryptocurrency
XT.Com Clone Script - The Ideal Way To Launch The World's Leading Socially Infused Exchange Similar To XT.Com
XT.COM clone script is a multi-tested ready-made source code that can be used to build a social infused crypto exchange similar to XT.COM. Our white label XT.COM clone software is simple to adapt to your specific needs.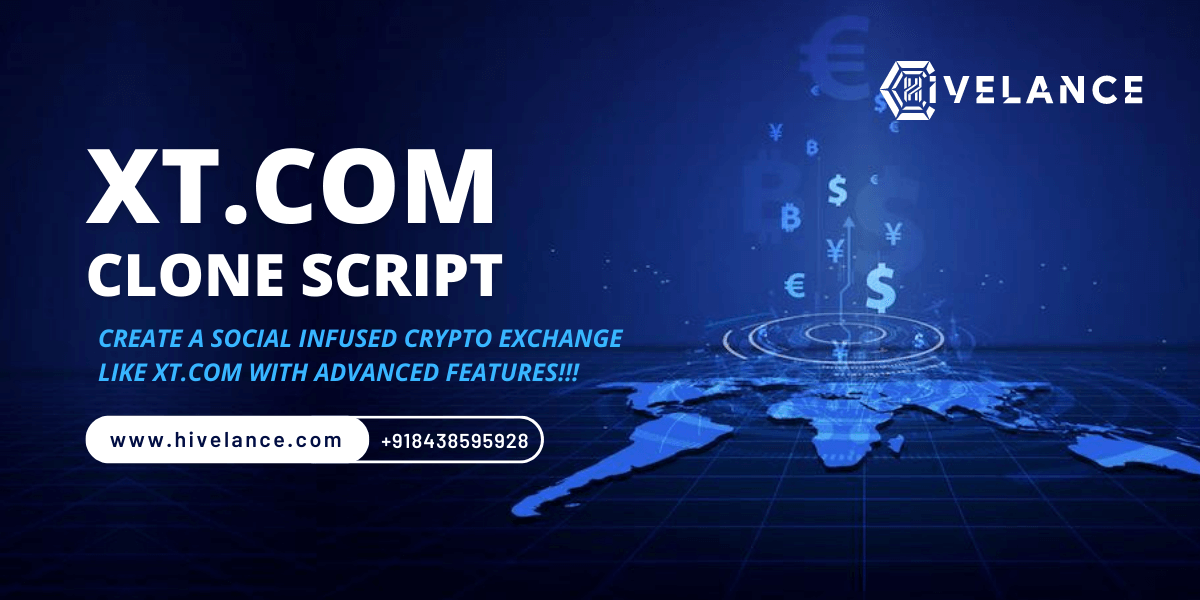 The XT.Com clone script is a crypto exchange clone script that helps businesses expand their reach by offering crypto trading services to users at any time. All services, including buying cryptocurrency using credit cards, margin trading, OTC trading, token trading, and more, are administered on a single platform.
If you are an entrepreneur or business owner and wish to start your most secure, trusted, and hassle-free cryptocurrency trading platform, we provide a ready-made XT.Com clone script for any range of crypto exchange businesses. XT.Com clone script is a social-infused digital assets exchange development solution that allows startups to launch their crypto exchange online. It supports customers to trade 500+ high-quality tokens and 800 trading pairs at their convenience using comprehensive trading methods.
Why Can You Use Our XT.Com Clone Script?
With extensive experience in delivering best-in-class digital asset exchange development solutions, we have created a ready-to-use and reliable XT.Com clone script with a modern framework to create an excellent crypto trading platform with comprehensive features.
Our XT.Com clone script can also be easily customized to suit your unique digital asset trading concepts and requirements. Therefore, with our XT.com clone, adding the necessary functionality to your cryptocurrency exchange won't be a difficult task.
As a result, use our unique XT.com clone to create your own strong socially infused exchange similar to XT.COM within your budget and in a short period of time.
Feature of XT.COM Clone Script
Token Trading
Standard Margin Trading
OTC Trading
Futures Trading
P2P Trading
Crypto Staking
Crypto Lending and Borrowing
Affiliate Programs
100+ high-quality currencies Available To Trade
500+ tokens Available To Trade
900+ trading pairs
Primary Features of Our XT.Com Clone Script
Customer-eccentric Dashboard
Admin Dashboard
Order Book
Order Types
High liquidity
Extended Trade View
Live Price Ticker
KYC/AML
Support System
Multi-lingual
API Documentation
Lowest Transaction Fee
Security Features of Our XT.COM Clone Script
HTTPs Authentication
Registry Lock
Data Encryption
Domain Name System Security Extensions
Two-Factor Authentication
SQL Injection Prevention
Anti-DDoS Modules
CSRF Protection
SSRF Protection
Anti Distributed Denial Of Service
Cold Wallet
Web Protocol Security
White Label XT.Com Clone Software
White Label XT.Com clone software is a 100% customizable and bug-free crypto exchange software that helps to launch your digital asset exchange like XT.Com within a week. Our White label XT.Com clone software solution meets your business demands. Our pool of experts offers end-to-end solutions that helps seamless worldwide trade and attract many new traders.
Advantages Of Our White Label XT.COM Clone Script
Ready to Launch
Easy Customization
It Saves Time & Money
No Technical Assistance
Skip Development From Scratch
XT NFT Marketplace Clone Script
Skyrocket Your NFT Marketplace Success with Our White-Label XT NFT marketplace Clone Script

XT NFT marketplace clone is the leading NFT marketplace focusing highly on NFT trade. XT NFT marketplace clone script facilitates higher-order security to the transactions with the built-in blockchain ecosystem. The XT NFT marketplace clone script is a ready-made solution that intends to bring together artists, creators, and NFT enthusiasts worldwide and allow them to trade digital assets at minimal costs on a secure platform. Our XT NFT marketplace supports a variety of NFT formats, such as audio, video, and images, providing users with a diverse range of NFTs to list on its platform.
Why Engage Us For XT.COM Clone Software Development?
As an experienced cryptocurrency exchange development company, we believe in creating high-performing crypto exchange clone scripts that deliver maximum client happiness and ROI. Our team of experienced and expert developers will assist you in getting the best ever white-label XT.Com clone software that is most suitable for your digital asset exchange business requirements. No matter the scale of your project, we guarantee a complete development service for crypto exchanges.

Want to create a social infused crypto exchange similar to XT.COM? Feel Free To Contact Our Experts Via Whatsapp | Telegram