NFT
Rarible Clone Script | Launch Rarible like NFT marketplace with cross-chain interoperable
Build an ultra-secure, white-label community-centric NFT Marketplace like Rarible!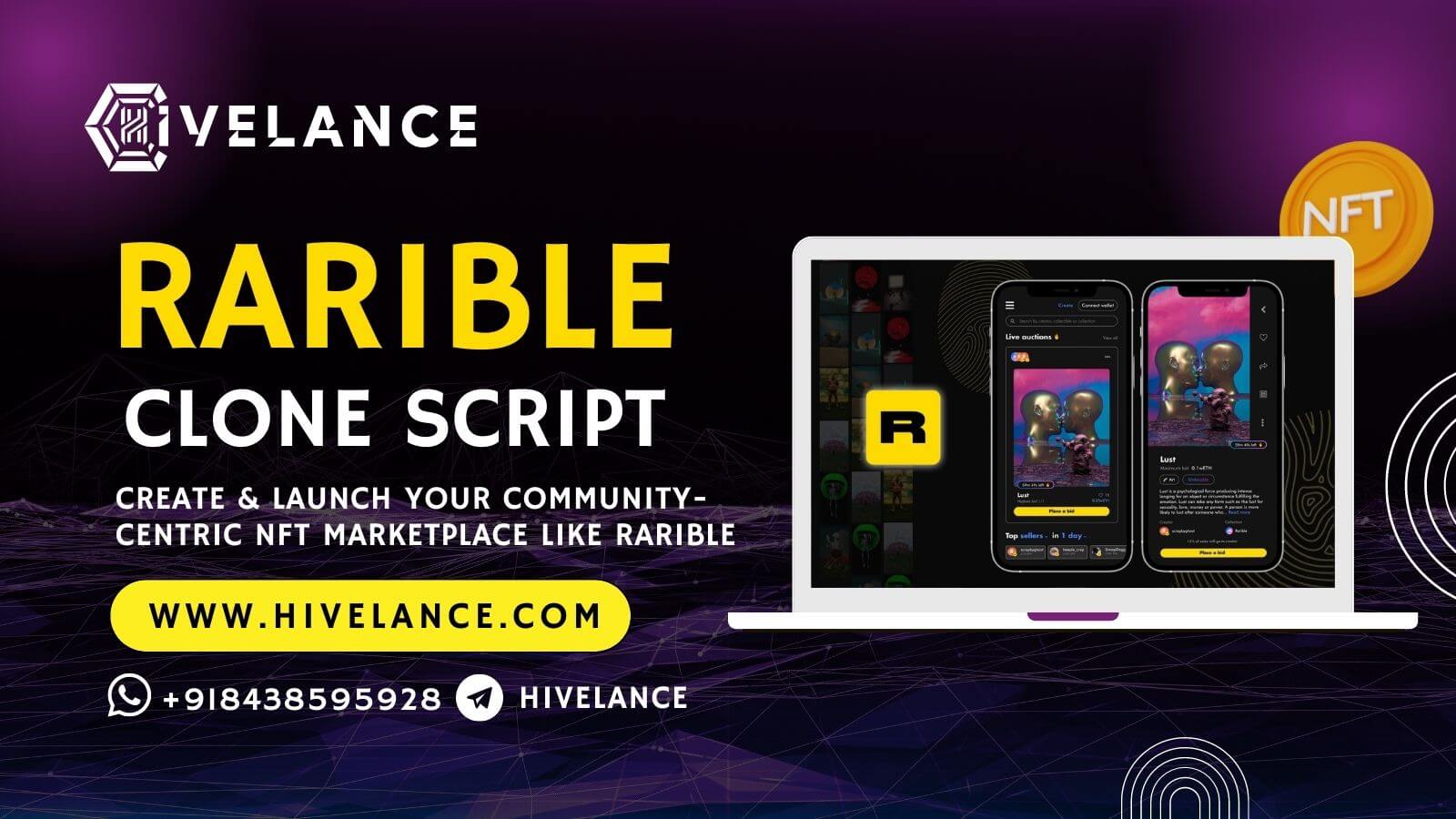 Rarible Clone Script
Rarible clone script is an NFT Marketplace clone script that provides users to launch a new revolutionary NFT marketplace to trade, sell, create and buy digital assets which have the performance like the Rarible. Rarible Clone Script is built on the Ethereum blockchain where users can get their own and sell their digital works by creating their own NFT tokens for their digital works. We create Rarible Clone Software enclosing all the features like Rarible customized based on users' requirements.
Notable Features of our Rarible clone
Some of the most amazing features of our Rarible clone script that will astound NFT marketplace users are listed below.

Front End Display

This feature will show all information about the NFT marketplace, including offers, creators, and value history. As a result, with this option, users will be able to learn everything there is to know about an NFT marketplace.
Filter

Our Rarible clone's filter option allows users to quickly search and find the NFTs of their choice, which is especially useful when there are a lot of collectibles on the NFT marketplace.

Digital Wallet System

Our Rarible clone includes a wallet system to make it easy for users to store, transfer, and receive NFT tokens and digital currencies. The wallet system will simplify users' payment processes, which will astound many NFT platform users.

NFT Listing

Our Rarible clone supports suitable NFT arrangements with key specifications such as name, end of sales, value, and so on. This will make it easier for users to find NFTs on the platform.

Multi-Chain Interoperability

This feature of our Rarible clone allows NFT marketplace users to obtain their desired NFTs using their own digital currencies. This option will attract more attention in the marketplace.

Notification Option

This option will assist in notifying marketplace users of all updates such as NFT sales, new bids, status changes, and so on.

List, Sell and Buy NFTs

Our Rarible clone enables users on the NFT marketplace to easily list, sell, and buy NFTs. This option will improve the NFT marketplace experience for both sellers and buyers.

Metamask Login

The Metamask wallet, a secure browser extension crypto wallet for digital tokens and NFTs, is supported by our Rarible clone script. All Ethereum-based crypto tokens and coins are supported by the Metamask wallet.

IPFS storage

The InterPlanetary File System (IPFS), a decentralized network that stores and shares data in a distributed file system, is supported by our Rarible clone script. It employs content addressing to uniquely identify each file in a global namespace connecting computing devices.

Single Minting

Our Rarible clone supports NFT single minting in accordance with the ERC721 standard. A single user can purchase the minted NFT on the NFT marketplace.

Multiple Minting (ERC 1155 Standard)

Our Rarible clone script allows you to mint multiple NFTs using the ERC 1155 standard. As a result, multiple NFT files can be created for sale and purchase on the NFT marketplace.
Support for the Dark Theme
Our Rarible clone script's dark theme feature will improve the user experience on the NFT marketplace. This is due to the platform view being superior to the standard look.
Links and Social Media Sharing
Our Rarible clone script encourages the sharing of NFTs on social media platforms in order to increase their popularity among users in a short period of time.
Whitelabel Rarible Clone Software
White-label Rarible clone software is a 100% customizable NFT marketplace clone software having the exact functionalities of Rarible, making users buy, sell and trade NFTs.This platform supports various tokens like ERC-721, ERC 1155, etc, paving the way for admins to gain a certain level of profits. Our developers create Rarible clone software with high programming codes by deploying it with faster processing. We design and develop your clone script with high-end security and built on your customized blockchain networks.
We can develop Rarible like Platform in various Blockchain Networks
We at Hivelance, have skilled developers who are expertise in developing an NFT Marketplace like Rarible on the below-mentioned blockchain networks:
Ethereum
TRON
Binance Smart Chain
Avalanche
Solana
Polygon
R3 Corda
IBM Blockchain
Polkadot
Tezos
EOSS
Stellar
ConsenSys Quorum
And more
How Rarible Clone Script Works?
Hivelance's Rarible Clone Script is a ready-made solution that replicates the functionality and features of the Rarible NFT marketplace. Here's an overview of how our Rarible Clone Script usually works:
Registration: Users are able to sign up for or create an account on the Rarible Clone platform. It's possible that they will have to complete a registration process and provide some basic information.
Wallet Integration: Our Rarible clone script support multi-wallet integration such as MetaMask, and Trust Wallet that allows users to connect their digital wallet and manage their NFTs in a highly secure manner
NFT Creation: Using our Rarible clone script, you can create your NFT marketplace like Rarible that allow users to develop their own NFTs by uploading digital assets like arts, music, videos, collectibles etc. Our Rarible clone script mostly provides a user-friendly interface for users to easily mint and customize their NFTs
NFT Listing: After creating an NFT, users may list it for sale on the marketplace. They can either set a fixed price or go with an auction-style offering. The Clone Script provides a platform for users to showcase and market their NFTs to customers who are interested.
Buying and Selling NFTs: Users can browse the marketplace, discover various NFTs, and purchase those that interest them. They can also bid on NFTs that have been auctioned off. When a buyer buys an NFT, ownership is transferred to their wallet after the transaction is successfully confirmed on the blockchain.
Royalties and Smart Contracts: Our Rarible Clone Script often integrates smart contracts to handle the ownership, transfer, and royalty distribution of NFTs.
Security and Integration: By employing blockchain technology, our Rarible Clone Script assures the security of user wallets and transactions. It connects to the chosen blockchain network, usually Ethereum or another compatible chain, to enable secure and transparent NFT operations.
Benefits of Launching an NFT Marketplace Like Rarible
Our Rarible clone script supports a wide range of crypto-collectibles
Connection to crypto wallets is easy and reliable
Launch of Rarible platform is faster and easier
High-enriched features and functionalities
Generates high ROI.
Successful Revenue Factors of our Rarible Clone Script
Below are the profitable revenue-generating components of our Rarible clone script that will help you profit from the NFT market.

Fees For Transactions - This revenue factor of our Rarible clone enables the Admin to generate revenue based on a percentage of each NFT transaction that occurs on the marketplace.

NFT's Listing Charges - Our Rarible clone script's revenue factor allows the Admin to earn a commission for listing NFTs on the marketplace. With this revenue factor, Admin can easily make a profit.

Minting Charges - The marketplace administrator may charge NFT developers or creators for converting their assets to NFTs on the blockchain platform.
Fee For the Initial Setup - The administrator may charge an initial setup fee to creators who wish to create accounts in order to list their digital collectibles on the marketplace.
Option For Private Sale - With this revenue factor, Admin can allow marketplace sellers to sell their creations directly to platform buyers rather than public sale, allowing Admin to easily make money.
Build Your Own NFT Marketplace Like Rarible
Many business owners in the current digital era have expressed a strong interest in building their NFT marketplaces in order to establish their business niches in the cryptocurrency industry. The NFT marketplace encourages the trading of NFTs that represent digital assets such as art, video, music, and so on that are stored on the blockchain platform.
The process of creating an NFT marketplace for storing and trading NFTs is referred to as NFT marketplace development. Following the massive growth of the Rarible NFT marketplace, entrepreneurs now want to build their own NFT marketplaces similar to Rarible, which will be extremely simple for them to do with the assistance of the Rarible clone script.
What Makes You Able To Use Our Rarible Clone Script?
With years of experience in providing high-quality NFT marketplace development services, we have created a readymade and one-of-a-kind Rarible clone script to build a complete NFT marketplace on various blockchain networks such as Polygon, Solana, Ethereum (ERC 721 and 1155), Polygon, Binance Smart chain, and so on.
Our Rarible clone can be quickly customized to meet your unique blockchain business needs. As a result, incorporating additional functionalities to suit your NFT marketplace ideas will be a breeze with our Rarible clone. In addition, our Rarible clone is put through several testing steps in order to arrive at a secure NFT marketplace within your budget.
So, get our specially designed Rarible clone script to quickly build a robust NFT marketplace similar to Rarible.
Why Choose Hivelance For Rarible Clone Script Development?
As a leading NFT marketplace development company, Hivelance provides NFT marketplace clone development services to help startups and enterprises build a scalable and robust decentralized NFT marketplace that runs on the top of the blockchain network. We are a team of 20+ blockchain experts having records of delivering more than 50+ projects based on NFT development.
Our developers are 10+ years experienced with high-quality project submissions with outstanding outputs and on-time delivery. We offer uninterruptible technical support to clients on a 24/7 basis. We are specialized in clone script development for popular NFT marketplaces like Rarible, Opensea and etc.
Want to launch your community-centric NFT Marketplace Like Rarible? Or Want to know how our Rarible Clone Script Works?
PEOPLE ALSO ASK
---
What is Rarible clone script?
Rarible Clone is a ready-to-market NFT marketplace script that can be used to build an NFT marketplace for creating, listing, selling, and purchasing NFTs. As a result, using a trustworthy Rarible clone will be the most effective way to launch your peer-to-peer NFT marketplace with unrivaled performance.
What are the Noteworthy Features of the Rarible Clone Script?
Multi-chain interoperability, high-end security options, filters, crypto wallets, NFT stats, and other notable features will be included in the Rarible clone script.
Can I Use Rarible Clone to Customize My NFT Marketplace?
Yes, you can customize your NFT marketplace with a readily accessible Rarible clone by including the required features and functions that you want in your NFT marketplace.
Where Can I Buy the Finest Rare Clone Script?
Hivelance has a team of skilled professionals with extensive experience in delivering optimal Rarible clone script for developing a world-class NFT marketplace. So, contact us to obtain the best-in-class Rarible clone at a reasonable price.
How Can I Make A Revenue From My NFT Marketplace, Such As Rarible?
Listing fees, transaction fees, initial setup fees, minting fees, and private sale options are all significant revenue factors in our Rarible clone script. So, profiting from an NFT marketplace built with our Rarible clone will be the finest business model
What are the popular NFT marketplace clones?
The popular NFT marketplace clones are Opensea, Rarible, Solanart, Binance NFT marketplace, Coinbase NFT marketplace and Magic Eden.