Cryptocurrency
Meme Coin Development Company: Revolutionizing the Crypto Landscape with Hivelance
Being one of the top Meme Coin development companies, Hivelance helps to create and launch a crypto token that is based on unique memes or viral trends.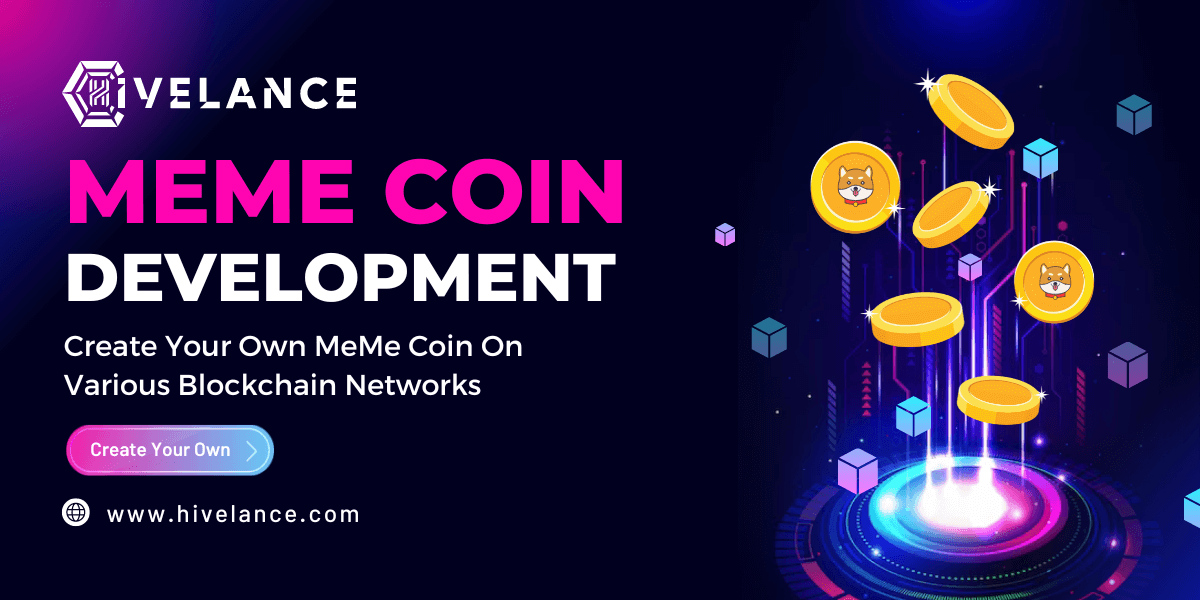 While entering into the modern digitized world, Cryptocurrency is becoming the eminent part that seeks the attention of many investors. It served the new advancement of transactions in the safest way. Being one among them is the " Meme Coin ". Meme coin is also a new type of cryptocurrency established in recent times which has already become popular among the crowd. Regarded as a unique coin, it inhibits the superficial and distinct qualities. In this blog, Let's peep about the important traits of meme coins and how it helps users in detail.
What is a Meme Coin?
Being an interesting aspect to discuss, a Meme coin is a type of cryptocurrency that is grasping the familiarity of many, especially through memes and social media. Enhanced in a different way, Meme coins are created as a joke or for fun instead of serving some purpose like other cryptocurrencies. In other words, they are created to attract millions of people and don't inhibit any special value or utility. A Keen notable attribute of these meme coins is they can be created easily using any blockchain platform and is also having greater hype in the crypto markets.
Meme Coin Development
As a Cryptocurrency based on meme characters, Meme coin and its trading volume in the year 2023 is skyrocketing. Serving as a live example, Dogecoin was the first developed meme coin, which represents the joke initiated by the software developers. In the future, it is expected to be the most demanded one because of its ravishing features.
Hivelance, the leading Cryptocurrency development company, has also gained popularity in creating meme coins following up all the vital needs as per your business norms. As meme coin's trading volume increased to a greater extent within 2 years to $2.3 Billion, Our firm has realized the importance of these coins and we have the capability of fulfilling the essential requirements of our clients. We have a skilled team of developers with wide knowledge in coin creation and can develop meme coins with advanced frameworks and appropriate market strategies. Portraying the importance and the development methodologies of meme coins, Our team can provide you the full guidance throughout.
Meme Coin Development Company
By launching its own meme coin into the constantly changing world of cryptocurrencies, Hivelance, a trailblazing blockchain development business, has set out on an unprecedented journey. Hivelance has revolutionized the idea of meme currency, setting new benchmarks for creativity, usability, and community interaction with its cutting-edge vision. Our strategic alliances with numerous companies and platforms enable coin holders to use their holdings to purchase a wide range of products, services, and one-of-a-kind experiences. This fusion of memes and usefulness creates a precedent for meme coins to go beyond their novelty and become accepted tools of value exchange.
Benefits of Meme Coin Development
Easier Accessibility
Guaranteeing huge ROIs
Only a minimal level of investment is needed
Provides an essential entertainment podium for the users
Attracts more users across the globe.
How does a Meme Coin work?
Being similar to other cryptocurrencies, the functionalities go ahead in a streamlined way. The entire function of these meme coins are based on decentralization. When stepping into this unique strategy, the involvement of third parties is being neglected. Also, the transactions take place in a safe ecosystem. Records are highly encrypted, where the transaction history can be viewed. All activities are reliable as blockchain technology comes into picturization.
Meme Coin Development Services We Offer
Providing ideations for meme coin Development: Hivelance is well-known for its talented team of experts. They always step into a project by understanding all your requirements. Based on the gathered details, we provide the perfect ideations to create your meme coins.
Customized Meme Coin Creation: Our developers give priority to customization, and hence they create customized designs and patterns for your meme coins that will ensure gaining users in a huge amount.
Integration of wallets: Wallets play an important role in sending, and storing the meme coins safely. Our developers develop a robust wallet for endeavoring transactions in a safe environment.
Smart Contract Development: Our smart contract developers can develop your smart contracts with advanced programming languages. As they are integrated with blockchain, security is the most eminent part.
Essential Features of Our Meme Coin Development
Branding: In their branding and marketing, meme coins frequently use well-known online memes, amusing imagery, or references. This distinctive and approachable branding aids in generating attention.
Community-building: Meme coins frequently encourage vibrant, engaged communities. The community is essential to the coin's promotion, sharing, and creation of content.
Volatility and Speculation: Meme currencies have a reputation for being extremely volatile. Due to speculative trading, online sentiment, and social media trends, their value might change drastically.
Limited Supply: Similar to Bitcoin, certain meme currencies have a limited supply approach where a set maximum amount of coins can ever be produced.
Utility and Use Cases: Many meme coins begin with an unclear purpose, but some projects want to show how their coins may be used in practical situations.
Tokenomics: Meme currencies frequently contain distinctive tokenomics, including methods like redistributing fees to holders, and burning or minting tokens based on specific situations.
Social Media Influence: Social Media Influence: Meme coins mainly rely on online communities and social media platforms for marketing, communication, and hype-building.
Some of the important Meme coins in 2023
DOGE
PEPE
SHIB
FLOKI
SHIBA SWAP
Safemoon
Hoge finance ( HOGE )
Akita Inu
Development Process of Our Meme Coins
Ideation: We engage in the development of a meme coin starting with a unique concept or idea that resonates with the target audience.
Blockchain Selection: Users need to choose the underlying blockchain platform on which the meme coin will be built. The most common choices are Ethereum, Binance Smart Chain, or other popular platforms that support the creation of custom tokens.
Smart Contract Creation: Our developers develop the smart contract for the meme coin, that defines the token's name, symbol, total supply, decimal places, and any additional functionalities specific to the meme coin.
Listing on Exchanges: Users can list their meme coin on popular cryptocurrency exchanges.
Why Choose Hivelance for Meme Coin Development?
Hivelance is the pioneer in meme coin development by adding real-world utility to their meme coin. They have forged strategic alliances with numerous companies and platforms, enabling owners to use their coins to purchase a wide range of products, services, and one-of-a-kind experiences. This fusion of memes and usefulness creates a precedent for meme coins to go beyond their novelty and become accepted tools of value exchange. We have proven to be realistic in addition to being technologically adept and active in the community. They have created programs that exploit the popularity of their meme coin to aid humanitarian endeavors and improve the world.
Talented frontend and backend developers
Round-the-clock support
Cost-effective solutions
Knowledgeable smart contract creators
Immediate rendition of any support from our team.