NFT
Bored Ape Yacht Club clone Script
Grow your NFT business with instant and ready-to-use BAYC Clone Script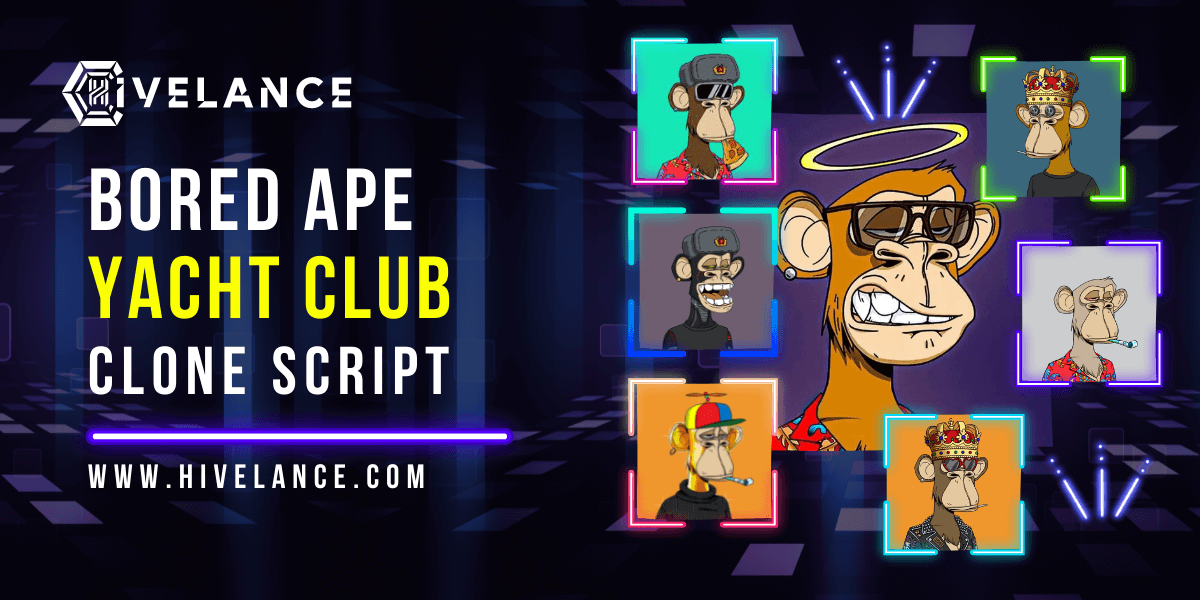 Bored Ape Yacht Club Clone Development Company
You can Chisel an NFT Marketplace with a wide range of digital collectibles like Bored Ape Yacht Club prioritizing the Bored Apes faces. NFT lovers are showing equal and high interest in Bored Apes and starting to invest huge funds in it. We are the top-grade Bored Ape Yacht club clone script development company that can create your personalized clone scripts.
What is a Bored Ape Yacht club clone?
Bored Ape Yacht club clone is regarded as the engaging and most in-demand elucidation for developing the NFT marketplace to buy/ sell digital collectibles mainly bored apes( monkey figures). Our Bored Ape Yacht club clone script is the white label solution to create the NFT marketplace with attractive add-ons like delightful backgrounds, and themes with catchy colors. Our Bored Ape Yacht club clone script comes up with the following complements like:
It is built in a structured way having a Storefront to showcase all the arts.
It is integrated with wallets for enabling successful transactions.
Created with a wide range of digital collectibles with extra accessories
Our clone script can be integrated with other NFT trading platforms like Opensea, Raribles, super rare etc.
Features of Bored Ape Yacht Clone Script
Integration of NFT wallets
Attractive storefront
Search options
Native token governance
Algorithmic generated characters
Token details
Overall stats
Categorization of collectibles
Buy tokens
Also Read - Top 10 NFT Marketplace Clone Scripts
Attributes of Bored Ape Yacht clone faces
Background: This highlights the colors used as the backdrop of the portraits.
Eyes: Eye expressions can be regarded as Sleepy, closed, heart, coins, etc.
Earring: Bored Apes appear in certain looks with earrings like crosses, diamond studs, etc.
Clothes: A collection of dresses like BAYC, T RED, Smoking jacket etc
Mouth: The Apes render some facial expressions: Jovial, bored, phoneme Vuh, etc.
Hat: The style of the ape monkey is spotted with commie, baby's bonnet, and more.
Fur: The shape and texture of the ape's fur differ: Black, solid gold, robot, and more.
How does a Bored Ape Yacht clone work?
Users need to create an account
Once entering the platform, they need to connect with Metamask
The two-factor authentication process is carried out
The display of all characters and their sale price takes place
Users can participate in the bidding process
By disclosing a preferred price, they can purchase and hold it in their wallets.
They can opt for special add-on features with the held collectibles.
Benefits of Bored Ape Yacht clone script
Holding on a variety of benefits, Bored Ape Yacht is attracting millions of users. Some notable benefits of our Bored Ape Yacht clone script are:
Unique Collectibles
Decentralized Platform
Rigid security
High ROI
Quickly available to the market
Cost-effective
High endowed features
What are BAYC clone tokens?
BAYC clone tokens are considered as the representation of assets of Bored Ape Yacht club clone. They are the ERC20 tokens developed in order to increase liquidity. BAYC owners can claim about 10,000 APE per BAYC NFT. These Ape tokens will be used within the ecosystem for everything.
The Bathroom
The BAYC Bathroom is known as the specially designed attribute of our Bored Ape Yacht Club clone, Where the members of the platform will have the right to access this option. It is the collaborative canvas where each owner of the asset can write, scribble, or draw anything in a few minutes ie, every 15 minutes. Commonly known as the place to share ideas.
Different blockchain networks used in Bored Ape clone development
Ethereum
Tron
Flow
Tezos
Binance smart chain( BSC)
Polkadot
Cardano
Hyperledger
EOS
Wax
Why Choose Hivelance for Bored Ape Yacht clone development?
As a top-notch NFT marketplace development company, Hivelance has well-trained blockchain developers who have worked with diverse NFT projects by implementing their top-level proficiency. We understand the needs of the clients and form a roadmap to complete the project within the deadline. Compared to other companies, we can offer you prominent solutions that are cost-effective. We help to promote your business among the competitors with unique designs. We create your Bored Ape Yacht club clone script with white label solutions adding the high-tech stack ideas and tools.
10+ years experienced as developers
Talent front-end and back-end professionals
White label solutions
Round clock support
Agile development process
Zero bug outputs
Accurate and correct implementation of solutions.
Want to get a feel of our Bored Ape Yacht Club Clone Script?