DeFi
Uniswap Clone Script To Create High ROI Based DeFi Exchange Similar to Uniswap
Uniswap Clone Software is a white-label solution for kickstarting your own DEX like Uniswap.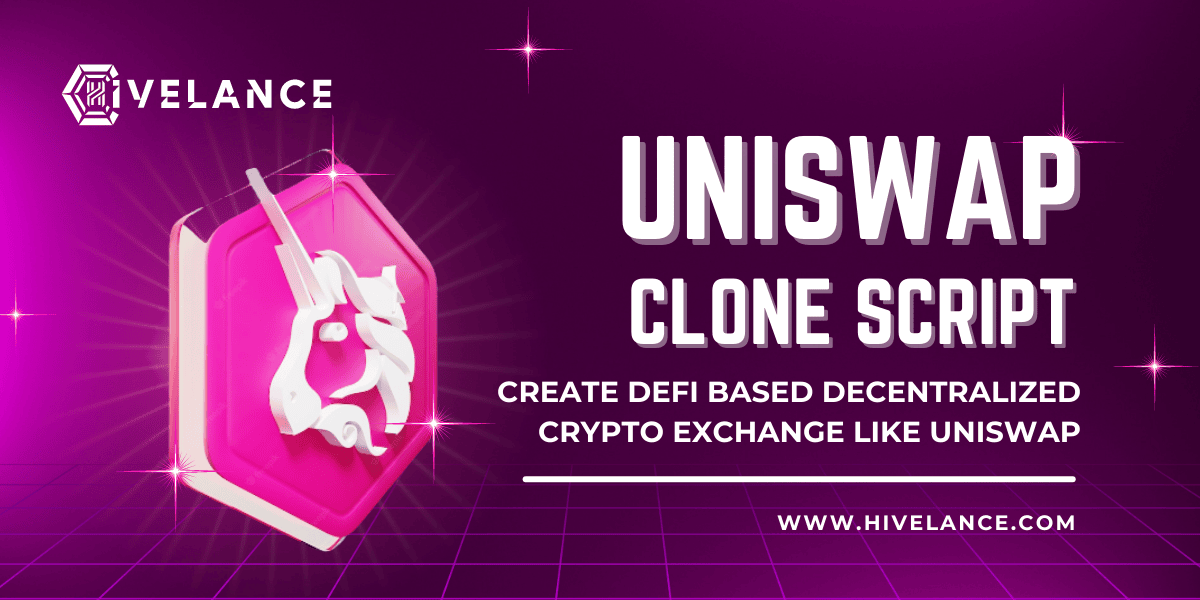 Get Uniswap Clone Script Demo
We are the foremost Uniswap clone script development company that can assist you to develop your DeFi-based exchange like Uniswap. Our Uniswap clone script is furnished with speculative features for automated liquidity provision on Ethereum in a short duration.
Talk to our experts for getting Uniswap clone script demo
Build DeFi Exchange Like Uniswap Instantly
Uniswap Clone Script is a pre-built source code that is readily available to the markets for developing DeFi protocol for automated liquidity provision on the Ethereum blockchain network. This prefabricated script will have similar functionalities and features alike Uniswap as they are the group of various DeFi services onto a DeFi platform. By understanding the requirements of the customers, we develop your Uniswap clone script with entire customization.
Anyone with or without coding knowledge can launch the DeFi platform instantly in 1 business week when using our Uniswap clone script.
How to build a decentralized exchange (dex like uniswap)?
1. Select a blockchain platform
The first step in building a decentralized exchange is to select a blockchain platform. This will depend on the type of decentralized exchange you want to build and the type of tokens that you want to list on it.
2. Choose the consensus mechanism
Once you've selected the blockchain platform, you need to decide which consensus mechanism you want to use. Depending on the platform, you can choose from a variety of consensus mechanisms such as PoS, PoW, and DPoS.
3. Implement an order matching system
The order matching system is the heart of any decentralized exchange. It is responsible for matching buy and sell orders and executing trades.
4. Implement a wallet system
Wallets are essential for storing private keys and executing transactions. You will need to implement a secure and reliable wallet system with support for multiple cryptocurrencies.
5. Implement a liquidity protocol
A liquidity protocol is necessary for providing liquidity to the exchange. Popular protocols such as Uniswap and Balancer can be used to provide liquidity to the exchange.
6. Implement an order book
An order book is a record of all the buy and sell orders that are placed on the exchange. It is important to implement an efficient and secure order book to ensure that all trades are executed correctly.
7. Implement security measures
Security is one of the most important aspects of any exchange. You will need to implement various security measures such as two-factor authentication, cold storage, and KYC/AML compliance.
8. Deploy the exchange
After all the necessary components are in place, you can deploy the exchange on the mainnet. This is the final step and requires a lot of testing to ensure that the exchange is secure and functional.
Whitelabel Uniswap Clone Software
Uniswap Clone Software is a white-label solution for kickstarting your own DEX like Uniswap. We use advanced techniques to develop your decentralized protocol clone software. Our team of energetic professionals helps you to launch your Uniswap clone software with far-reaching ideologies.
Features of our Uniswap Clone Script
1. Yield Farming
Yield farming is a term used to describe the process of earning rewards for providing liquidity to a decentralized finance (DeFi) protocol. It is a type of automated market-making strategy, where users are incentivized to trade assets on a protocol in order to earn rewards from the protocol. The rewards usually come in the form of a yield or a percentage of the total amount of assets provided as liquidity to the protocol. For creating new profitable DeFi opportunities, we embellish your Uniswap clone with best yield farming protocols. Our skilled experts can coordinate to launch your own yield farming with dex protocols.
2. ERC20 Token Trading Comaptibility
Our uniswap clone script can support ERC20 Token Trading Compatibility which is a set of standards for Ethereum-based tokens that allows them to be traded on cryptocurrency exchanges. These standards ensure that tokens are interoperable and that they can be traded easily between wallets and exchanges. The ERC20 standard also allows for tokens to be used as a form of payment and for transactions to be verified on the Ethereum blockchain.This enables you to launch your dex that compiles with the ERC20 token standard.
3. Safer Transactions
Safer Transactions in dex is a decentralized exchange (DEX) protocol that allows for secure, trustless, and transparent trading of digital assets. It utilizes a combination of on-chain and off-chain technologies to ensure that users can safely and securely trade their digital assets. The protocol also provides an array of services, including order matching, order book management, transaction settlement, and dispute resolution.
4. Flash Swapping
Flash swapping is a technique used in decentralized exchanges (dexes) to improve the speed and reduce the cost of transactions by using a flash loan to swap tokens from one user to another. The process is as follows: a user sends a flash loan request to a decentralized exchange, the exchange sends a flash loan to the user, and the user uses the loan to swap tokens with another user on the exchange. This allows the user to quickly and cheaply swap tokens with another user on the exchange, without having to wait for the exchange to process the transaction.We develop flash swapping features in Uniswap clone script that enables to withdrawal up to 100% of tokens reserves. It can assist your users in participating in arbitrage opportunities.
5. Token Versatility
Token Versatility in a decentralized exchange (DEX) is the ability of a token to be used as a means of payment, collateral, and/or governance in various decentralized applications built on the same platform. It is a measure of how much a token can be used in different contexts and on different networks. This versatility can be seen as a measure of the token's liquidity and utility. When using unswap clone, you can do Uniswap fork on any blockchain regardless of no limitations. This attracts many users towards the platform.
Benefits of Our Uniswap Clone Script
Less investments

High ROI

Instant swapping options

No middlemen intervention

LP rewards
Our Uniswap Clone Script Development Process
Understanding of client's requirements

Latest tools for the development of clone script

Smart contract development

Integration of APIs with web3.0 wallet

Software deployment with various tests

Successful delivery of Uniswap clone script
Why Hivelance for Uniswap Clone Script Development?
Being the frontrunner in the crypto business, Hivelance is identified as the top-notch solutions provider in Uniswap clone script development. Our team of highly talented DeFi developers assigns their work passionately to build a robust DeFi exchange like Uniswap to handle your decentralized exchange business.
We can make your requirements come into reality. Our white-label Uniswap Clone Script is structured with all outstanding features and functionalities that allows traders to swap the tokens instantly. Become a successful business venture in the DeFi era by joining our team.
10+ years experienced blockchain developers

Highly standardized outcomes

100% customization options

On-time delivery

Rendition of projects with exclusive features

Live demo sessions

User-friendly conversations

Talented frontend and backend developers
We strongly believe in providing our most up-to-date Uniswap clone script at economical rates for every crypto entrepreneur.
Related - Pancakeswap Clone Script | 1inch Exchange Clone Script
PEOPLE ALSO ASK
---
What is Uniswap clone script?
Uniswap clone script is the dex agggregator web script that can perform all the exchange operations similar to Uniswap.The web script is programmed using multiple tech stacks for seamless operation. Get in touch with us if you need to see the demo
Is Pancake swap a clone of Uniswap?
No, pancakeswap is not a clone of Uniswap. PancakeSwap is a decentralized exchange (DEX) built on the Binance Smart Chain (BSC) network. It allows users to trade a variety of digital assets, including BEP-20 tokens, in a trustless, permissionless, and secure environment. PancakeSwap differs from Uniswap in several ways, including its fee structure, liquidity provision, and token selection.
Is SushiSwap a clone of Uniswap?
No, SushiSwap is not a clone of Uniswap. SushiSwap is an automated market maker (AMM) with similar mechanics as Uniswap, but it has some distinct features that make it unique. These include a reward system for liquidity providers, an on-chain governance system, and the ability to stake tokens to earn rewards.
What is Uniswap coded in?
Uniswap is coded in the Solidity programming language, which is used for developing smart contracts on the Ethereum blockchain. Next.js, React are the frontend frameworks used.