Web3 Game Development Company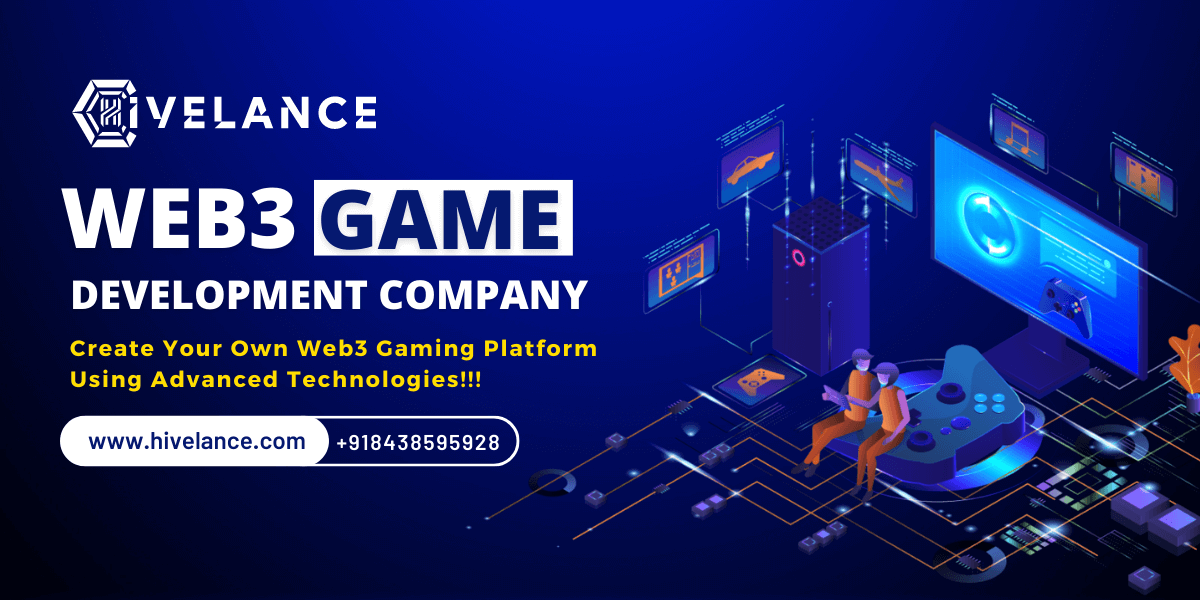 Transform the growth of your business with our Web3 game development solutions. As a renowned web 3 game development company, we strengthen the 3D gaming features and create a realistic gaming environment.
What is Web 3.0?
Web3.0 is a rapidly evolving third-generation web technologies. The dependency is based on a decentralization process that makes it more stronger and hence involves the implementation of blockchain networks. This internet phase is aligned and characterized by accurate transparency and user-friendly, authentic experiences. It inherits various semantic technologies like artificial intelligence, the internet of things, AR and VR, machine learning, cloud computing, and so on. It is expected that web3.0 will be:
An open-source platform that has easier access
It is Trustless
Interactions are possible without the authority's approval
Transactions taking place will be tracked on the distributed ledger
Options are given to interact with each other without any third party
Also Read - Money making Web3 business Ideas in 2023
Web3 Game Development Company
Our web3 game development services are fully empowered by blockchain technology with futuristic menus and will serve the players with digital assets and generate high ROI. Our Blockchain game development team has a wide knowledge of advanced development ideologies. Our Web3.0 gaming solutions can transform the entire gaming industry accompanied by the integration of metaverse and blockchain technology. Being an advanced web3.0 development company, Hivelance aligns gaming projects and has a history of many innovative gaming ecosystems for all our global clients. Explore the visionary web3.0 spaces through our newfangled and visual services.
Web3 Development Stack We use
1. Network Layer
EVM Blockchain(Ethereum, Polygon, Arbitrum, Optimism, Hermez, ZKSync, Starknet, Avalanche, Cronos)
Non-EVM Blockchain(Near, Flow, Solana, Terra)
2. Blockchain Interaction Layer
Data Access - SUPERNODE, BULD, MONITOR, NOTIFY, ENHANCED API, Self-Hosted Nodes, NFT API
Block Explorers - Etherscan, Snowtrace, Polygonscan
3. Presentation Layer
Web3 Native Libraries -Ethers.Js, Web3.Js, Alchemyweb3
Developer Environments - Truffle, Brownie, HARDHAT
File Storage- IPFS, Filebase, ARWEAVE
Web3 Game Development Services
1. Web3 Play to Earn (P2E) Game Development
Web3 Playtoearn games are nowadays the ready source of revenues in the crypto areas. Users can earn income by playing the safest games and are regarded as the best in-game business models recommended. These web3.0 games are a combination of conventional 3D games features and blockchain amenities. The NFTs gained can be staked and make the incomes double for future processing.
Related - Play-to-earn Game Development Detailed Guide
2. Web3 Metaverse Game Development
As a web3.0 metaverse game development enterprise, Hivelance provides groundbreaking metaverse game development solutions with web3 trademarks. Our services include the safest security traits that boost your business growth. The main aspects that are highlighted are web3 metaverse platforms that serve the gaming environment with preeminent graphics. This can bring big changes to your businesses with more audiences.
3. Web3 NFT Game Development
Web3 NFT games are well known and the top games among different gaming in the crypto world. Users can play and earn in-game assets like NFTs.This allows the players to own the assets with self-sovereignty.Web3 NFT gaming provides reliable virtual markets where the players can experience realistic surroundings and easier access and ownership of the NFTs.This can be stored for using it in further battles.
4. Web3 Adventure & Sports Games Development
As Web3 is a rapidly evolving technology, developing games using this might guarantee a safer environment to play games and earn rewards. With a deep understanding of web3 solutions, our team of developers can build adventure, and sports games incorporating web3 characteristics with bug-free smart contracts.
Revenue Model For Web3 Games
Earn crypto by playing games: Players can earn in-game assets by taking place in the games. Hence the chance of getting rewards is high. The platform may be more engaging that can provide opportunities of learning and improvising the game features.
Through game assets: Players can sell in-game tokens to earn money. These Game assets include tokens, weapons etc and are the proper means of generating revenue for web3 games.
Game advertising: Promoting the brands is considered an important source of earning income. Hence, in-game advertising can help the owners to gain profits.
Through the marketplace: Using the marketplaces, players can trade many digital assets. Players can win in the battles and earn rewards and trade those assets on the other marketplace for extra income.
Premium Features Of Our Web3 Gaming Platform Development
Decentralized platforms: Our web3 gaming platform is very transparent and enables the activities of all players to be updated with each other. Apart from that, the platform is decentralized which implies that there is no need for any central authority to be involved.
Entire ownership: The ownership of both the platform's activities and the digital assets is being controlled fully by the owners. This avoids any collapse where the owner can earn income in surplus by handling it.
Smart contract enabled: We develop your web3 gaming platform with all exclusive features. It mainly involves strongly coded programming languages that ensure the highest security and cannot be mishandled by anyone. As this feature offers a better user experience, the platform is very reliable with smoother processing.
Interoperability: The digital assets can be owned by the players on one platform and can be carried out to the other platform, which resembles they are used anywhere with ownership recognition.
Highest security: The gaming platforms that are web3.0 based are furnished with the latest security protocols and additional layers of security features like two-factor authentication, SSL injection, and so on.
Safest payment methods: We create payment gateways that will ensure transactions without any hassles. The Swifty payment options support in handling the transfer with strong entry options.
Users Customization: Web3 gaming platforms are customized entirely to users' business needs. This helps in easier functioning and in-game features to be implemented reliably.
Why should you make games using Web3?
Traditional or first-generation games are known to be not very peculiar with proper functioning mechanisms and do not support the safest transactions. But the games developed based on web3 are transmuting the entire gaming industry to turn over it and patronize its features offered to the players. What would be the reason for this regime change?
Absolutely that would be the blockchain technology that provides ultimate changes with its supreme functioning techniques. Players involved in web3 gaming will experience an amazing ecosystem that is engaging and interactive with others.No third parties can get into the platform as they are decentralized. Permission is not needed from the central authority and transactions take place very safely.
Trading digital assets like NFTs are very seamlessly performed ensuring the users are provided with higher profits. Web3 users across the globe are glad to implement it in their businesses and hopefully awaiting the next-gen revolution very soon…!!!
Web3 Game Development Protocols
Web3 gaming platform is developed by having in mind all the protocols that would help in progressive growth and business expansion. With the implementation of these protocols, players involved in the games can witness a greater proportion of incomes in web3 markets.
Accurate blockchain protocol selection plays the main role in the successful performance of the web3 gaming space. Some of the best web3 protocols for your projects can be suggested by our team of experts and they are listed below:
Ethereum- Open Source, quality enriched, smart contract enabled protocol.
Hedera- Public networks that are highly secured and hitched with solidity functionalities.
Solana- Hosts decentralized gaming applications with the combination of proof or work and proof of history mechanisms.
Polkadot- It regulates both interoperability and interconnectivity functions with structured gaming platform architecture.
NEAR- It is a smart contract-compatible protocol for supporting the safest gaming platform development.

Web3 Game Development Technology Stack
Solidity
Vyper
C++
Python
Node.js
Web3.js
React.js
MongoDB
Truffle
Coinbase
Ripple
Hyperledger
Openzeppelin
Quicknode
Metamask
Unity game engine
Unreal engine
Best Blockchain Networks for Web3.0 Gaming Development
Cardano
Binance
Solana
Ethereum
BNB
Polygon
WAX
Hire Web3 Game Developers From Hivelance
Web3 is the greatest revolution that overcomes all the challenges from the previous stages and is a matter of the moment. Bigger firms are looking forward to the changes that web3.0 is going to offer to the users. Web3 gaming can explode cutting-edge strategies with top-tier security. As decentralization and blockchain are the essential elements of web3.0 gaming, the level of accuracy might be unexpected.
Assembling and fabricating the vital structure of these web3.0 games can be done with the fullest care by our team of game developers. Hivelance encompasses highly knowledgeable frontend and backend developers who can construct the gaming platform with cent percent perfection.
If you are looking forward to skilled web3.0 game developers, We can proudly present you our developers for your project development. Hire our professionals on a daily, monthly, or full-time basis who can understand your business needs and provide pragmatic projects.
What Characterizes Hivelance as a Reliable Web3 Game Development Company?
At Hivelance, we offer the ultimate solutions for web3 gaming projects. Our team of developers is skilled in developing advanced web3-based game platforms with a visual 3D treat for the players. While building the platform, multiple tests are being carried out in order to eliminate any interruptions and flaws.
Security is the main trait we prefer to provide in our web3 gaming platform, hence we include the pre-defined game aspects like programmed smart contracts with top-notch and zero-bug codes. As the leading web3 game development venture, we incorporate services like lively conceptualization, free demo displays, powerful developmental solutions, and successful deployment.
Our team helps in leveraging the significant functionalities of the gaming platform with topnotch quality, transparency, and seamless operations.
Highly Skilled Software Professionals
Enhanced protocols implemented
Accurate frameworks are being rendered
Both development-from-scratch and white-label solutions
Needful gaming options
Exclusive patterns for the gaming platform designing
Intuitive UX/UI modeling
Absolute verifiability
Encrypted access to the gaming platform
International standards for web3 games development
Quicker response from our team
24/7 customer support for any queries
Are You Ready To Start Your Web3-Based Gaming Platform? Feel Free To Contact Our Experts Via WhatsApp | Telegram