DeFi
DeFi Wallet Development - To Create a DeFi Wallet for Maximizing Returns
Hivelance offers seamless and scalable DeFi wallet development services that helps you to keep crypto assets securely.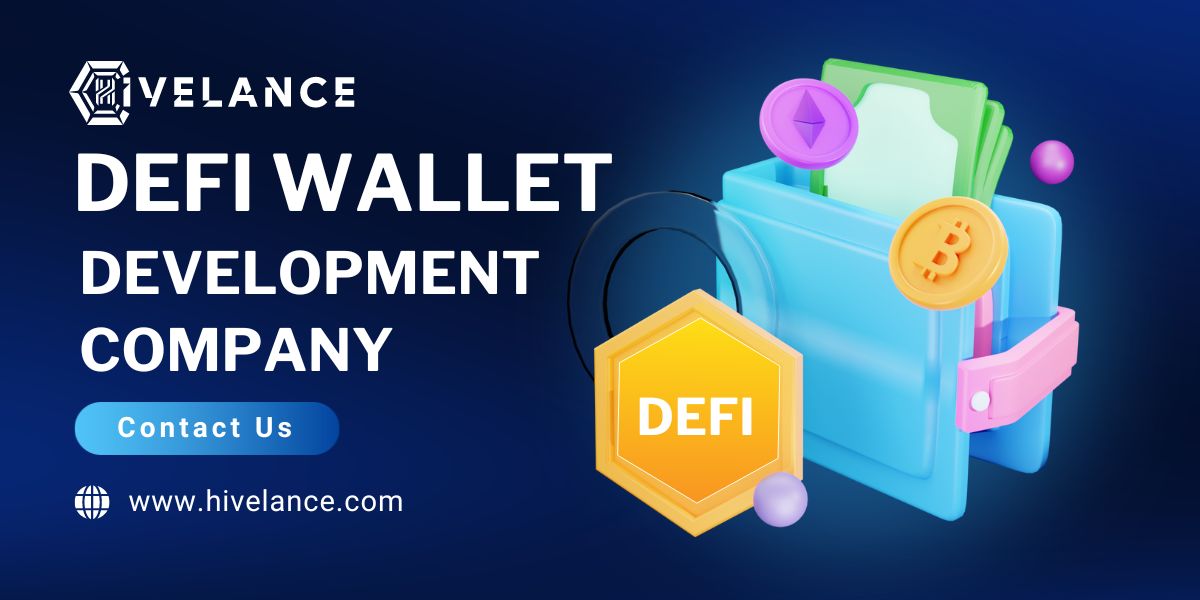 DeFi Wallet Development Company
Hivelance, a leader in the DeFi industry, introduces its ground-breaking DeFi wallet, a doorway to an unmatched financial future. We develop your DeFi wallets with cutting-edge technology and a user-centric approach with the goal of revolutionizing how you interact with decentralized finance. Users can have full control over your funds and private keys, by neglecting the intermediaries. Our DeFi wallets also support multiple blockchain networks that can help in managing the digital assets.
Briefing DeFi Wallets and its Importance
DeFi wallets, or decentralized finance wallets, are digital wallets that let users interact with decentralized finance applications and securely and freely manage their cryptocurrency holdings. DeFi wallets provide users total control over their funds and private keys, enabling them to conduct decentralized financial transactions without the need for middlemen. Our DeFi wallets provide user-friendly interfaces that make it simple for users to explore and manage their DeFi activities in order to appeal to a wider user base. It also gives users the ability to manage numerous cryptocurrencies and tokens, giving them the details of their assets and their performance across various DeFi protocols. In short, Decentralized finance (DeFi) wallets are considered as the important tool that provides users with the access to, and control over, the whole decentralized financial ecosystem. DeFi wallets redefine how we interact with money and assets by bridging the gap between conventional finance and blockchain technology. This makes their importance for businesses to stand ahead in the DeFi arena.
DeFi Wallet Development
DeFi wallet development is the process of developing wallets that will aid in regulating and managing several functions happening in a decentralized finance ecosystem. Decentralized finance is leading this shift in the fast changing world of finance. Utilize Our DeFi wallet, a safe, user-friendly, and comprehensive platform that puts your financial future in your hands, to harness the potential of DeFi. Our DeFi wallet gives you the esteem to take complete control of your digital assets and discover the limitless possibilities of DeFi by including cutting-edge technology with user-centric design.
DeFi Development Services
We are the industry pioneer for blockchain and DeFi solutions, and we are proud to provide our full range of DeFi wallet development services. With the use of cutting-edge technology and our knowledge of decentralized finance, we can create custom DeFi wallet solutions that exactly suit your particular needs. We comprehend that each DeFi project has particular requirements. The distinct ideas behind DeFi wallet development services are listed below as follows:
Asset Tokenization: Businesses can use DeFi wallets to tokenize physical assets like real estate or works of art, enabling fractional ownership and improved liquidity for illiquid assets.
Supply Chain Financing: Supply chain financing can be accomplished using the loan and borrowing services provided by DeFi protocols. DeFi wallets can help businesses access liquidity and maximize their working capital.
Staking: Businesses can assist their users to invest in assets and enable the participation in trading with the help of DeFi wallets.
Swapping: The swapping of tokens can be significantly carried out by using the specialized functions inherited in the DeFi wallets.
Automated Payment solutions: Payments can be automatically executed based on predefined criteria using smart contracts in DeFi wallets. Through automation, businesses can reduce administrative expenses by streamlining payment procedures.
Types of DeFi Wallets We develop for your Business
Hardware DeFi Wallets: Hardware wallets are real-world items that safely store users' private keys remotely. Being immune to online attacks, they provide the highest level of security for DeFi assets. Bitcoin investors and holders frequently employ hardware wallets because they are great for long-term storage.
Multi-Sig DeFi wallets: The authorization of a transaction in a multi-sig wallet requires many signatures. These wallets are frequently used to increase security and prevent unauthorized access. In order to offer an additional degree of security, multiSig wallets can be used with different kinds of DeFi wallets.
Mobile DeFi wallets: Mobile wallets are smartphone programmes that give customers access to DeFi services while they're on the move. They are well-liked by mobile users since they are practical and simple to use. Mobile DeFi wallets frequently feature QR code scanning for rapid transactions and enable simple cryptocurrency sending and receiving.
Web DeFi wallets: These are web-based wallets that are accessible online. DeFi wallets that operate online are simple to use and set up, making them appropriate for novices. Users must be aware of the security dangers connected with online storage despite the fact that they are available from any device.
Features of DeFi Wallet Development
A variety of functionalities are included in the features of DeFi wallet development that are intended to give users a seamless and secure interaction with decentralized finance protocols. Here are some important features that are frequently used in the development of DeFi wallets:
Token management system
Multi-chain support
Authentication process
Smart contract integration
Automatic wallet address scanner
Multi-asset support
Multi-lingual support
Portfolio tracking
Privacy options
User-friendly interface
Community governance.
Benefits of using DeFi wallets
There are several advantages to using DeFi wallets for users who participate in decentralized finance operations. The following are some major benefits of utilizing DeFi wallets:
Highest privacy: Comparatively speaking, DeFi wallets frequently offer a higher level of anonymity than conventional financial services. With the ability to transact without disclosing personal information, users can increase the privacy of their financial transactions.
Ease of use: DeFi wallets are made to be simple and available for many users, who need to explore DeFi services and properly manage their assets as they have an user-friendly interface.
Faster transactions: DeFi transactions can be settled almost instantly since blockchain networks execute transactions easily. Furthermore, DeFi transactions typically have cheaper fees than other systems.
High-end security: Users of DeFi wallets have total control over their private keys and funds because they are non-custodial. As a result, there is no longer a need to entrust a central organization with the safekeeping of assets, decreasing hacking associated with centralized exchanges.
How will Hivelance assist you in developing DeFi wallets?
Hivelance is a pioneering developer of DeFi wallets that is leading the way in changing the decentralized finance landscape. We are committed to developing cutting-edge DeFi wallets that enable people to take control of their financial systems. We provide uncompromising dedication to security, innovation, and user experience. By offering strong, secure, and user-friendly DeFi wallet solutions, our objective is to close the gap between traditional money and decentralized finance. Our wallets have been carefully created with the user's experience in mind. We think simplicity and use are important, enabling DeFi to be used with ease. Users have the opportunity to discover and use a variety of DeFi services, such as lending, staking, decentralized exchanges with the help of DeFi wallet's seamless integration.