DeFi
Yearn.Finance Clone Script To Create A Full-fledged DeFi Protocol
Hivelance is a prominent DeFi exchange development company offers a ready-to-launch and bug-free yearn.finance clone script that is developed to perform defi staking, yield farming like existing yearn.finance.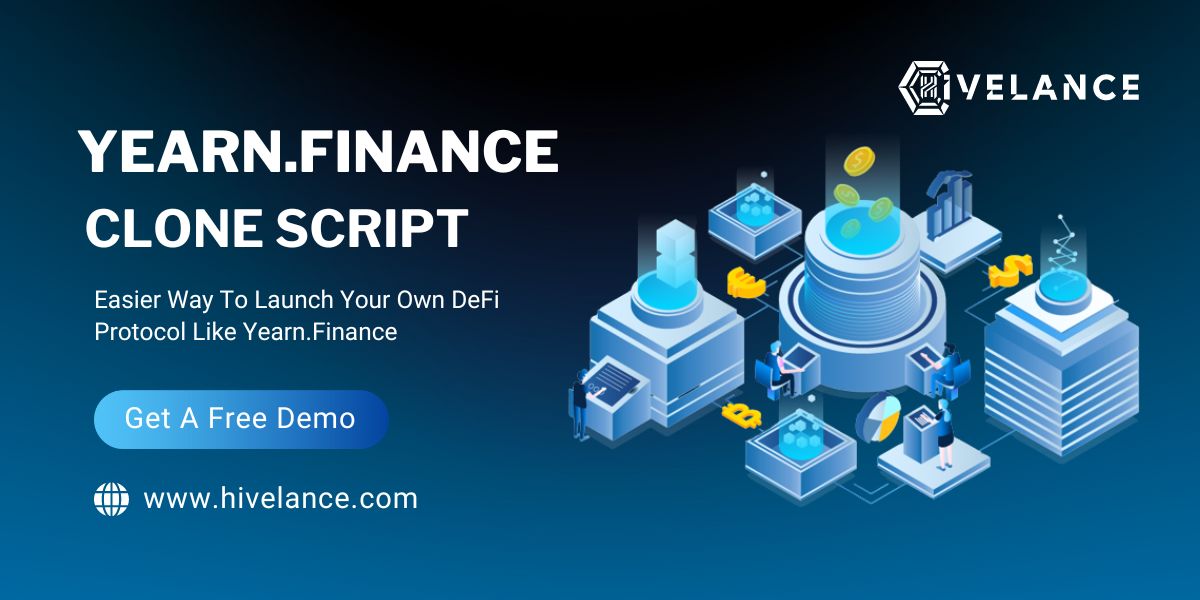 Yearn.Finance Clone Script
Yearn.Finance Clone Script is a pre-made DeFi Exchange solution that allows you to start your own DeFi business as soon as possible. It applies yield optimization algorithms to ensure that users who invest in the platform receive a high ROI. Thus, one of the primary selling aspects of our DeFi protocol is the ability to generate massive cash flows such as Yearn.Finance.
At Hivelance, we offer a Yearn.Finance clone software solution that incorporates all the essential features and capabilities of the well-liked Yearn.Finance-like DeFi platform.
Dive into this profitable business field with our ready-made solutions for successful start-up.
Whitelabel Yearn.Finance Clone Software
Whitelabel Yearn.Finance clone software is a customizable software solution incorporating your own branding and personalization based on your business requirements. A decentralized finance (DeFi) protocol called Yearn.Finance which is dedicated to automatically improving yield farming tactics for users.
Hivelance offers whitelabel Yearn.finance clone software to build your business uniqueness in the market to keep a stable branding that prolongs the business growth.
Our Yearn.Finance clone script Services
Ytrade.Finance- YTrade.Finance operation makes it possible to short cryptocurrencies. Users can easily create leveraged stable coin trades here.
Yliquidate.Finance- It is connected to the DeFi platform's Aave flash sales. It provides the most effective zero capital automated liquidations for the Aave protocol.
YSwap.Exchange- One of key components of our Yearn.Finance clone. A one-sided automated market maker that enables customers to transfer money between different DeFi platforms and between them.
Iborrow.finance- Allows lending from smart contract to smart contract. Here, the Aave platform is used to tokenize debts in various protocols. IT can be applied to various DeFi protocols after tokenization.
Features of DeFi protocol like Yearn.Finance
Vaults
This feature allows smart contracts to choose better yielding opportunities through its collection of strategies. They are community-operated guidelines that gather input from a community of many individuals. Vaults leverage liquidity and collateral to give benefits such as rewards on returns, interest rates, and optimized petrol fees.
APR
The annual percentage rate is imposed to the borrower of money and delivered to the investors in physical terms. This is simply a transaction history tab that shows the efficiency of various Yearn supported coins via various DeFi protocols.
Cover
This function incorporates the smart contract insurance scheme into our clone script. This insurance is a completely decentralized network that runs on the Ethereum blockchain. The connectivity with the nexus insurance scheme portal is enabled by the cover function.
Zap
Zap is an automated platform that allows for the exchange of services with a very minimal transaction fee. This portal offers quick access to the Y curve liquidity site.
Vault dashboards
Vault dashboards indicate the type of asset transacted with earnings submitted to the portal, as well as the currency accessible asset to be placed into the portal.
Benefits of building a DeFi Protocol like Yearn Finance
Yearn appears to be designed for ordinary investors who lack the skills, free time, and gas required to independently farm Ethereum's DeFi fields.
Yearn finance helps users to find a yield farming method with several liquidity pools while optimizing liquidity returns.
Yearn's outreach to its institutional client base, which should increase the total locked value in the protocol and, by extension, the whole DeFi sector.
The collaboration of Ethereum-based protocols will facilitate the completion of a task.
Yearn Finance enables people to be collaborative and symbiotic while remaining unique.
Yearn.finance's token increased in value by almost 14,000 percent in just one week.
How Does a Yearn Finance clone work?
With just a few clicks, each DeFi product in our Yearn Finance clone protocol offers its users a choice of yield farming opportunities. It is constantly updated with new pools, pushing the boundaries of composability to present users with the most of what DeFi has to offer. To generate revenue with minimal to no cost, one can invest in any of yEarn's verified pools.
It is turned into yTokens, such as yUSDC, yDAI, and TEC, when a user deposits a token of any designated kind. The smart contract system evaluates the Annual Percentage Rate (APR) and offers users the greatest yield farming rates when they deposit money.
DeFi Yearn.Finance tokens we provide
Our Yearn Finance clone script allows you to expand your DeFi swap processing with a variety of different tokens similarly to Decentralized Finance (DeFi) Yearn Finance as shown below.
Dai(DAI)
Chainlink(LINK)
Wrapped ether (WETH)
Tether (USDT)
Compound (COMP)
Crypto.com coin (CRO)
Hire our DeFi Developers
Are you ready to hire our DeFi Developers ?
Hivelance guarantees that if you hire our DeFi developers, you will receive a customized solution that operates as the most priority in the market industry. Our DeFi development tools assist your company in dominating the decentralized market.
Why Hivelance for Yearn.finance Clone Script?
Hivelance- DeFi Development Company provides services for Yearn.finance clone script that aids in the construction of the largest Yield Farming enterprise in the competitive industry. Our end-to-end Defi Development Services include yield farming development, staking development, and the development of DeFi protocols like Uniswap, Sushiswap, and Justswap.
Our experts work to increase the adaptability of your business by developing it to the fullest extent possible while taking on obstacles and taking into account the importance of emerging technologies.