Blockchain
Blockchain Game Development Company - Hivelance creates unique games built on public or private blockchain
Hivelance, a blockchain game development company with certified in-house professionals can frame your blockchain game with all the aspects.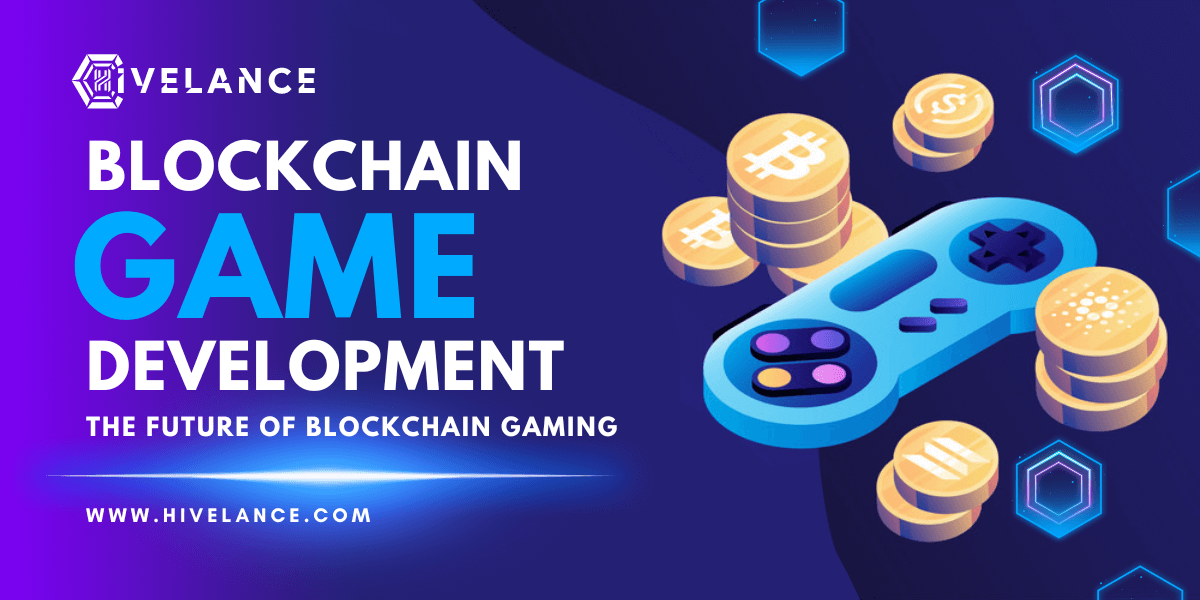 Blockchain Game Development
Hivelance provides blockchain game development services backed by a top-tier group of industry experts with extensive experience. Our team has experience providing solutions for secure distributed networks-required gaming, in-game tokenization, wallets, and NFT gaming. We create feature-rich and highly customizable games for business entities, entrepreneurs, and startups globally.
First-Rate Blockchain Game Development Company
According to a new report from DappRadar and the Blockchain Games Alliance, Web3 and blockchain gaming companies received $739 million in investment. In March 2023, just over 60% of these funds — $434 million — were raised. The blockchain game excitement endures and even grows year after year. Do you want to join this gaming space? Or want to start your own gaming platforms using immutable blockchain technologies? You are in the right place
Hivelance is an active blockchain game development company in the gaming sector that uses high-standard gaming protocols to offer high-end, engaging, and rewarding blockchain game apps & websites. Our blockchain game development company is loaded with the latest technology facilities and capable of developing interactive blockchain game development that is hard to find in other places.
We rely on every important digital device, including smartphones, tablets, desktops, and game consoles, while developing amazing games with blockchain, Metaverse, Web3, and 2D 3D Unity game engine development tools and technologies.
As a result, our blockchain game development services reach a large audience present on a wide range of devices, allowing our clients to get the utmost rewards from their dream blockchain game ideas and investments.
End-To-End Blockchain Game Design, Development, Deployment, Support & Maintenance
Hivelance is one of the leading blockchain game development companies offering end-to-end blockchain game development services at affordable rates. Our pool of experts has experience working on innovative blockchain games in the industry.
As a blockchain game development company, we take complete responsibility for creating tailored gaming specific to your needs and within your budget. We will lead your gaming project through all the stages, from game design to post-release support.
Whether you're an aspiring young entrepreneur or a startup, our Blockchain Game Development services offer a gateway to boundless innovation. It's time to unleash the full potential of gaming on the blockchain!
Blockchain Game Development Services We Offer
Being a successful blockchain game development company, we have the resources to develop games for multiple platforms using cutting-edge game development technologies.

Web3 Game Development

Hivelance is your right-fit Web3 game development company. Hire us to develop and launch your next-gen Web3 games, tested thoroughly for top-notch performance built with our end-to-end Web3 game development services.

Metaverse Game Development

We have expertise in Metaverse game development and create P2E, AR/VR, and NFT gaming experiences tailored for the Metaverse. Our team helps to build and launch a Metaverse gaming platform effectively.

NFT Game Development

We are your ideal NFT game development company. Since its launch, we have been consistently helping your gaming project to build robust, cross-chain NFT games for all platforms as per your requirements.

Crypto Game Development

Are you passionate to create your crypto-powered gaming platform? Discuss your crypto game development idea with our pool of experts to derive an immersive and groundbreaking crypto game development solution meeting your gaming business objectives.

RPG Game Development

Our team creates custom Role-playing games from scratch depending on the requirements. We have worked on numerous RPG game projects, building the role-playing game from an initial concept to a functional game.

Play-To-Earn Game Development

Play-to-Earn game development has gained tremendous popularity, combining the fun of gaming with the opportunity to earn real-world value. Our team of experts is here to help you create an immersive P2E gaming platform that will captivate players and provide wonderful opportunities for earning.
Move-To-Earn Game Development

With our Move-to-Earn game development solutions, we incorporate state-of-the-art technology like motion sensors, wearables, or augmented reality to track players' movement and convert them into in-game awards and prizes.

Sports Betting Game Development

If you're a sports enthusiast, a gaming entrepreneur, or a brand looking to engage your audience, then our Sports Betting Game Development services will take your virtual betting experience to the next level.
Blockchain Casino Game Development

We offer end-to-end blockchain casino game development services for the online gambling industry. Hire blockchain developers from our team to build your transparent, secure, and immersive gambling platform that will fascinate players and reinvent the way they play and win.
Unity 3D Game Development

With our Unity 3D Game Development services, opportunities are limitless. We'll turn your game idea into a reality, immersing gamers in fascinating virtual worlds filled with everything from mind-bending puzzles to action-packed adventures.
AR/VR Game Development
Our professional developers will leverage the power of AR/VR frameworks and engines to ensure seamless performance, smooth transitions, and stunning visual effects.
Features of Blockchain Game Development
1. Decentralized Network
Blockchain games are based on decentralized networks, meaning that no single entity controls the game, and all game data is stored on a distributed ledger. This makes the game more secure and transparent, as it prevents malicious actors from tampering with the game data.
2. Smart Contracts
Smart contracts are pieces of code that are stored on a blockchain and executed when certain conditions are met. These contracts can be used to create and manage digital assets, process payments, and manage game data.
3. Tokenization
Blockchain games often use their own crypto tokens, which can be used for in-game purchases, rewards, and other functions. These tokens can also be used to monetize the game, allowing players to trade and exchange them outside of the game.
4. Immutability
Blockchain games are immutable and cannot be changed once they are deployed on the blockchain. This makes them highly secure and resistant to tampering and cheating.
5. Open Source
Blockchain games are usually open source, meaning anyone can view and edit the underlying code. This allows developers to create custom games and add features that they deem necessary.
6. In-game rewards
In-game rewards are the prominent feature set that should be enclosed in your game. We can design this user-oriented feature in an engaging way that entices them to play further. Make it more visualistic, fun-filled, entertaining, and appealing for end users.
7. Tokenized assets
We make tokenization of gaming assets through ERC721 and ERC1155 standards. We can build any type of gaming asset, define the token economics, and create an NFT minting engine to power up your game.
8. Game Currency
We can create your in-game cryptocurrency in the blockchain game. Players can earn this cryptocurrency as the rewards system and get involved proactively. The blockchain engineers will make your game immutable and make it trustable across DLT.
9. Decentralized Storage
Blockchain games often use decentralized storage solutions, such as IPFS, to store game data. This makes the game data more secure, as it cannot be tampered with or deleted. All the blockchain-based game data will be hosted on the IPFS data storage systems.
Types of Blockchain Game Development
1. Adventure games
Adventure games are the kind of games that traditional games are powered. Players get advanced to new levels, stages get unlocked, and high-score achievement is the significant feature involved.
2. MMORPG style
A form of video game known as an MMORPG, or massively multiplayer online role-playing game, mixes features of role-playing games (RPGs) with the gameplay of multiplayer online gaming worlds.
3. TCG type
Trading Card Game is an interesting game genre that involves players trading their virtual cards online. It can be in the form of NFT/Crypto collectibles such as art, music, image, etc.
4. RPG games
In a role-playing game (RPG), the player takes control of a fictitious character (or characters) who sets off on an adventure in a fantastical setting.
5. Tower Defense games
A tower defense game, or TD game, is a type of strategy game in which a lone player defends a place or certain items from the opponents by erecting barriers to their progress.
6. RTS games
Unlike most strategy games, which have a turn-based approach, real-time strategy games allow players to advance simultaneously throughout the game. The genre has been popular among war gamers due to its simple-to-understand concepts, such as resource and troop management, as well as its real-time approach.
Support Various Blockchain Networks for Blockchain Game Development
Ethereum
Solana
Binance Smart Chain
Tron
Tezos
Polygon
Polkadot
WAX
Hive
EOS
And more
Blockchain Game Development Cost
The entire cost for Blockchain Game Development can truly vary based on your idea. It includes a lot of microservices that need to be done for developing full-cycle blockchain games. For example, you should develop smart contracts, in-game cryptocurrency, NFT marketplace, Gaming graphics interface, NFT minting engine, Gaming assets, Blockchain network integration, and dApp setup.
When figuring out the developer expense for all those services, it is best advisable to contact a blockchain game development agency. Because they can take up the entire responsibility for making your game without glitches.
Development Process For Blockchain Game
1. Understand the Basics of Blockchain Technology
The first step in developing a blockchain game is to understand the basic concepts of blockchain technology and its applications. You should familiarize yourself with the basics of blockchain technology, such as the structure of the blockchain, consensus mechanisms, and smart contracts.
2. Choose the Appropriate Platform
Once you understand blockchain technology, you need to choose the appropriate blockchain platform for your game. You can choose from blockchains such as Ethereum, EOS, Tron, NEO, Polygon, Solana or any other similar platforms.
3. Design Your Game
Once you have chosen a platform, you need to design your game. This should include game mechanics, user experience, graphics, sound, Character designing, and in-game assets creation.
4. Develop Your Blockchain Game
After you have designed your game, you need to develop it. This includes writing the code, integrating it with the blockchain platform, and deploying the game on the platform.
5. Test and Launch Your Game
Once your game is developed, you need to test it to make sure it is working properly. Once you are satisfied with the results, you can launch your game for the public.
6. Market and Promote Your Game
The last step is to market and promote your game. This includes creating a website, social media campaigns, and other marketing tactics.
Why Hivelance is The Best Blockchain Game Development Company?
Hivelance, a leading blockchain game development company employs the most talented blockchain game developers in the industry. Our creativity and technological expertise are the ideal combination for developing extremely intriguing blockchain games.
95% Success Ratio
High-quality 2D and 3D game graphics
Successful Monetization
Technology & Performance-oriented Games
High-end Programming
Agile Approach
Fascinating AR and VR experiences
Experienced Blockchain Game Developers
Flexible Engagement Options
Cost-Effective Solutions
And more
Do you have a blockchain game idea that you'd like to see grow in the gaming industry? When you partner with Hivelance, we will build an addictive blockchain-powered gaming platform and help you in generating the best ROI.
PEOPLE ALSO ASK
---
Can a game be built on blockchain?
Yes, it is possible to make a game on blockchain. Blockchain technology is becoming increasingly popular in the gaming industry due to its immutable nature, which makes it difficult to cheat or manipulate the game results. Developers are creating a variety of blockchain-based games that use a distributed ledger system to store and verify game data, ensuring that all players have access to the same information. Popular examples of blockchain-based games include CryptoKitties, Gods Unchained, and Crypto Space Commander.
Which blockchain is best for game development?
As far as now, Ethereum is the most preferred blockchain for game development. It has a friendly ecosystem of developers with a wide range of tooling and technologies.
How are games made on blockchain?
Games on blockchain are typically created using distributed ledger technology, smart contracts and tokenized digital assets. Developers use these technologies to create innovative and secure ways to store, transfer and trade in-game assets and currencies, which can enable new and unique gameplay experiences. Games on blockchain are typically created using distributed ledger technology, smart contracts and tokenized digital assets. Developers use these technologies to create innovative and secure ways to store, transfer and trade in-game assets and currencies, which can enable new and unique gameplay experiences.
Do blockchain games make money?
Yes, blockchain games can make money. Players can earn cryptocurrency rewards through in-game activities such as mining, staking, and trading. Players can also earn money by selling virtual assets on the game's marketplace. Additionally, some games allow developers to place advertisements in-game, and developers can monetize their games by collecting a percentage of in-game purchases.
How do you monetize a Blockchain game?
Blockahin game developers can place advertisements in-game, or collecting a percentage of in-game purchases to monetize their games.