DeFi
SafeMoon Clone Script To Create A Crowdfunding Protocol and Community-Driven Decentralized Token
Create a DeFi token that is similar to Safemoon quickly with the Safemoon Clone Script.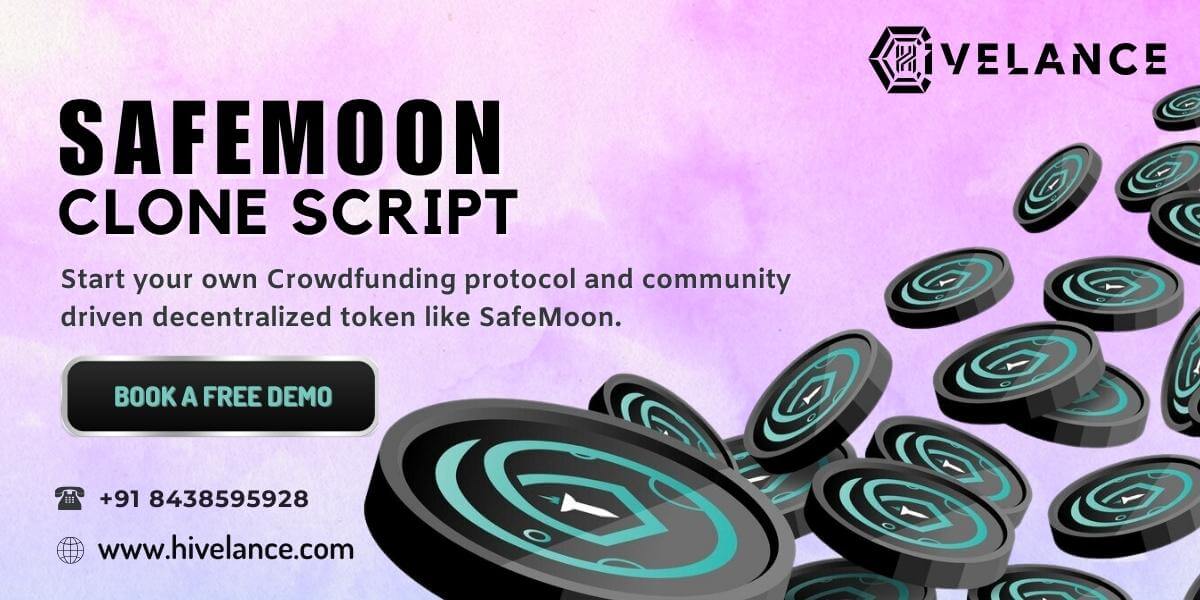 SafeMoon Clone Script
SafeMoon Clone Script is an already prepared solution to establish your own Crowdfunding protocol and community driven decentralized token like SafeMoon.Our script delivers the main features of SafeMoon which was created specifically for the purpose.
As a SafeMoon clone becomes more well known in the market, it may also draw a committed group of users and investors who share their objectives. This can strengthen the network impact and encourage further development and adoption.
Hivelance offers SafeMoon Clone Script that helps you build a business platform on a decentralized network like SafeMoon.It is completely an advanced decentralized exchange script.
Benefits of creating a SafeMoon Clone Script
A SafeMoon clone script is appealing to developers and businesspeople for a variety of reasons.
Developers can access this market and perhaps draw in a devoted user base by making use of the SafeMoon idea.
To achieve the goals of the entrepreneurs , developers might change certain protocol elements like transaction fees or burn rates. With such freedom, it is possible to experiment and stand out in the changing bitcoin market.
The benefits of a reputable community and brand awareness comes from developing a SafeMoon Clone Script. Due to SafeMoon's popularity, it has gained a devoted fan audience, by launching a clone script, you can draw on this user base to promote quicker adoption and growth.
White-label SafeMoon Clone Software
White label SafeMoon clone software is a 100% customizable DeFi token protocol clone software solution built using state-of-the-art infrastructure and cutting-edge technology.With our premium white-label SafeMoon clone software, you can create a customizable, community-driven DeFi token protocol that is ready for launch and requires no additional development.
Premium features of SafeMoon clone script
Decentralized Design
A SafeMoon DEX clone uses the BNB chain, just like the original, and due to its decentralized operation, users have control over their funds and blockchain transactions.
AMM
A decentralized financial system called an Automated Market Maker (AMM) uses a mathematical algorithm to carry our cryptocurrency trading. AMMs depend on liquidity pools to fix the price rather than the conventional order book system and central limit order for trading.
Bitcoin Liquidity Pools
DeFi exchanges include a special feature called crypto liquidity pools that let users pool their crypto assets , which boosts the token's liquidity. With this functionality, the AMM will set the token price based on the volatility and liquidity of the tokens.
Friendly user interface
A SafeMoon DEX clone often has a straightforward interface with rich and easy UI/UX that draws users to your exchange more than the other DeFi exchanges.
Token Exchange
The SafeMoon exchange has a unique feature called the token swap. It is the simple exchange of one cryptocurrency token for another. It provides a user-friendly experience by automatically converting the price of the exchanging tokens.
Bridge Tokens
This function is a prime example of a Safemoon function. The coins from one blockchain in this scenario will work with others, including Ethereum, Polygon, etc
Various crypto support
The most well liked crypto tokens are supported by a safemoon clone software allowing users to trade them conveniently in one place. Additionally, SafeMoon clone script accommodates any language spoken worldwide by removing linguistic obstacles.
Quick Crypto Transactions
While you are carrying out transactions, there are no middlemen or other parties. Thus, a hassle free instant transaction can be made in the decentralized exchange.
Add-on features of the Safemoon clone software
Multi-lingual assistance
Connect wallet
Syrup pools
Effective admin panel
Multi chain support
Community revenue sharing
API documentation
Rebalancing of pool ratios
Advanced user dashboard
Community revenue sharing
Crypto staking and more
How does the SafeMoon clone script work ?
Static rewards are used in the SafeMoon clone script. It gives a fantastic technique to keep your investors satisfied. Probably each time, you could reward them with a passive income. They serve as the answer to prominent issues like condition based trading and volume based trading.
Furthermore , SafeMoon is a component for your fundraising protocol, carrying out manual burns. It is a new brand technique used in the cryptocurrency world to burn unsold cryptocurrency. To provide traders with a reliable price floor establishment, its automatic liquidity pool then collects cash from them.
How to create a fundraising DeFi token protocol like SafeMoon ?
Make a DeFi token similar to SafeMoon on Binance. The best option for making secure transactions and quick payments across numerous business sectors and businesses is Smart Chain. These DeFi tokens can be used for trading and other activities. It simplifies transactions and completely eliminates middleman or third-party operations. You can develop and introduce your own community-driven DeFi token, similar to SafeMoon, to improve financial services and transactions across several industries.
As a pioneer in token development, Hivelance creates SafeMoon and other DeFi tokens that may be developed on Binance Smart Chain. Our BEP20 token startup is a leader in creating DeFi tokens like SafeMoon, which resemble stablecoins more.
Why Should I Use Our SafeMoon Clone Script to Build a DEX Reality with Hivelance?
Hivelance is a top-notch DeFi exchange development company that provides Safemoon clone scripts with all the premium features required to start a decentralized exchange similar to Safemoon. In your DeFi exchange development, you can include whatever features and functionalities you want.
We also excel at developing cryptocurrency payment gateways, cryptocurrency crowdfunding platforms like ICO, STO, etc., cryptocurrency tokens, and all other services relating to cryptocurrency. Therefore, start your exchange growth with Hivelance like Safemoon and rapidly realize your business ambition!