NFT
Top 5+ Great NFT Business Ideas to Start in 2024
Here are the NFT business ideas 2024 that are going to rule the NFT space. Have a look and launch your own NFT business with us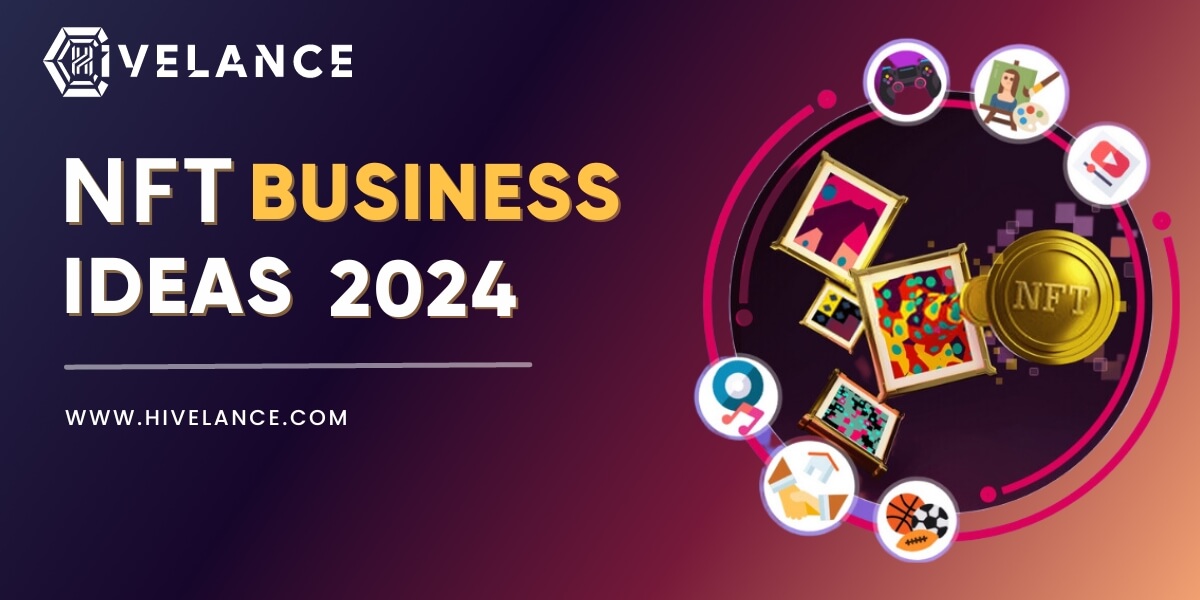 Recently, NFTs have drawn a lot of attention since they offer a safe and distinctive means to represent ownership of digital assets, transforming a number of industries. A brand-new method of demonstrating digital ownership and authenticity has been made possible by NFTs. Artists, musicians, gamers, and investors in a variety of fields find this idea intriguing. Are you keen on knowing many amazing facts about NFT sales?
Come let's know the interesting news about NFT sales 2023
The Merge is a virtual piece of art created by Pak, an unidentified artist. It went up for sale on the Nifty Gateway marketplace and brought in $91.8 million. The Merge, or NFT, was distributed to 28,983 investors after being divided into 312,686 parts. Imagine how millions are being showered upon the cryptocurrency community by these digital arts. It is really astounding to those people who are fond of NFTs…!!!!
The NFT market is still growing across several industries and provides creative services and solutions with top-notch business potential.
Below are the NFT Business ideas 2024 to attain massive success
NFT Marketplace Development:
Developing and launching your own NFT Marketplace can be the best business ideas in the recent year 2024 which is considered to produce
Enormous profits and an identity in the markets. Gamers, musicians, artists can mint and exchange NFTs.
OpenSea, Rarible, and SuperRare are just a few examples of marketplaces that have already set the groundwork and you can witness the success rates of these marketplaces in the trend now.
Can you grasp the need and benefits of it? Here we go….
The NFT marketplace allows for the following activities: buying, selling, listing, minting, auctioning, and much more. Consequently, there will always be a demand for the feature-rich NFT marketplace.From each sale made through the NFT shop, these platforms collect predetermined fees, which can be the ultimate revenue streams for your businesses.
Hivelance is the reputed NFT Marketplace development company which has a well coordinated history of building and launching the NFT marketplaces to initiate a leading business success. With the best team of developers and designers experienced in blockchain technology for 10+ years can help you in constructing the marketplaces for your NFT purchase ,sale and auctions.
NFT Real Estate Platform Development
Developing an NFT real estate platform that integrates the benefits of blockchain technology with the real estate sector is a creative and unique business idea in recent years. NFTs make real estate more accessible to a larger group of investors by enabling fractional ownership. This has the potential to draw in smaller investors who might not have the resources to buy complete properties.
By tokenizing their assets, property owners can buy, sell, and trade more easily and quickly without having to go through drawn-out real estate transactions.
You can get alternative sources of income in addition to transaction fees, like providing real estate analytics, property management, or insurance specifically for NFT real estate.
NFT Launchpad development
Why go for NFT Launchpads? Will it yield profits in an identical way?
Get out the essential details below.
Considering the increasing interest in NFTs and blockchain-based initiatives, creating an NFT launchpad can be a profitable business venture. In essence, an NFT launchpad gives new NFT projects a place to start and earn money through token sales. Charges for transaction fees to investors and project creators are how NFT launchpads usually make money. The listing of NFT projects by project developers is subject to fees, and token sales participation by investors is fee-based. These costs may represent a sizable revenue stream.
Create your NFT Lending Platform
As NFTs gain popularity and the need for financial services in the blockchain industry increases, starting an NFT lending platform could be a profitable business venture. NFT launchpads frequently provide exclusive token sales and early access to NFT initiatives.
Using a launchpad to invest in NFT initiatives can result in substantial profit possibilities. By holding and engaging with the projects they support, you can earn extra tokens through some launchpad's staking and rewards.
NFT Based Metaverse Business
Establishing a metaverse business based on NFT is a thrilling chance to lead the rapidly changing virtual world sector. By enabling artists and creators to exhibit their digital art, music, and other creative works in virtual places, NFT-based metaverses enable them to reach a worldwide audience.
Through the use of NFT-based metaverses, artists and producers can exhibit their digital artwork, music, and other creative works in virtual environments, potentially expanding their audience globally.
Get your NFT Based Metaverse business and enter the virtual realm to experience the 3D ecosystem. Being the dominant metaverse development company, Hivelance can aid you in developing metaverse projects.
NFT Gaming Platform
Blockchain, NFT and Games- The Wonders to exploit the gaming ecosystem….!!!!
NFT gaming platforms make use of NFT advantages like ownership, scarcity, and verifiable authenticity to improve gameplay and open up new avenues for gamers. NFT gaming systems provide a number of income sources, including commissions from market trading, NFT sales, and transaction fees.
As per the reports,

Alien World

was the most popular NFT game on mobile. The popularity of Alien World has increased by 6% since 2023.

With a CAGR of 17.93% from 2022 to 2028, the global play-to-earn NFT games market is expected to grow to USD 8856.95 million in 2024.
Many Gamers, investors, and collectors have all expressed great interest in the NFT market, which has grown quickly.
NFT Social Media Platform development
Creating a social media platform that combines the functionality of traditional social networking with blockchain technology and NFTs can be a ground-breaking endeavor.
On your platform, users can trade, auction, or sell their NFTs, giving you and the creators a direct stream of income through commissions and transaction fees.
Social media systems that leverage NFTs to create a sense of community allow users to collaborate, connect, and communicate with others who share their interests, building a valuable and active user base.
NFT Loan Platform ( For lending and borrowing purposes )
With the help of NFT lending platforms, holders of NFTs can access funds for a variety of uses, including paying bills, reinvesting profits back into NFTs, and making other investments. NFT lending platforms frequently employ strong custody arrangements and security protocols to protect the collateralized NFTs, guaranteeing that the assets of users are secured for the term of the loan.
Become an NFT Broker
Due to the instability of the NFT market, many people are interested in acquiring unique NFTs, yet they frequently find themselves in difficult situations. An NFT broker with experience in easily trading NFTs is therefore required. Gain extensive knowledge and analysis of the NFT market to become a profitable NFT broker.
Analyzing the NFT market to find specialized markets or NFT kinds that you wish to concentrate on is the most needed aspect. This could contain virtual property, collectibles, music, artwork, or video game materials.
NFT Community Building
NFT community is a burgeoning business concept that expands your user base globally. The NFT community is a place where users, makers, and artists who are interested in NFTs come together to exchange, interact, discuss, and improve their thoughts on NFTs.
To boost the count, these NFT communities can be formed on any of the well-known social media networks.
NFT Staking platform development
For those interested in NFT, launching a staking platform can be a compelling means of generating passive income from their digital holdings. Platforms for NFT staking help enterprises generate revenue.
Fees may be assessed for staked NFTs, award distribution, and other platform operations. Native tokens are introduced by certain NFT staking systems, and they perform a number of useful tasks including fee payments, governance, and encouraging user participation in platform activities.
NFT Businesses in 2024
Artists, musicians, and other creators were looking into NFTs as a new way to distribute and monetise their work, which was driving major growth in the NFT market. By 2024, if this pattern holds true, the NFT industry might experience more growth. With novel and creative applications, the NFT field may continue to expand.
Wrapping Up
The Above NFT business ideas can help you financially, allowing you to explore a wide range of opportunities in the rapidly growing digital economy. NFT business concepts are significant for a variety of reasons, including economic empowerment for creators, artists, and entrepreneurs as well as technology innovation.
Hivelance is the first-rate blockchain development company that has a strong commitment to expanding the possibilities for decentralized creativity. Our goal is to enable innovators, artists, and business owners to realize their visions by utilizing blockchain technology and NFTs. From conception to completion, we specialize in NFT project development. Our clients and we collaborate closely to transform their original concepts into NFT-powered solutions that appeal to audiences all around the world. We offer the expertise to make your NFT idea a reality, whether you're an artist trying to tokenize your work.