Cryptocurrency
SimpleFX Clone Script To Create A Stunning Crypto Trading Platform Like SimpleFX
SimpleFX clone script is a ready-made crypto exchange trading script that allows you to create your own exchange with extensive features and functionalities comparable to SimpleFX.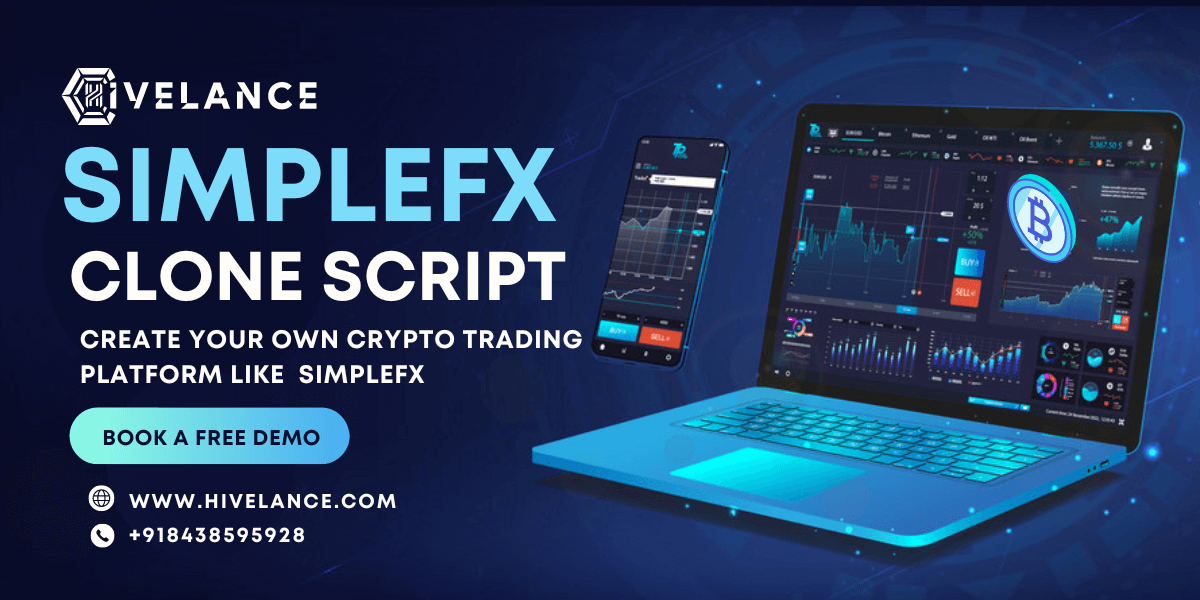 SimpleFX Clone Script
Start your own unique and market trending Crypto exchange like SimpleFX by fetching our readily-available SimpleFx clone script. Our design modules permit the successful exchange of 60+ crypto pairs with faster execution, phenomenal trading factors, snowballing incomes and so on. Reach our expert panel right now to make the grade in your business conquests..!!!!
Why Opt for SimpleFX Crypto Exchange?
SimpleFX Crypto Exchange can serve as the Ultimate trading experience for traders.
Among all trading platforms, SimpleFX is the fastest and the most intuitive trading tool for enhancing your business.
The availability of automatic trading solutions conjoined with a safe API manager makes the ecosystem more identical.
By using this trading platform, transactions happen cautiously and there is no need for minimum deposits.
Features of our SimpleFX Clone Script
Making your preference as the top priority, the experts on our side accomplish them thrivingly. Some of the splendid features of our SimpleFX clone script are:
User's Account:
It has Lucrative affiliate programs
Staking of Cryptos is possible
The account supports multiple currencies
There is no need for any minimum deposits
Affiliates:
It is described as the transparent third-party affiliate system
Snowballing incomes are guaranteed ( Users can receive up to 50% of the revenue share generated by the SimpleFX client referred by you, plus 5% of the revenue produced by the traders recommended by your referrals.)
Monthly earning possibility is higher
The system is simple cookie-based
Security System
Two-factor authentication for ensuring high security
Protection of negative balances
Clients have segregated accounts to safeguard their funds
Transaction of funds are faster and safer
Trading Process
API manager
Execution speed is faster
It is the Metatrader4 platform (A flexible trading system, Inherits technical analysis options and trading signals)
Alignment of Special Community
Providence of trading ideas to flourish the business
Signal trading between all metatrader 4 brokers are possible
In order to test the platform, there is no need for any registration.
Exclusive Attributes in Our SimpleFX Clone Script
Bitcoin Lightning Network:
Our SimpleFX clone script is developed with a purpose-built Bitcoin Lightning network payment system. This system allows sending and receiving bitcoins to prospective SimpleFX accounts with no fees and without any hassles or delays. Uses of these networks are:
Easier transfer of bitcoins
Privacy is maintained constantly
Zero payment for withdrawals
Acts as the second layer protocol supporting micropayments
Security is higher as it demands QR scan codes, invoices, addresses, and so on.
Transactions done are cheaper and are easier to verify.
ETH2 STAKING:
Our SimpleFX clone script supports ETH2.0 staking and includes special architecture to regulate the transactions and the validators. Some of the ETH plans we hooked up in our script are detailed below:
Stable Interest earnings from the ETH Deposit
Profits from the rising Ethereum price
Ability to use staked funds for trading
No minimum deposits are required.
METATRADER 4:
Metatrader4 is the top notch trading software implemented in our clone script and is faster, stable, and reliable. Our team of developers develops the script with numerous in-built analytical tools with automatic trading options. It has different order types like market, pending limits, and stops and trailing stops with price alert notification features.
How does Our SimpleFX Clone Script Work?
Users need to register by entering all the details required mainly with a mail id.
Receiving a verification mail, it is confirmed and sign-up is done and the account is ready to use.
Two-factor authentication and KYC verification are performed for ensuring that security measures
Users can initiate the crypto deposits and start trading…!!!!
SimpleFX Clone App
SimpleFX clone app is the crypto exchange app is the ultimate replica of the SimpleFX platform to trade cryptos developed with enhancing trading features. These apps act as the perfect ecosystem for exchanging the cryptos within mobile phones to have access from anywhere. Our team of app developers are masters in designing and developing apps to progress your business toward peak success. The SimpleFX Clone apps support both Android and iOS to make the profits double in the crypto markets.
Why Choose Hivelance for SimpleFX Clone Script Development?
Hivelance is the Global level top prioritized Cryptocurrency exchange development company, with a team of well proficient developers with 10+ years of experience in the field. Our SimpleFX clone script will be the solution to support all types of trading processes with highly encrypted wallet amenities. Avant-garde security pinpoints, token modules, and faster lightning transaction capacity are the highlighted features implemented to reshape your business. In each and every phase, the guidelines would be the right path-finder in achieving the targeted goals.
Widgets for attracting audiences
Hassle-free exchange supporting platform
Team to clear all your doubts immediately
Best coordinators to support post-delivery of the platform
Intuitive solutions to find bugs and make faster processing.
Want To Launch Your Own Crypto Exchange Like SimpleFX?
Start Here By Requesting A Personalized SimpleFX Clone Script Demo