NFT
Foundation Clone Script | Start NFT marketplace like Foundation.app
Foundation clone script is the web application source code that mirrors all the programming interface of foundation.app, an NFT marketplace. The script has all the required third party APIs, user interface, backend database configuration, payment gateway, NFT auction bidding engine and CMS admin panel to manage website content.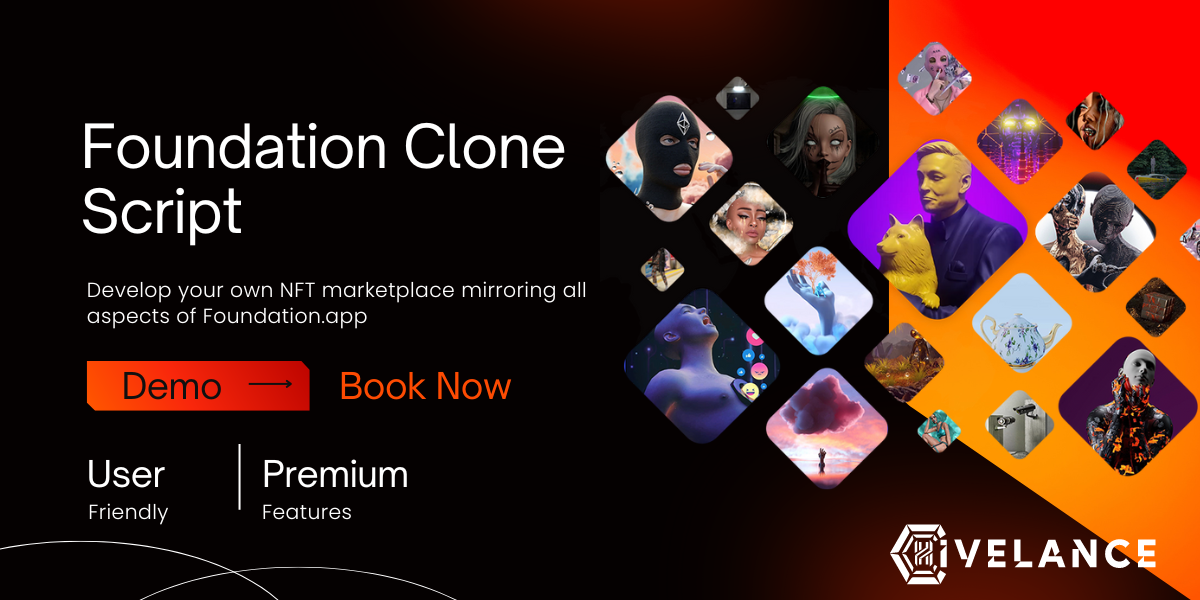 About Foundation clone script
Foundation clone script is the web application source code that mirrors all the programming interface of foundation.app, an NFT marketplace. The script has all the required third party APIs, user interface, backend database configuration, payment gateway, NFT auction bidding engine and CMS admin panel to manage website content.
This clone script exists as the alternative solution for developing the NFT marketplace like Foundation.app without building from scratch. The script is available as plug-and play model that you can integrate instantly inside the blockchain network.
Book a demo for Foundation clone script.
Why create NFT marketplace like Foundation.app?
Foundation.app has totally 1.1million active visitors in the last December 2022. This NFT marketplace has significantly gained 1/4 of its audience from united states. nearly 25% of visits came from US, 6.18% from Thailand, 4.51% from United kingdom and 4.20% from India respectively.
Due to this enormous support from around the globe, the NFT marketplace has hit the considerable NFT sales in good numbers. The commission fees are otherwise called as gas fees generated through each NFT transaction is increasing day by day. The revenue scope for Foundation.app has been remarkably higher.
This surprising fact leads the many NFT entrepreneurs to think about starting their own NFT marketplace. But half of them do not going through the success rate. Some of them face difficulties in development execution and some of them lack marketing efforts together. If you have both fall in place, you can give birth to new generation NFT marketplace like Foundation.app
Related - How to create NFT marketplace like Opensea?
Prime Features of Foundation clone script
1. NFT Auction Interface
NFT auction interface is the buy/sell dashboard for NFT users who can easily get the NFT without much hassle. Our foundation clone script has in-built NFT auction UI that powers essential attributes like filtering option, search, wish listing, share option. It gives intuitive reference about the NFT through metadata like wallet address, blockchain compatibility, gas fees all in one place.
2. NFT drops dashboard
NFT drops is the giveaway or contest that let users to get NFT by performing specific action mentioned. Newly entered NFT creators can use this feature to promote their NFT collection among the peer audience.
3. NFT browse
Users can browse the NFT in terms of categories by selecting them accordingly. You can choose games, arts, music, or any niche to buy the NFT you wish. Through this feature, NFT marketplace become home to all the NFT niche.
4. Social Feed Engine
Like traditional social media platforms, NFT marketplace can have its own social feed for users. This section gives users extra knowledge about the buying or selling decisions. Recently sold out NFT, newly launched creators collection, highly wanted NFT is displayed through series of algorithmic rules.
5. Third party wallet compatibility
Our foundation clone script can support all the third party wallets like Trust wallet, Meta mask, Walletconnect etc. You can integrate any decentralized wallet for letting your users to access the NFT marketplace in buying and selling. Moreover, you can build your own wallet that supports only your NFT marketplace to avoid monopolization of wallets.
6. Minting engine
The market's supply of NFT is produced by the NFT minting engine. The NFT marketplace has two different types of minting processes. One is post-sale minting, in which NFT is produced after the sale has been completed. The NFT must first be minted before it can be sold, which is the alternative one.
Develop NFT Marketplace using Foundation clone Script
As mentioned earlier, developing the NFT marketplace is not the easy job for all the founders. They have to pass through complex stages like documenting the business wireframe, hiring the team, customizing the features, development & testing etc.
With the help of foundation clone script, you can directly get into the production stage. No need for hiring expensive developer team to handle the code writing. Everything is tested and validated in the foundation clone script which makes the job super easier.
What we offer in Foundation Clone Script?
Foundation clone script contains web application source code, installation guide, database, Frontend Website and preset NFT marketplace template.
| | |
| --- | --- |
| User-side Features | Admin side Features |
| Third-party wallet Connected | Fees Set up option |
| NFT List | Selling Type preference |
| NFT Categories | NFT Transfer Option |
| NFT Collections | Email Gateway Setting |
| My NFT Wallets | Smart Contract Deployment |
| Earnings statistics | Content Manager dashboard |
| Deposit History | Analytics Dashboard |
| Withdrawal History | Adding extra Admin Users |
| My Profile | Users management |
| Upload NFT | Coin List supported |
| Auction/Bid | Category List management |
| Browse NFT with filters | General Settings |
| Multi-language selector | Payment Method |
| Wishlisting | Withdrawal Limit setup |
Foundation clone script price comparison
You can acquire affordable solutions for sure if you compare our Foundation clone script price to those of our rivals. Even after the NFT marketplace has started, we continue to provide our clients with maintenance assistance. The Whitelabel NFT marketplace solution is available hence you can customize the platform depending on your user's feedback.
Also Read - NFT Marketplace Development Cost
Productive Revenue Factors of Our Foundation Clone
The lucrative revenue-generating features of our Foundation clone script to earn a profit on the NFT marketplace are shown below
Fees For Transactions
Admin can earn considerable revenue by receiving a percentage of each NFT transaction that occurs on the marketplace.
Listing Fees
Our Foundation clone's revenue factor enables the Admin to receive a commission for adding NFTs to the marketplace. With this revenue aspect, the administrator can easily make money.
Minting Fees
For converting their assets into NFTs on the blockchain network, the admin may charge NFT developers.
Initial Setup Fee
In order to list their digital collectibles on the NFT marketplace, creators who want to set up accounts may be required to pay some initial setup fees.
Private Sale Option
This revenue-generating feature of our Foundation clone enables vendors on the NFT marketplace to deal directly with customers rather than holding a public auction. With this income factor, the administration can quickly generate a high profit.
Why choose us for Foundation clone development?
Hivelance is recognized as one of the most reliable NFT marketplace development companies in the market. We deliver exceptional services to our clients by offering a wide range of benefits such as,
Multi-chain NFT marketplace development.

Expertise in smart contract developers.

Reasonable price in the market.

Fully customization options.

Blockchain experts.