Cryptocurrency
White Label Cryptocurrency Exchange Software Development Company
White label crypto exchange software is the ready-to-use crypto exchange software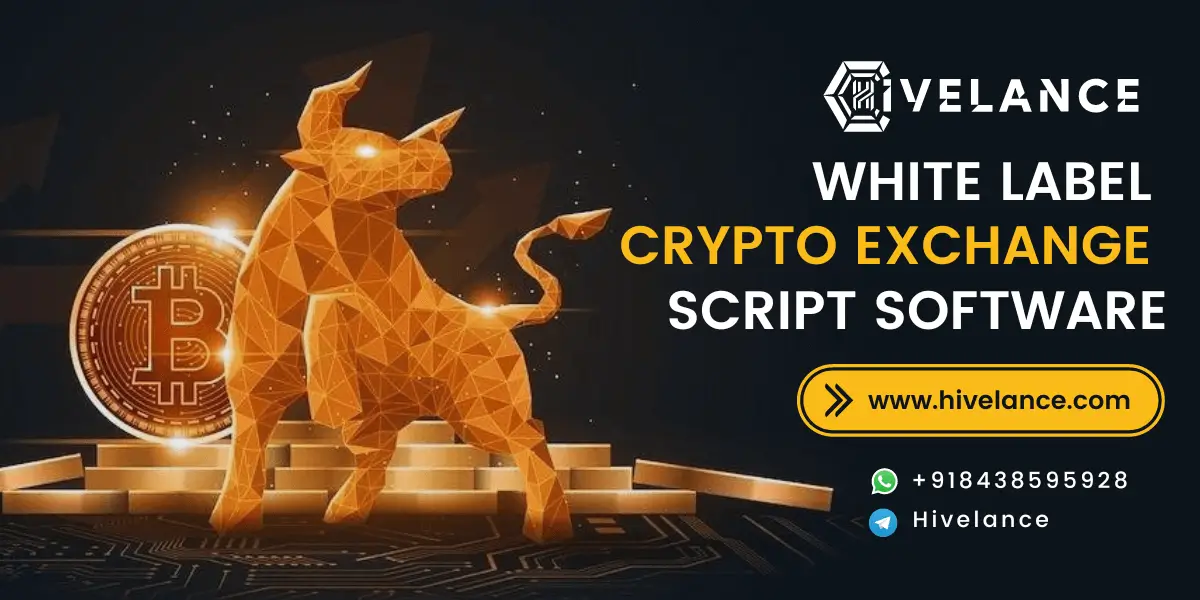 White Label Cryptocurrency Exchange Software
White label cryptocurrency exchange software is a 100% customizable crypto exchange software that can be customized with a logo, themes, UI, and even functionality. It can replicate whatever operation the crypto exchanges can do. The white label exchanges don't get watermarks credit from the buyer.
White Label Crypto Exchange Software: Everything You Need to Know
Build with a larger goal to empower crypto exchange businesses with affordable technology solutions, We at Hivelance provide all the features within your Whitelabel cryptocurrency exchange software to run a successful crypto exchange platform. We are an experienced cryptocurrency exchange development company. Our dedicated team of experts are skilled and has rich experience delivering hundreds of crypto exchange solutions over the past years, and knows the best to help you accelerate your crypto business.
We design and develop a Whitelabel crypto exchange software development solution. Our Whitelabel software is easy and safe to use and already used by many crypto exchange businesses similar to Binance. Moreover, we offer a readymade cryptocurrency exchange script that you can use to launch your crypto exchange instantly with advanced features. In addition, we share expertise in providing crypto exchange app development services and solutions based on client's requirements.
Staggering Benefits of White label Crypto Exchange Software
Some benefits of using white-label cryptocurrency exchange software include:
Faster time to market: With a white-label solution, you can launch your exchange much faster than if you were to build it from scratch. This can be especially useful if you want to enter the market quickly to capitalize on the growing demand for cryptocurrency.
Reduced development costs: Building a cryptocurrency exchange from scratch can be expensive and time-consuming. By using a white-label solution, you can save money on development costs and focus your resources on other aspects of your business.
Customization options: Our white-label exchange software offers various customization options, such as the ability to add your own branding, choose your own trading pairs, and set your own fees. This allows you to tailor the cryptocurrency exchange to your specific business needs and goals.
Support and maintenance: Our white-label crypto exchange software development solutions come with ongoing support and maintenance which can be helpful if you encounter any issues or have any questions about the platform.
Key Features Of Whitelabel Cryptocurrency Exchange Software
High Transaction Per Second
Integrated Multi-sign Crypto Wallet
Liquidity Integration
High-End Security
Powerful Trade Engine
Multi Coins Support
Customizable UI/UX
Token Adding Tool
Staking Module
Automated KYC/AML
And more
Admin Features of our Whitelabel Cryptocurrency Exchange Software
Powerful Admin Panel
Dispute Management
Manage Liquidity API
Affiliate Programs
Multilingual support
Transaction History
Launchpad Management
Trade Pairs Management
And More
User Features of our Whitelabel Cryptocurrency Exchange Software
Atomic Swap
Refferal & Reward Programms
Live Data Tracker
Hot Wallet
Advanced Trade Chart Tools
Staking
P2P Exchange Option
OTC trading
Order Books
Dispute System
And more
Security Features of our Whitelabel Cryptocurrency Exchange Software
Data Encryption
HTTP Authentication
Jail Login
Anti-Denial of Services
Anti-Distributed Denial of Services
Registry Lock
Two-factor Authentication
SQL Injection Prevention
SSRF Protection
Web Protocol Security
Revenue Generation Factors of White label Crypto exchange software:
One of the top benefits of using White label crypto exchange software is that entrepreneurs can gain all the advantages they typically receive from common exchange. The transaction charge varies per platform, and P2P exchanges do not collect trade fees because there are no middlemen involved. In this White label crypto exchange software there are multiple ways to gain revenues, the following methods helps the startups to generate revenue
Transaction fees
Cryptocurrency Withdrawal fees
Listing fee
Crypto Staking
Fiat Deposit Fee
Margin Trading feature
Integrating IEO Launchpad and raising funds
Advertising
Does White label Crypto Exchanges are free?
Not all white-label exchanges are free. Some of them are offering open-source solutions with shared revenue options and some offer one-time license fees. You can use open source white label exchange if you are familiar with all the technical know-how for crypto exchange operations. But when taking short surveys from developers around the world, most of them say open source is vulnerable to attacks and not having reliable customer support.
Customizing A White Label Cryptocurrency Exchange Software - The Smarted and Wisher Choice
White label cryptocurrency exchange software can be incredibly beneficial for growth within the crypto business for both start-ups and established businesses alike. As cryptocurrency exchange development, White label cryptocurrency exchange software can be easily rebranded, customized, and launched by each company as per their own specifications and suit their target crypto market and users.
Most of the companies in the market cannot afford to develop a crypto exchange from scratch. Therefore, customizing a white label cryptocurrency exchange software is usually the best choice for them because they can use advanced technologies that already exist within their crypto space.
The white label cryptocurrency exchange software development company is responsible for all technical issues, support, and maintenance of the solution which is made according to the business needs put forth by the brand. Some reasons why startups and well-established companies implement white label crypto exchange solutions are:
The crypto exchange has full control
The enormous advantage a business has when it utilizes a white label crypto exchange solution is that it gets a ready-made cryptocurrency exchange script built with previously existing software. White label crypto exchange script allows the business to create its own unique market. It basically gives the crypto exchange full control over all the business aspects of the product without having to compromise on quality.
Analytics and data
Powerful crypto exchange data analytics can help you take stock of how your business is working and make informed decisions.
Cost-effective
Building a crypto exchange from scratch can take a long time and a lot of money only to choose that the crypto exchange doesn't perform as you expect it to. You'd also have to invest a considerable amount of developers to get it off the ground. A white-labeled cryptocurrency exchange software is ready to be deployed from the get-go, allowing you to save on precious resources.
Ready to market
White label cryptocurrency exchange software helps you be ready to launch right from the start. This makes it the best option for businesses trying to provide their services as soon as possible in a competitive crypto market.
Smooth user experience
White label cryptocurrency exchange software are complete packages that have been multi-tested to assure no bugs are hindering the user experience. Assuring a great user experience often converts to great reviews and customer satisfaction.
All-round solution
It can be quite complex to build a crypto exchange that connects the user, admin, and service provider. This is a usual problem faced by many businesses such as crypto exchange services, but white label cryptocurrency exchange software can take care of that in an instant.
Whitelabel Cryptocurrency Exchange Clone Software
Whitelabel Crypto exchange clone script/software is available at Hivelance, which is the next-generation cryptocurrency exchange clone software. You can add features of various varieties. Check out below the market-leading Whitelabel cryptocurrency exchange clone software
Whitelabel Binance Clone Software
Whitelabel Localbitcoins Clone Software
Whitelabel Wazirx Clone Software
Whitelabel Remitano Clone Software
Whitelabel Paxful Clone Software
Whitelabel DDEX Clone Software
Whitelabel Kraken Clone Software
Whitelabel Coinbase Clone Software
Whitelabel Kucoin Clone Software
Whitelabel OKEx Clone Software
Whitelabel Huobi Clone Software
Whitelabel Bithumb Clone Software
Whitelabel IDEX Clone Software
And more
Why Choose Hivelance For Whitelabel Cryptocurrency Exchange Development?
100% Customizable
Our Whitelabel crypto exchange clone script can be customized for a variety of crypto exchange websites. Whatever your unique business idea is, We can be tailored it to suit that.
Security
Our white label crypto exchange script is not only robust & scalable but extremely secure as well. SSL-powered APIs, reverse proxy setup, etc assure that security extends all the way from the cryptocurrency exchange to each individual API.
Access to Technical Support
We offer complete technical support and you can easily go through our levels of support. We provide you with services and solutions so that you face no problem using our Whitelabel crypto exchange software. Besides, you will have access to regular updates. This will keep you aware of all the latest trends and technologies in the crypto industry.
Fewer efforts
When you use Our Whitelabel solution, you do not have to make any effort to plan, research, and design the crypto exchange. You get the readymade crypto exchange.
Neither do you need programming knowledge nor do you have to keep a tab on cutting-edge technologies. We are here to support you in all feasible ways.
Launch A Profitable Crypto Exchange Venture with White Label Crypto Exchange Software
PEOPLE ALSO ASK
---
What is White label crypto exchange?
White label Exchange is the ready to use crypto exchange platform that can be customized with logo, themes, UI, and even functionality. It can replicate whatever operation the crypto exchanges can do. The white label exchanges don't get watermarks credit from the buyer.
What are the 3 main types of crypto exchanges?
There are three types of crypto exchanges called centralized exchanges, decentralized exchanges and hybrid exchanges.
How much does it cost to build a crypto exchange?
The cost to build crypto exchange can may depend on the type of crypto exchange you are going to build, how many features, likelihood of technical infrstructure and so on. To get a detailed breakdown, get a quote from experts.
Can you start your own crypto exchange with whitelabel solution?
Yes. You can easily start fully functional cryptocurrency exchange with our whitelabel solution. There is no need to develop any software codes additionally. In the event of adding futuristic features, you can customize the functionality basead on preference.