DeFi
SushiSwap Clone Script To Launch Your Own Community-Driven Decentralized Exchange
Hivelance's sushiswap clone script is a ready-to-market and multi-tested software solution that helps businesses to start their own DeFi exchange platform at an affordable price.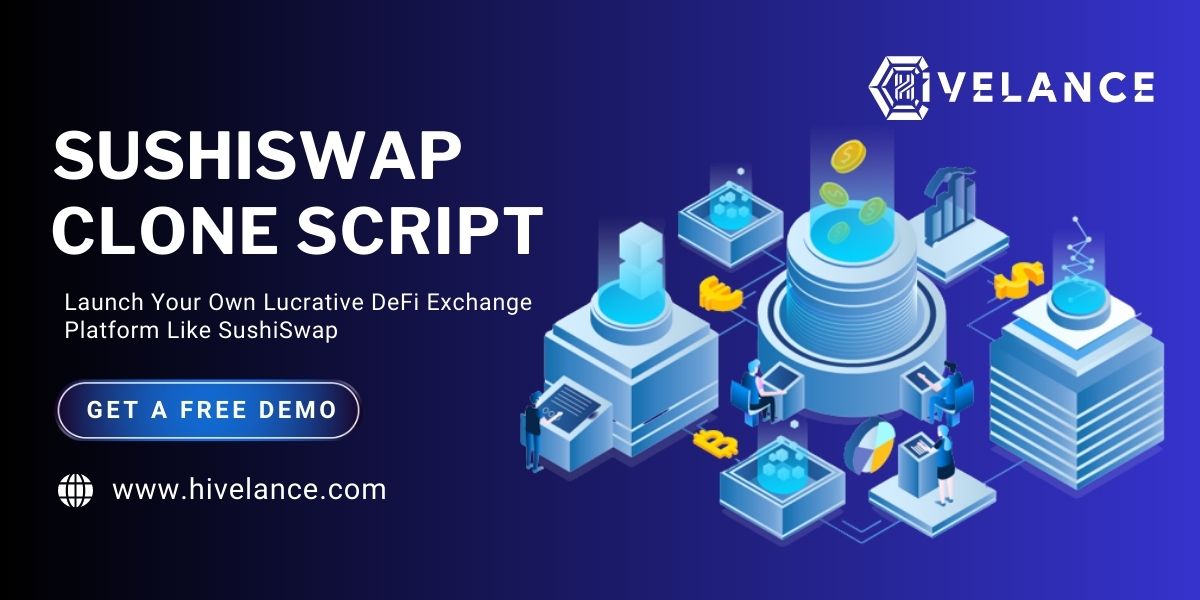 SushiSwap clone script
SushiSwap Clone script is a pre-made DeFi Exchange Clone Software which is an evolution of Uniswap and also replicates the features and functionalities of SushiSwap. By allowing users to swap tokens, SushiSwap clones will address the liquidity issues that arise in decentralized exchanges. It incorporates crucial elements like smart contracts, liquidity pools, token trading, yield farming, and other capabilities included in the original SushiSwap platform. While still providing a similar user experience and functionality to SushiSwap, Our SushiSwap Clone Script enables individuals and businesses to preserve the time and expense of starting from scratch and constructing a DeFi exchange from the ground up.
How Is the SushiSwap Network Protected?
By giving its consumers more governance control, SushiSwap aims to reduce the conventional risks associated with making a deposit into a smart contract.
Beyond purely technical concerns, the developers' secrecy raises concerns. For instance, after taking 38,000 ethereum out of SushiSwap in September 2020, Chef Nomi got into a fight with users. Once the money had been returned, Chef Nomi publicly apologized for making the decision and admitted that it had been a mistake.
Whitelabel SushiSwap Clone Software
Whitelabel SushiSwap clone Software is a 100% customizable solution that enables you to launch a decentralized exchange that looks and functions like SushiSwap but with the capability to customize its branding, features, and design based on your business requirements.
Our Whitelabel SushiSwap Clone Software allows businesses or individuals to launch their own DeFi exchange with unique brand and proven functionality to sustain the market.
Prime features of SushiSwap Clone Script
Yield Farming
The SushiSwap clone software integrates yield farming, a common feature in decentralized finance (DeFi). Users can lend liquidity to different token pair transactions and earn incentives in the form of extra tokens. Users are encouraged to provide liquidity through yield farming, which increases the platform's overall liquidity.
Staking
This feature has staking functionality, allowing users to stake their tokens and earn incentives. It allows users to engage in the governance and decision making process of the platform. Users can actively participate in the ecosystem while earning tokens as rewards by staking their tokens.
Token Swapping
The SushiSwap clone script allows for fast token swapping. Using the AMM capability, users can effortlessly exchange one cryptocurrency for another. This functionality eliminates the need for intermediaries and lowers trading fees, making token swapping more efficient and affordable.
On-chain governance
This clone script contains an on-chain governance framework that enables token holders to take part in decision-making processes. Users can use the platform to suggest and vote on protocol updates, fee modifications, and other critical issues. On-chain governance provides a decentralized and community-driven approach to platform management.
Automated market making (AMM)
The SushiSwap clone script incorporates AMM's fundamental feature, which allows users to trade cryptocurrencies directly from their wallets without having to search for a centralized exchange. AMM guarantees liquidity by leveraging liquidity pools where users can deposit their tokens and earn fees from trading activity. This cryptocurrency trading platform, with its unique features, can assist you in attaining your business objectives.
Merging of Non-Fungible Token (NFT)
Our SushiSwap clone incorporates NFT capability to appeal to the growing popularity of NFTs. Within the site, users can make, purchase, sell, and trade NFTs, providing new opportunities for artists, collectors, and fans. This feature broadens the platform's scope and offers users a variety of opportunities.
Benefits of SushSwap clone script
Completely decentralized.
Automated Market Decision Process.
Pooling ratios need to be rebalanced.
Profit-oriented business strategies.
offers Individualization at 100% for liquidity.
Community Revenue Sharing Idea.
Smart Contract-equipped customized DEX platform.
SushiSwap Clone App Development
Sushiswap Clone App offers a flexible internet application that works well on smartphones or other portable devices. We give you entire freedom to adjust our Sushiswap Exchange Clone app creation services to meet your company's needs.
Hivelance is a pioneer in the Defi Development sectors for providing Defi solutions. It provides a smart selection of software items that are compatible with widely used swapping and DeFi Exchanges.
How does SushiSwap Clone Software operate ?
The cutting-edge Sushiswap Clone Software works in the same way as the original Sushiswap platform. This script features an interesting and user-friendly operation approach that keeps the user engaged in your platform.
Let us now examine the Sushiswap Clone Software's operation
To participate in the token swap on the platform, the user must first join using a supported crypto wallet such as metamask wallet, trust wallet, or any other accepting crypto wallet. It would aid the user in doing swaps and providing liquidity.
After linking the non-custodial crypto wallet, the user can select the tokens and decide whether to trade or supply liquidity for profit.
The user can execute seamless and smooth swapping in the Sushiswap Clone Platform by selecting the swap option.
Because the script has an AMM module, you can easily increase liquidity.
Users that have contributed to the protocol will get liquidity provider tokens, which may later be converted into a further advantage for the users.
Why Hivelance as Your SushiSwap Clone Script Provider?
Hivelance is a renowned DeFi Exchange Development Company, provides services on a global scale in the DeFi environment.We create feature-rich, dependable, and adaptable clone scripts with the help of a team of blockchain specialists.We help you create your DeFi protocol like SushiSwap in a more dependable and secure way.