Decentralized Exchange Script To Develop a DEX Platform With Cutting-Edge Technologies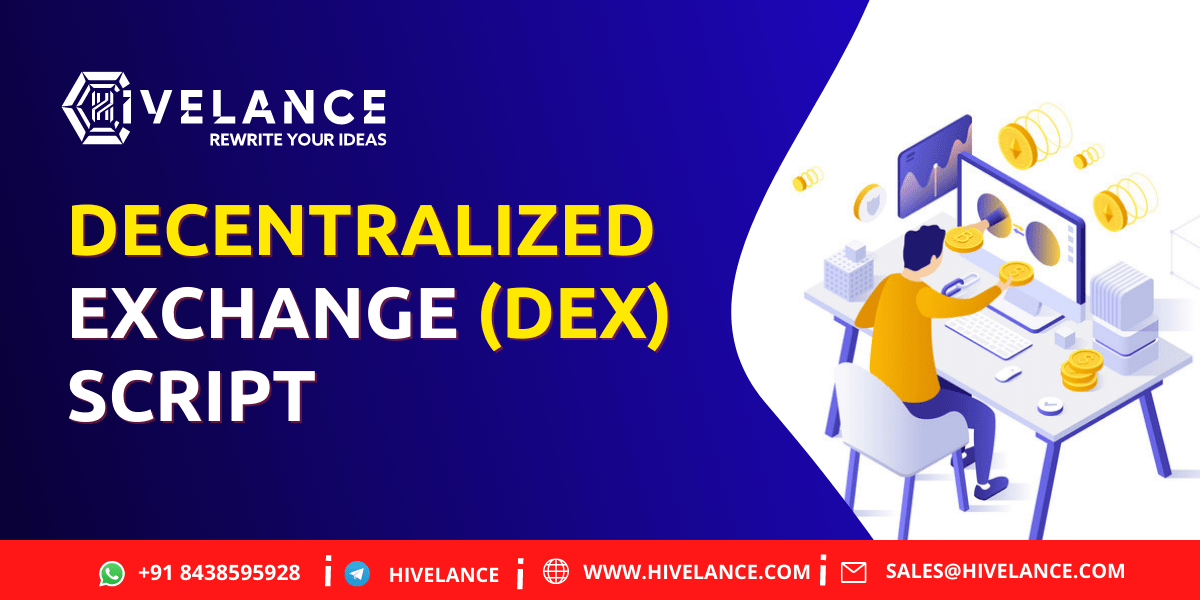 What is Decentralized Exchange Script?
A decentralized exchange script is the pre-built programming source code or software that is intended to do the operations of decentralized exchange when deployed. The script should be composed with essential elements like hardware wallet access, multi-crypto support, atomic swap engine, liquidity pool, and audited smart contract code.
Schedule a demo for DEX Script
In-built Features in Hivelance DEX Script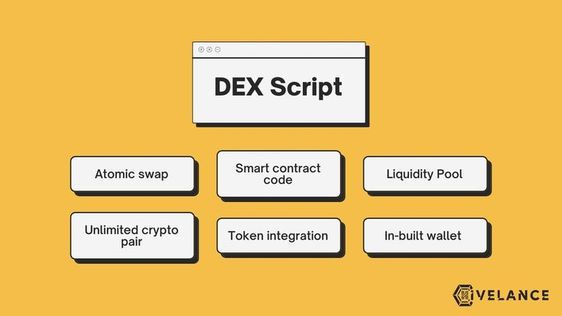 Atomic swap engine
Unlimited crypto support
Decentralized exchange smart contract
Wallet extension integration
Decentralized exchange liquidity pool
Peer-peer chat integration
Native token integration
Defi ecosystem creation
Decentralized order book
Add-on Features in Decentralized Exchange Script
DEX trading smart contract
Secure wallet extension
Hack-proof source code
Decentralized exchange API
DEX arbitrage smart contract
DEX aggregators integration
How to Create Decentralized Exchange using DEX script?
Step 1 - Whitepaper creation
Step 2 - Front end documentation(DEX Script)
Step 3 - Backend infrastructure setup(DEX Script)
Step 4 - Link the smart contract(DEX Script)
Step 5 - Liquidity pool creation
Step 6 - Testing & Launch
Decentralized Exchange Clone Script (Customizable)
DEX clone is nothing but a ready-to-use decentralized exchange template that's cloned from existing decentralized exchanges. Altering the source codes, and front end becomes possible in clone script and reduces the developer's time in the code development process. Well-documented decentralized exchange clone script with the audited smart contract is available to us.
Best DEX Clone Script you can use
Bakeryswap clone script
Polkaswap clone script
Safemoon clone script
How long will it take to set up a decentralized exchange?
With the help of a decentralized exchange script, you can launch the exchange in a maximum of 2 weeks. Meanwhile, when you go for development from scratch, it will take 6 months to finish. It is always advisable to outsource the development process to experienced developers who are having prior experience in it.
White Label Decentralized Exchange DEX Software
White-label decentralized exchange software can enable anyone to start decentralized exchange in an easier way. You can simply buy decentralized exchange source code, make consolidated changes in appearance, create a secure smart contract logic, and operate the exchange in a swift manner.
Blockchain Networks We have the Expertise to Create DEX Platform
Ethereum
TRON
Binance Smart Chain
Avalanche
Solana
Polygon
Decentralized Exchange Protocol Explained
Decentralized exchange works the opposite way how centralized exchange operates. It is the platform that facilitates the peer-to-peer transactions of cryptocurrency while maintaining the assets in users' individual wallets. Importantly, only crypto-to-crypto exchange is possible in DEx whereas Fiat-crypto exchange is possible in CEX. That's why Decentralized exchange is meant for advanced crypto traders who have experience in it.
Business Model of Decentralized Exchange Platform
1. Transaction fees
Users in the decentralized exchange are charged 0.01% of the transaction value. The smart contract is written and defined to execute the process automatically. No alteration is carried out.
2. Crypto Listing
The token owners can list their coins in the decentralized exchange by offering a particular fee. Some exchanges are levying a revenue-sharing option in the coin enabled. Coin owners pay a percentage of commission for every coin sale.
3. Market-making charges
To enable the liquidity pool in DEx, users are given permission to invest & hold cryptocurrencies in trading pairs to earn interest from it. Users are then assigned transaction fees when a smart contract executes.
Centralized Vs Decentralized Exchanges
Since the emergence of cryptocurrency, centralized exchanges have been in the forefront of promoting the buying and selling of cryptos within a regulatory framework. In centralized exchanges, one had to rely on third parties to safeguard and trace the transactions because the blockchain network was not being used in this instance. In addition, in order for businesses to conduct the trades, the transactions must be verified, and personal as well as corporate information must be reviewed.
Having centralized exchanges has some advantages, but overall, the drawbacks outweigh the benefits by a wide margin. Decentralized exchanges were therefore required.
Since all relevant information about the transaction is recorded on the blockchain network, there is no third-party integration in DEX exchanges. In contrast to centralized exchanges, users have more control over their assets in decentralized exchanges. Additionally, it reduces the chance of hackers stealing private information or tampering with any data. Comparing DEX exchanges to regular exchanges, the cost is also lower.
On the DEX platforms, smart contracts may automate and process transactions without human intervention, which is a drawback of centralized exchanges. DEX is becoming more and more popular over centralized exchanges due to the superior protection provided to crypto assets by private keys.
DEX exchanges are a great option for entrepreneurs that want to go big in the crypto economy since they provide unmatched security and quick speed.
If you are interested in a centralized cryptocurrency exchange script, book a demo here.
Decentralized Cryptocurrency Exchange Development Company
As an early crypto adoption, we can provide you with Decentralized exchange development services with efficiency. Our team of experienced DEX developers utilizes scalable, P2P decentralized exchange software so it becomes easy to upscale the DEX app in the future.
Being a leading Decentralized exchange development company, Hivelance makes sure to help you in building peer-to-peer, feature-rich, and engaging DEX by enhancing the power of blockchain. Our blockchain developers work with flexibility and establish our client's needs to fulfill their prospects.
Want a highly secure and stable decentralized exchange platform? Contact our experts instantly.
Core Benefits of Decentralized Crypto Exchange Development
For users
Reducing hacking risk
Avoid market manipulation
End-to-end privacy
For DEX maker
Automated market making
Less operational cost
No single point of regulation
Why Choose Hivelance for Decentralized Exchange App Development?
We are one of the industry-best Decentralized exchange app development companies that provide blockchain-based, result-driven, and tailor-made Decentralized exchange software development solutions to thousands of clients globally. Choose our best-in-class DEX development services to get a faster and seamless P2P Decentralized exchange platform that is rich in performance, scalability, and technology.
Every startup, whether a business or a large enterprise, has its own set of DEX requirements. As a result, each module of a Decentralized exchange script must be accurately developed to meet the growing demand for decentralized crypto exchange and to bring your business dream of building an effective DEX platform quite closer to reality. Choose a Decentralized exchange script that meets the performance goals of the decentralized exchange platform and is easily scalable to all of your crypto business ideas. So, if you want to make a strong impression in the crypto industry, use a trustable DEX solution with impressive additives.
Do you want to succeed in your decentralized cryptocurrency exchange market? Then, use our expertly customized Decentralized exchange script, which is pre-built with many astounding features and functions, to develop an excellent decentralized exchange platform such as Pancakeswap, Uniswap, Sushiswap, and so on.