Forking Pancakeswap v2 on Binance Smart Chain | Complete guide to Fork Pancakeswap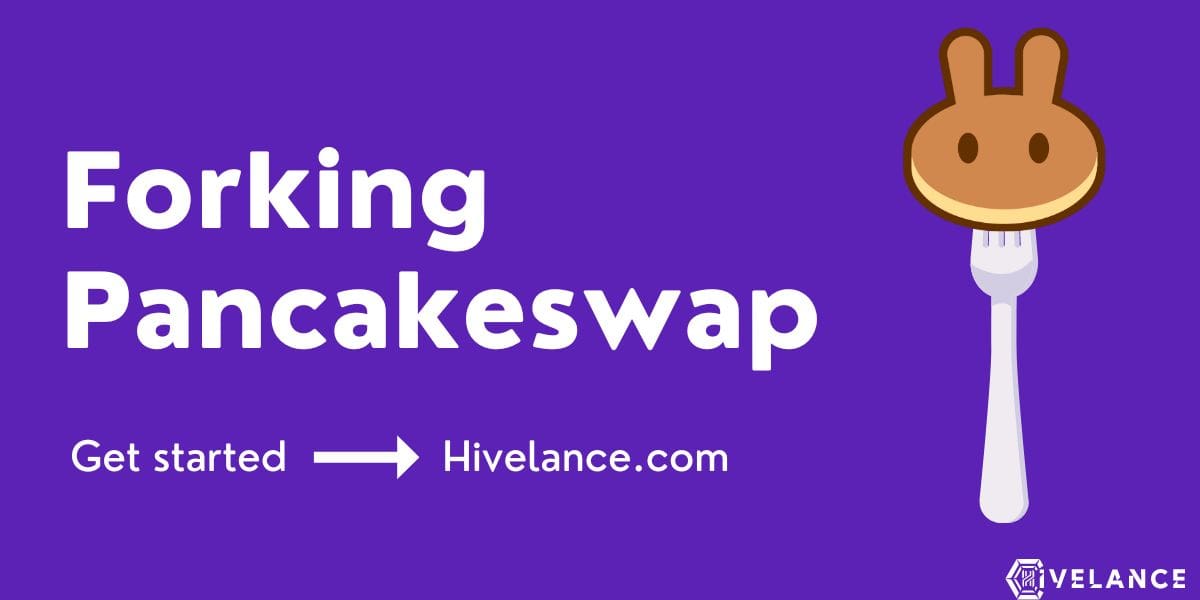 What is meant by Forking pancakeswap v2?
If you are the person kind of interested in cloning pancakeswap? Well, this process is likely to be called Forking Pancakeswap. The features and functionalities of pancakeswap is extracted and used to build a new defi ecosystem. V2 is the current version name of pancakeswap. That's why it's called Forking Pancakeswap v2.
People who get inspired by pancakeswap tends to start their own defi platform. To do this, they have to fork existing smart contracts of pancakeswap and add customization in front-end features. There are still a lot more things to be focused while forking pancakeswap. Continue reading this to know.
Fork pancakeswap guide
This guide is written for the in-depth understanding of forking pancakeswap. You can learn about what needs to be done for forking, benefits of forking pancakeswap from the user point of view and the front-end adjustments part.
Moreover you could learn more about Blockchain Forking here.
Benefits of Forking pancakeswap
As the Pancakeswap is best in terms of all the aspects, there are specific benefits that exist while forking this most famous defi platform.
Low gas fees - Pancakeswap is deployed on Binance smart chain, users could experience low gas fees when comparing with Ethereum. BSC is discovered to outline the complexities of Ethereum in fact.




Wallet compatibility - Pancakeswap is supported with multiple payment wallets like Metamask, Binance wallet, Coinbase, Walletconnect, Trustwallet, Operamini, Bravewallet, Mathwallet, Tokenpocket, Safepal, Coin98 and Blocto.




Cross-chain bridge - Binance smart chain offers cross-chain bridging possibility for users to seamlessly swap the blockchain networks they prefer.




Application integration - Integration process is so much easier when anyone develops their dApps using the BSC network.



How to Fork pancakeswap frontend?
Entrepreneurs would not want to exactly clone the pancakeswap front-end. They could add stylings, javascripts, make new integrations, add new payments support and provide customer support systems.
In order to fork pancake swap front-end, you have to copy the contract of pancakeswap, change hash codes, replace them, add basic trading modules and deploy the contract on Binance smart chain.

For future upgrades, you can rename the contract version type and add more defi modules like farms, pools, IFO, lottery, profiles as per your vision.

Copy the pancakeswap frontend template or build the source code and deploy on your server. You can use the pancakeswap clone script to skip the development time.
Fork pancakeswap on Binance smart chain
Pancakeswap is developed on Binance smart chain. So, anybody who undergoes forking pancakeswap will need to do it on Binance smart chain. You could not interchange with Ethereum since Pancakeswap is derived from Uniswap(Built on Ethereum). Meanwhile, if you want to build defi on Ethereum network, you should fork uniswap.
Binance smart chain was framed by Binance to eliminate the barriers in Ethereum blockchain network. Infact, Binance smart chain is too good in providing frictionless ecosystems for crypto communities. That's why, most of the web3 startups and defi projects are built on BSC network.
Need help in Forking Pancakeswap?
It's not a problem to fork pancakeswap if you are a serious dApp developer and have a team around you. But if you don't know how to handle smart contracts or coding dApps, you atleast need a resourceful team.
This is the reason we got you covered. We at Hivelance, have in-around experience in forking pancakeswap, making dApps, or starting defi projects from scratch.
Understanding the Pancakeswap smart contract, copying the contract features, making front-end adjustments, adding trading modules, third party wallet integration and deploying them on Binance smart chain network can all be done by our expert developer crew.